Garmin's Meyer brothers making the switch from track to road, sooner than expected
Catching up with Garmin-Transitions team riders, and brothers, Cameron and Travis Meyer. Both are finding their transition from track to road is going better — and faster — than expected.
Heading out the door? Read this article on the new Outside+ app available now on iOS devices for members! Download the app.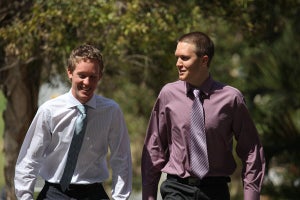 You could say that it's been "something of a year" for Australian cycling, and not least for young Garmin-Transitions Australian brothers Cameron and Travis Meyer, who took both the national road and time trial titles between them, as well as Cameron's world track championship triple gold medal haul (team pursuit, points race and Madison).
It was mid-week when we caught up with them as they prepared for another long day in the saddle on the roads around Girona in Northern Spain, their recently adopted home.
"I've got a slightly different schedule to Cameron, so I leave before him in the morning," Travis, the younger of the two (by 18-months), told us as we continued the chat with Cameron, who's now in his second pro season, and has had his neo-pro brother Travis for company on the team this year.
"We share an apartment together, and we train hard together, really push each other on. It's been good for both of us, and we have Matt White (team manager and coach) in the same building too, so it fits well."
Both brothers are the product of the strong Australian track-racing scene, which is very much the backbone of the country's racing infrastructure, and behind the success of most top level Aussie pro's. The Meyers are from Perth, in Western Australia, which is as close to Singapore as it is to the mainstream east coast and Sydney. This isolation has long shaped the WA riders, who are well known for their hard and aggressive racing, and are almost a breed apart from the rest of the country.
Brother acts are nothing new in cycling, although with 12 world track titles between them so far (Travis has five junior titles, Cameron has three junior and four senior), they are "a bit special."
Cameron's signing with Garmin in 2009, and Travis following this season, was part and parcel of the deal that track racing would remain a priority until the 2012 London Olympics, although things have changed some for both brothers in the past few months.
"The Olympics; they were my priority, but now they've dropped the Madison and points race — two-thirds of my events. I've had to re-assess, and although I'll continue on the track and try to represent Australia and win medals, the road is now my main focus."
The same has manifested its way unexpectedly for Travis too; "I've just not been able to make the team pursuit cut for some time now, so from now on it's full-time road for me."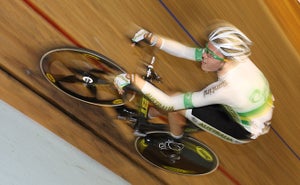 Talent on the road is something both brothers also possess in abundance. In January Cameron took his first elite time trial national title. "It was mid-build up for the track worlds, but I'd been just 6 seconds from the title in the past, and so we made it the first goal of the season. It was a great feeling going into the Giro as one of my TT first races of the season and wear the jersey."
The Giro was his first "real" race of the year. "Going straight out of track training to the Giro, it took a while, but I had enough good k's in my legs, and was pleased to finish my first grand tour."
The race was also a huge breakthrough for young Aussie Ritchie Porte, who took the race lead. "Two years back I was taking around 1.50 out of him in a TT (nationals). He's come a long way in a very short time, it was an amazing ride."
Just a few days after Cameron's TT win, his younger sibling astonished the seasoned pros when he rode away to take the national road race title, keeping things well and truly in the family.
"My focus was on the track, but I did have some good long rides in my legs. I went to the race to help the others (Cameron and Chris Sutton). I was strong, and putting in good turns and ended up winning, which was far more than I could have dreamt of. Going into my first pro year in Europe with the jersey on feels good, especially when I see that most of the other national champions are big names."
Since joining Garmin both riders have found their way some, and the future looks like the hard stuff, as Cameron confirms. "I feel like I've stepped up a notch, and hope to move up another notch next year. I think I'm best suited to the grand tours, and will be working that way."
Travis had a "pro" baptism of fire; straight from track training (and a one-day race) to the Tour of Romandie. "It was a bit of a shock! A big jump, but I had a lot of fun and handled it well. The big climbs were not too bad. I've learned and got better form throughout the year, and was mixing it up in the Eneco Tour the other week, which felt good and gave me some good form. I think these are my kind of races (shorter stage races and classics), and next year I'll be on a program for the smaller northern classics and shorter stage races."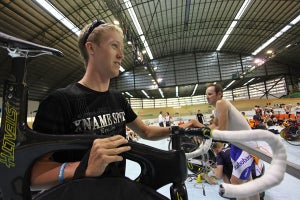 As the twilight of the road season draws close, both brothers are adapting their track legs and gaining road form, with the Tour of Britain ahead.
"We both rode the race in 2008 (with the AIS)," Cameron said, "and I like racing in the UK. They say the race could be a bit harder than usual this year, which is better for both of us, and gives chances of a break. Garmin has a strong team, with Dan Martin on great form for the GC and Robbie Hunter for the sprints. We've both had a lot of racing recently, form is good."
Travis is also relishing the chance to make his mark, and maybe cut his spurs with a stage win; "Last time we rode it was a great race, I'm looking forward to it. If it ends up in sprints, that's just not my style. I'm not going for GC, but it would be great to have the chance to go for a stage."
By the time the British tour is done, the season is almost cooked for the Meyers; both missed out on selection for the Melbourne world championships, and are heading to the Commonwealth Games in India instead.
"The Commonwealth Games are really important in Australia, second to the Olympics — they only come around every 4 years," Cameron said. "I'm going for the track, and possibly the road too. I wasn't really banking on riding the worlds. With riders like Michael Rogers, Cadel Evans and Ritchie Porte interested in the TT I was directed in the way of the Commonwealth Games. Australia has such strength in depth, and in the world's, experience is a big factor, and that comes with age; even a rider of the stature of Robbie McEwen didn't make the cut."
Travis will also be Delhi-bound, and is in line to ride the road race. This will be their last race of the year, almost. "We're both taking three weeks or so off after that, recovery!" Cameron said. "I'll probably be doing the Melbourne track World Cup in December — as Leigh Howard and I are world champions it would be good to ride the Madison, and maybe qualify for the world champs. After that it's all for the road and 2011."