Geraint Thomas: Egan Bernal's comeback is incredible but expectations need managing
'In 2018 I bombed out of Romandie pretty hard but the rest of that year went alright,' Ineos rider says of his own form.
Heading out the door? Read this article on the new Outside+ app available now on iOS devices for members! Download the app.
ZINAL, Switzerland (VN) – Geraint Thomas has been blown away by the speed at which his Colombian teammate and fellow Tour de France winner Egan Bernal has recovered from serious injury but the Welshman has told VeloNews that expectations and pressure around the young rider need to be managed carefully.
Bernal was lucky to survive a high-speed collision with a bus toward the end of January.
He was left in a critical condition and was later diagnosed with a string of injuries including a fractured femur, a fractured right patella, a punctured lung, several fractured ribs and fractured vertebrae. He has made remarkable progress in the last few weeks which has prompted speculation that he could return to racing in the summer.
Also read:
Ineos Grenadiers have played down the chances of seeing Bernal racing in the next few months, and it's likely that while he has made significant progress his trajectory of recovery may not always carry on at such a rapid rate.
Thomas compared his current teammate's situation to Chris Froome's life-threatening crash and comeback.
Although the injuries that Bernal and Froome suffered are different, and there is an age gap between the two, Froome returned to the sport rapidly but has yet to find his previous form. It's far too early for anyone with Bernal's exact medical logs or even a crystal ball to determine how Bernal's body will react to the strains of racing, and while Thomas praised the Colombian's grit and drive, he also spoke of patience rather than ramping up the pressure.
"It's incredible," he said of Bernal's current level.
"With Froome, it was such a bad accident and a long road back. Once he came back and wanted to improve everyone almost forgot how bad the injury was and it could be a similar thing with Egan. He's improved so much, which is great, but it underestimates the damage that he did."
"I'm sure he's got a good team around him to manage expectations so he comes back at the right time. It's great to see him doing what he's doing."
Assuming Bernal does race at some point this season, Ineos and the athlete will determine what the true expectations will be around his program and aims. Thomas acknowledged that the Colombian was eager to come back as quickly as possible but that pressure shouldn't be heaped on him at any stage of the recovery process.
"It's holding him back, because he wants to be back with the best, just like all top athletes," Thomas said. "You want to push, push, push but you need people to hold you back. So that you do it the right way and don't have problems later on. I'm sure the team around him knows that."
Tour de Romandie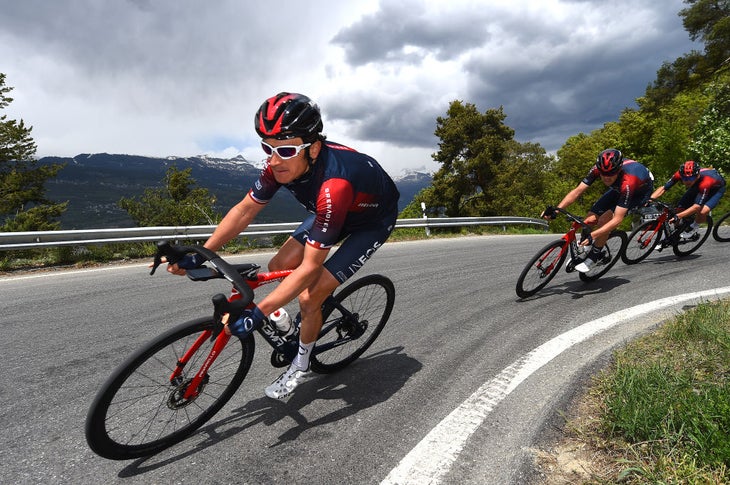 Thomas is himself coming back from injury and illness. He had shoulder surgery and caught COVID-19 during the winter. That combination kept him off the bike for around nine weeks during the winter and has left him short of his best form.
His Tour de Romandie title defense slipped away on the mountain stage to Zinal when he was dropped 10km from the finish. He limited his losses but now sits outside the top twenty overall at almost two minutes down on race leader Rohan Dennis.
"To be honest I didn't feel 100 percent from the get-go but I just had to fight and see what I could do," he told VeloNews as he warmed down on the rollers after the stage.
"Once we were going up that climb it wasn't too bad but once I drifted to the back I fucked myself because once people are getting dropped you have to do those tiny little accelerations. When you're already on the limit, the fourth or fifth time is just too much.
"It's annoying because I only had one K to go and then it was much easier terrain but it would have been nice to have hung in there. I'm definitely getting better all the time from the start of the year, so I'll take positives from that."
Thomas had come into the race hoping to mount a GC challenge. Although not at his best he still put in a strong ride in the prologue and he remained in contention through the first few days despite a 20-second time penalty for taking an illegal feed on stage 1.
From here the Welshman will take a week off before a spell at altitude and then a possible tilt at the Tour de Suisse. He has seen enough progress this week to suggest that he's on the right track for a spot at the Tour de France in July.
"I just wasn't quite there today. I knew that I would struggle to win, for sure but I thought that I'd do top ten and be in the mix but today I just wasn't on that," he said.
"I think all-in-all with Liège it's always a bit random. In 2018 I bombed out of this race pretty hard but the rest of that year went alright. It was a bit of a kick up the arse then and this time it's just a bit of a marker that tells me there's more work to do."