Greg LeMond and the legendary Tour de France winner's fight with leukemia: 'I feel so much better'
In long-awaited health update, US cycling icon believes his cancer can be traced to his 1987 shooting accident: 'Since I got shot and got all this lead in me, I've never felt truly healthy for all those years.'
Heading out the door? Read this article on the new Outside+ app available now on iOS devices for members! Download the app.
It's summer, he's on the road again, and Greg LeMond is talking about fly fishing and golfing.
The three-time Tour de France winner is making plans for the months ahead, but just over one year ago, his thoughts were a long, long away from casting lines and sinking putts.
"In the first four or five months of last year I told Kathy, 'I think I am dying,'" LeMond tells Velo on a call from his home in Tennessee. "For two or three years, I'd really been impacted by fatigue, but it got to the point where I couldn't get out of bed for about two months."
Kathy, his wife, had been away when things escalated. LeMond hadn't wanted to concern her about that exhaustion, but ultimately went for tests. The news wasn't good.
"I did a blood test the week before I told Kathy how bad I was feeling. We got the results back May 10th or 11th. Then I did a bone biopsy the end of May or June, but I was really diagnosed already by then."
Also read:
LeMond made that information public on June 5 last year, announcing that he had Chronic Myelogenous Leukemia.
The cancer diagnosis was a shock to the world of cycling and to U.S. sport. LeMond is a triple Tour de France winner, a double world champion, and one of the America's most respected athletes known as both a ground-breaker and outspoken supporter of clean sport.
At just 60 years of age, he was facing an unexpected health crisis.
Flash forward one year, in his first long interview since his illness, LeMond tells Velo that things had been complicated for way longer than that.
LeMond on his cancer: 'Honestly, I kind of expected this'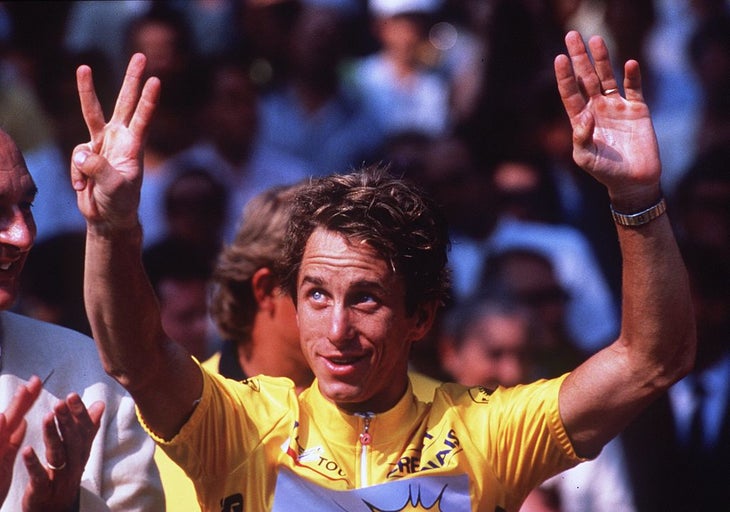 Back in early 1987, the world of cycling looked set to be dominated by LeMond. He'd beaten five-time champion Bernard Hinault the previous summer to became the first American winner of the Tour de France, cycling's biggest prize. He was just 25 years of age and gaining strength, making repeat Tour wins seem all but ordained.
LeMond crashed that spring in Tirreno–Adriatico, fracturing his wrist. He returned to the U.S. to recover and was turkey shooting with his uncle and brother in law that April when the latter accidentally shot him, peppering him with pellets.
LeMond was hit by approximately 60 of those, suffering a collapsed lung and extensive bleeding. He was airlifted to hospital and given emergency treatment, and was later told that had a police helicopter not happened to be nearby, he would have bled to death.
Doctors operated to remove the pellets, but an estimated 30 of those had to be left inside due to their precarious location, including several in the lining of his heart. And while he recovered to win the 1989 and 1990 Tours, he believes he hasn't been fully healthy since.
"Since I got shot and got all this lead in me, I've never felt truly healthy for all those years," he said. "The only time I felt really good and normal was prior to getting shot. It's kind of crazy but, really, it's been that long. I haven't felt on top of it for so long.
"I've always been like, 'you've got [chronic] inflammation.' I have a toxic substance which causes that. I did some heart scans and everything, and luckily I'm healthy in relation to that. But I kept saying, 'one day I'm going to get cancer.' Lead is very toxic and I have high levels of lead.
"The thing is that this type of leukemia is not genetic. It's usually a chemical which causes it. Nobody can link it completely, but I think it's the lead poisoning that could be behind the damage to the DNA. That's my hunch.
"Honestly, I kind of expected this," LeMond stated flatly.
La vraie histoire de résurrection du cyclisme américain, c'est celle de Greg Lemond : grièvement blessé dans un accident de chasse en avril 1987, il parvenait à remporter le Tour de France deux ans plus tard. pic.twitter.com/BBsu5bQj7Z

— David Guénel (@davidguenel) February 7, 2022
Talking through his diagnosis, LeMond said that he had a curious first reaction to the news. Finding a silver lining in a very big, dark cloud.
"It's kind of funny, but I was going to do an event in France, a bike ride. And I kept trying to get on my bike beforehand, but I was so tired that I couldn't do it. I'd committed to this ride, so even if I went there and I got dropped after a mile, I felt like I had to do it.
"When my wife said, 'your blood indicates leukemia,' the first thing I thought was, 'oh God, I can get out of that bike ride, I don't have to do it now.' When I think back on it, why did I even think I had to ride it when I was barely able to get out of bed?
"It was kind of a relief," he laughs.
"Maybe I was already preparing for it. I've struggled with energy, fatigue, and that for quite a while."
Turning things around again: 'We're doing really good'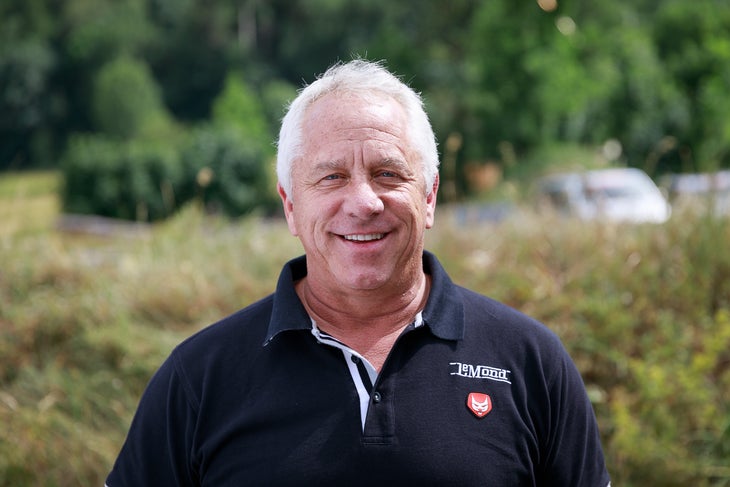 When LeMond made the announcement of his diagnosis in June 2022, the statement said that the form of leukemia he has is typically non-life threatening.
"My doctors and I have decided on a treatment which will begin this week," he said then. "I should be feeling better in a few weeks and for the near future, my daily schedule will be altered only a little and I have been told that in a few months, I should be in remission. The long-term prognosis is very favorable."
Since then things went quiet. A long period of time without any updates made those in the sport wonder how he was, but fortunately things appear to be heading in the right direction.
"I feel so much better," LeMond told Velo. "The new drug that I'm on, Tasigna, is very effective. If I'm on it, my longevity should be close to normal. Today with cancer, the success rate is 80 to 90 percent. So I'm in that 90 percent range. I'm reacting really well to it.
"Within about three, four months of the treatment I started feeling much better. Really, so much better."
LeMond's course of treatment is very expensive. There was a very high initial outlay for the drug, and also considerable ongoing costs for the twice-daily dose he takes. Fortunately he has health insurance which is covering the bulk of that cost.
"It's a very expensive drug. But thank goodness it is there, because typically you don't survive these things. The good thing about cancer there's really ongoing progress, so I'm not too worried about it."
The Last Rider, un film réalisé par le producteur/cinéaste Alex Holmes sur Greg LeMond 🎞️ il sortira le 23 juin 2023 aux États-Unis#cycling #cyclisme #ciclismo pic.twitter.com/niyKaVgryZ

— 🚴 Les Rois du Peloton 🚲 (@LRoisDuPeloton) June 1, 2023
Looking back at the past two years, LeMond says not knowing what was wrong was the most difficult thing about his situation. Finding out what was going on was, in some ways, a relief. Even if the news was bad.
"Once I found out, it was, 'OK, that makes sense. That makes sense.' At least it gives you clarity," he explains. "A lot of times where you don't feel good, or things aren't making sense, you kind of get [confused] … It reminds me of the last couple of years of racing, where I kept saying, 'I'm really tired.'
"People would go, 'how are you feeling?' I'd reply, 'if I want to be honest, not good, I'm tired.' And you get tired of saying that because it sounds like I was always making excuses.
"It got to a point where I really couldn't talk to people. I would get so tired that I would have to go two or three weeks where I wasn't really communicating a lot. For me, the diagnosis helped explain a lot of stuff."
Between lockdowns and his health problems, LeMond has spent much of the past three years at home in Tennessee with Kathy. It's been a considerable change for someone who always traveled so much, putting his nomadic schedule on hold.
"It's been fun, because until COVID happened I've never been home like this," he says. "The one year that I was home the most was in 2013 when I broke my back in the car accident. That was three months, and so I've broken the record by far. It's been nice."
LeMond has faced a lot over the past three and a half decades.
He had his hunting accident, his recovery, a career which brought successes but ultimately ended in lingering fatigue, business challenges, a war of words with Lance Armstrong over the latter's association with banned sports doctor Michele Ferrari, a public and professional backlash for that criticism, legal cases and eventual vindication when Armstrong admitted to doping. He also revealed in 2007 that he had been abused as a child.
Factor in his illness, and it is clear that he needed some recovery time.
"We're planting shrubs, flowers. We're doing great. We're doing really good," he says, smiling. "We're kind of having a little bit of a less stressful life right now, which is good."
LeMond on overcoming cancer: 'I'm pretty optimistic. You just kind of move on'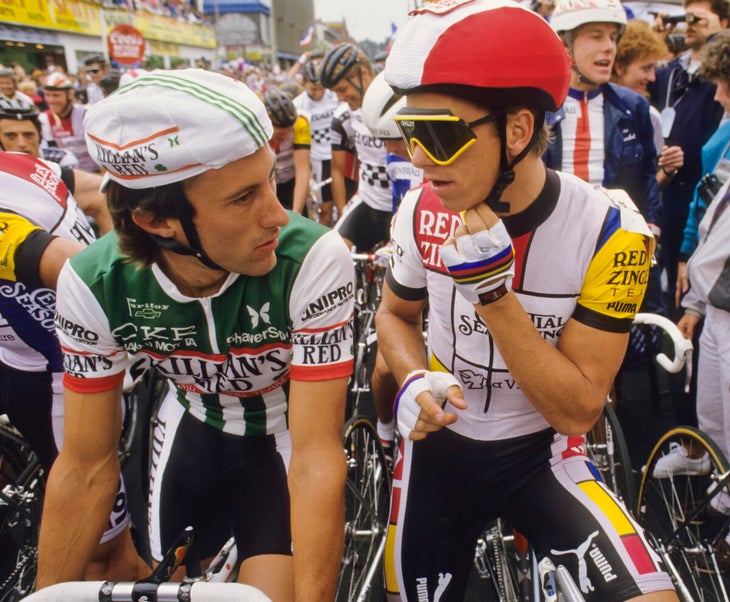 It's now June, his energy levels are on the up and he's making plans.
A return to the Tour this summer is unlikely but he does have a trip planned for France while the race is on, and so he's toying with the idea of visiting the event and seeing a stage. He's enjoying watching cycling again and also looking forward to fishing and golfing, two longtime hobbies of his.
Things should be getting busier on the business front, too. He's got various plans in that area, as well as new products in the pipeline with LeMond Bicycles. Supply change shortages caused by the pandemic have eased, and new road, gravel and ebikes are on the horizon.
A new full-length movie — called "The Last Rider" — is set to be released in late June, and chronicles his legendary comeback against Laurent Fignon in 1989.
Meanwhile LeMond's treatments are continuing. Side effects are fortunately minimal and he's hoping for some good news in the coming months.
"There are some people called super responders who, with three or four years of taking the drug, they're cancer free. There's a chance I'm that type of person," he says. "They are tracking it through a very sophisticated test that can show how things are going. I'll find out in two months if I am one of those super responders. If I am, that would be great."
Greg Lemond (Usa) won the Criterium Du Dauphine in 1983. Showing what was to come at the Tour in later years. pic.twitter.com/LrZWn5sAYo

— The World of Cycling (@twocGAME) June 2, 2023
In the meantime he's planning to dust off his bike and get back out there on the trails and roads.
"For two, three years, I couldn't do much exercise. I really got de-conditioned and was incapable of it," he said. "But I'm a little more active now. It's taken a while. In the last couple of months I'm starting to feel better, and I am going to start riding a bike soon. I should have been doing it for about a month. But I really feel significantly better. I'm good."
When he was racing, LeMond was known for his resilience, his endurance, and his mental toughness. He's drawn on that before, during and after his career, and it's an asset now. His back has been against the wall before and he's a survivor.
"A setback is a setback, and I've had a lot of setbacks, including this cancer," he says. "I'm pretty optimistic. You just kind of move on from it. It is what it is. I'm fortunate it's not more severe. There's a lot of people who have much worse outcomes than me. I need no empathy.
"I feel so much better. I have energy. I can do stuff. I can think. So that's good."