Hesjedal happy with 2nd at Amstel
Ryder Hesjedal takes confidence from his strong second-place finish at the Amstel Gold Race.
Heading out the door? Read this article on the new Outside+ app available now on iOS devices for members! Download the app.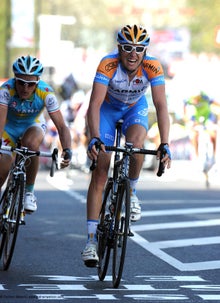 Ryder Hesjedal (Garmin-Transitions) delivered a huge podium achievement with second place on Amstel Gold Race on Sunday.
The Canadian hit the base of the Cauberg in perfect position and simply put his head down and hammered the pedals. When he looked up, he was right at the nose of the action. Philippe Gilbert (Omega Pharma-Lotto) rode away from everyone, Hesjedal had the best legs of the rest and notched a well-deserved podium finish.
VeloNews caught up with Hesjedal as he reflected on his first major spring classics podium:
VN.com: Tell us about the race — it seems like you didn't have any problems all day.
Ryder Hesjedal: It was a pretty straightforward Amstel. This is my fifth time doing it, so I know the race pretty well. The selections come pretty rapid there at the end. I had great legs right from the start. The team was backing me the whole way. The team was really great helping me all day, giving me as much chance as possible. When the hard moments came, I was able to be there and followed what needed to be followed to keep myself in it.
VN.com: Were you worried when the late move went or did you think it would come together for the Cauberg?
VN.com: I had a feeling we were going to hit the bottom of the Cauberg like we did it. There was some strong firepower behind. When you see Gesink chasing, you can get pretty confident that it's going to come back. I was doing my bits after the Keutenberg. I didn't go over with the attack, but I was one of the stronger guys over the top there. I was being aggressive and showing that I wanted to stay in the race. It worked out, and we started from the zero at the bottom of the Cauberg.
VN.com: It seems like you were in the middle of the bunch once it hit the Cauberg. Was it difficult to fight through that group?
RH: It's a long drag and opens up pretty fast. It's hard to say, Gilbert is pretty classy, so I don't know if I was in better position if I could have won. That's kind of a stretch. I remember seeing Gilbert looking back pretty comfortably at one point. That just made me focus on myself. I knew if I did a good ride for myself, it would give me the best chance. It looks like it worked out. I was able to stay strong to the finish.
VN.com: Can you describe what it's like to hit the Cauberg with 250km in your legs?
RH: That's a hard, hard climb. The effort is pretty long. Once I was able to get up the steeper part, I still had good power in my legs, that's when I realized I was in with a shot. I finally put it down and kept fighting right to the end. Everyone was suffering. I don't remember a whole lot. I remember starting it, going up it and the rest of it is kind of a blur. It's a partial blackout.
VN.com: It seemed like you put your head down for a dig and when you looked up, you were right at the front with the podium in sight. Can you describe your sensations at that moment?
RH: That was amazing. The whole day was just great, especially after the trauma of traveling up here. My original plan was not to do Amstel. It's a race that I've had the least sensations and least results versus Flèche and Liège. I thought coming out of País Vasco that I would give myself more recovery and not throw my hat in for Amstel, use Flèche as a springboard and throw all my eggs in for Liège. I am glad the team convinced me otherwise. It was the right choice with the conditions I had at País Vasco. Whitey (sport director Matt White) said I could be good at Amstel and he was right.
VN.com: Tell us about your trek to get to Holland when your flight was canceled; hardly ideal preparation for a major, one-day race.
RH: We were fortunate with the team based in Girona. Christian Meier and I were driven up by two of the team staff. It's not that hard to sit in the back of the car and do a little road trip. Once we realized that's what we had to do, we left Girona on Friday afternoon, drove 600-700km, spent the night in Lyon, got a good sleep. We got up here on time to do a spin on Saturday. The legs felt great coming out of the car, so I had a good feeling that things would go pretty well.
VN.com: How would you characterize this podium? Would it be the most important result of your career in Europe on the road?
RH: The Vuelta victory was pretty meaningful, with the victory in a mountain stage like that. With how that went down, with the early break and the big favorites coming from behind, that will always be pretty special to me. It's not really comparable, to a true, one-day 260km classic. It will sink in a little more as the days go on, once I see the images. Gilbert is on the top of his game right now.
VN.com: Does it help to be an underdog in these races? No one was mentioning Garmin or Ryder Hesjedal as a favorite before the race.
RH: That's fine. Besides my 11th in Liège last year, I haven't done enough to get that status in these races. Anyone who understands racing, who's seen me in Catalunya and País Vasco, they would have known I would have been good up here in races like this. What can I say? I've been focusing on these races since last year. My 11th in Liège really changed my perspective. The first time I did one, after 180km, I could never imagine to have the power to reach the podium five or six years later. Liège really changed it for me. Last year, when we hit Saint-Nicolas, to be in that group with the podium in play, I put that in the back of my mind, and made these races as an objective.
VN.com: So the podium at Amstel will only fuel your confidence for Flèche and Liège?
RH: The condition is there. I can remember the past few years, I can remember the key parts of these races. All day today, I felt good. I am a different rider than I was last year. I got another race on Wednesday. Having this result in Holland means a lot, too. Holland has done a lot for me in regards in cycling. I was with the Rabobank development team, I got my feet wet here up here in the road scene in Holland. I like Holland a lot, so it's pretty neat to come here and perform in the biggest race they have.