Hincapie: 'Fresh, fit and ready to go' for cobbled classics
"Alone." Hincapie says he's ready to take on the cobbles again this year. That's how U.S. national road champion George Hincapie describes his ideal scenario for winning one of the cobbled monuments of cycling, the Tour…
Heading out the door? Read this article on the new Outside+ app available now on iOS devices for members! Download the app.
"Alone."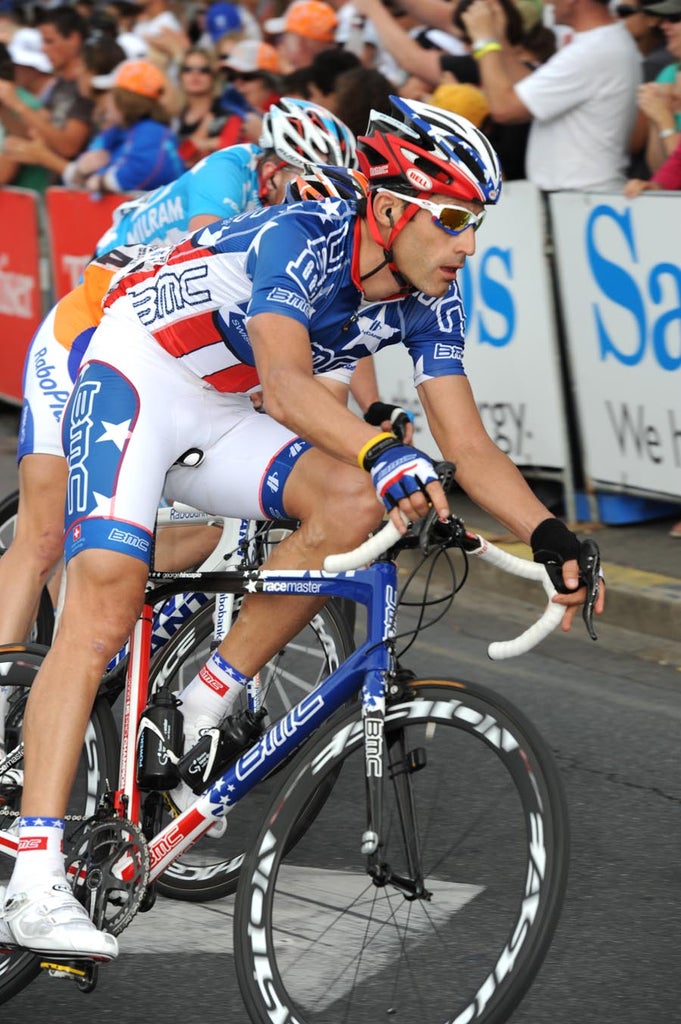 That's how U.S. national road champion George Hincapie describes his ideal scenario for winning one of the cobbled monuments of cycling, the Tour of Flanders or Paris-Roubaix, that have eluded him for so long during an accomplished career.
Hincapie is the most successful American ever on the cobbles of Belgium and Northern France, having won Ghent-Wevelgem in 2001, Three Days of De Panne in 2004 and Kuurne-Brussels-Kuurne in 2005. And though he's been on the podium at both Roubaix (second, in 2005) and Flanders (third, in 2006), and has a combined total of 12 top-10 finishes at those races, he is yet to win either.
Instead, Hincapie's classics campaign has been littered with obstacles, such as substandard team support, poorly timed punctures and the infamous broken steerer tube in 2006 that saw his perfect position, with three teammates in the final 50km, change to on the ground with a separated shoulder, all in the blink of an eye.
Now almost 37, Hincapie knows his time is running out. At the same time, he's finally overcome perhaps the biggest impediment that prevented him from bagging the big one — the full support of a top-tier classics team. Hincapie's revamped 2010 BMC Racing Team also boasts Italian Alessandro Ballan, winner of Flanders in 2007, German Marcus Burghardt, winner of Ghent-Wevelgem in 2007 and seventh at Flanders last year, and Dutchman Karsten Kroon, who has top-10 finishes at Kuurne-Brussels-Kuurne, Flanders, Amstel Gold and Flèche Wallonne.
Though Hincapie battled illness earlier this season, he told VeloNews in an interview Thursday night at the team hotel in Kortrijk, Belgium, that he's feeling better and deserving of a leadership role Sunday in Flanders. At last Sunday's Ghent-Wevelgem he was appointed team leader and finished fourth in the bunch kick from a six-man lead group.
And while Hincapie was more of a sprinter 10 years ago, he concedes that he's no longer a sure bet to win a bunch sprint, even from a small group — particularly one that might contain classics specialist who spend July chasing the green points jersey like Tom Boonen or Thor Hushovd.
That's why Hincapie's ideal scenario would be to enter either the Flanders finish town of Ninove or the Roubaix velodrome "alone."
VeloNews: First off, nice work at Ghent-Wevelgem. How did you feel, and how are you feeling now?
George Hincapie: Thanks. I'm feeling good now — finally. I got sick right when I got to Europe, right before Het Volk. I really struggled here that weekend. In Tirreno I was still struggling. It took me a little while to start feeling normal. I started feeling good again in San Remo, and in Ghent-Wevelgem I felt pretty much normal, so that's a good sign for next week.
VN: At Team BMC's training camp in January, you said you would only ask for a leadership position at the classics if you were the strongest rider and deserved it. Given that conversation, combined with the fact that you were sick earlier in the year, what will you ask of the team this week?
GH: After last week's race (Ghent-Wevelgem), I feel great. It was one of those races where I was very focused. I knew I would be there at the end. And even though there was so much battle for position, and stress throughout the day, I knew my chances were good to be in the final. I was the team leader that day; at the team meeting they said I would be the guy. I'm not sure what the tactics will be for Flanders and Roubaix, but I'm confident that I'm back where I need to be. I'm very fit. I'm also very confident in my team. I think Ballan is coming around really well. Burghardt is good as well. Karsten Kroon has been a real pleasure to race with. He's such a great guy, full of energy, sort of the DJ of the team, always blasting tunes before the start of a race. And a lot of these young guys, like John Murphy, have been fun to race with as well. They're a bit tired, they've been racing hard here in Belgium for the last month, dealing with this weather day in and day out, where I've been able to go home to Spain and train in some better weather. I feel fresh and fit, and ready to go.
VN: Going back to Spain was probably a good move. You heard that Filippo Pozzato pulled out of Flanders due to a fever after Wednesday's brutal day at De Panne.
GH: In 2008 I said I never want to do De Panne again. It's such a dangerous race, and the weather is usually really bad. I just went home and did a really good two-day block of training with a ton of motorpacing. I don't feel like I missed any of the racing speed, I just did it on my own. I did it with good weather, and at home with my family, which was nice.
VN: Who motorpaces you in Girona?
GH: My soigneur Jeremiah (Ranegar, an American). He kind of hangs out with me in between races, and takes care of me.
VN: So would your team go into Flanders or Roubaix with multiple leaders?
GH: Yeah, well we are definitely going to go in with the hope that we're going to have three or four guys in the final 30km. We haven't discussed the final, final tactics yet, but you can't count out a guy like Ballan — he's won the race before, he's been the world champion. And Burghardt is getting better and better every year at these classics races. I think it will all work out. Personally we all get along well and believe in the mission of Team BMC, to promote the bike brand and make it one of the most sought-after brands in the sport. That's our job, first and foremost. For me personally, of course I'd love to win a Flanders or Roubaix, and I'm going to do everything I can possible.
VN: Is it possible to quantify which race is harder, Flanders or Roubaix? I understand Roubaix has more pavé than Flanders, and that the cobbles are bigger with larger gaps between them, but the hills of Flanders add a whole other element than the flatter roads of Roubaix.
GH: It's not possible to say. They are a different sort of hard. At Flanders you have a lot more accelerations, there are a lot more corners, sprinting out of corners and going up these hills. At Roubaix it's more of a slow, steady hurt until you're just done. It comes on harder and harder until the guy who's got a little left in the tank can take it across the line. It's the same sort of attrition at both, but Flanders has a lot more violent accelerations.
VN: It seems as though with so many people favoring Quick Step and Saxo Bank, Team BMC is a bit of a dark horse for the week. Is that a good position for you all to be in?
GH: Well we would have loved to have won one of those prior to this, but we're in a good position. The guys are fit, we've done the right racing to be ready for Flanders and Roubaix, there's a cohesiveness in the team that has been great as well. So in every way, we're in a good position.
VN: The last time Lance Armstrong raced the Tour of Flanders, in 2005, he was riding in support of you. Why is he racing it now?
GH: (Laughs) My guess is just to get the feel for racing on these roads, and in these types of conditions, since we have to do it in the first week of the Tour de France. You know, you can race anywhere in the world, any hard race you want to do, but nothing compares to racing in Belgium and Northern France during the classics. You cannot simulate this sort of racing anywhere in the world. I think it's important for him to do it as a reminder of what he'll face in the first week of the Tour de France. I think it's a great idea.
VN: Was there anything that you've seen in the past week of racing here in Belgium that was cause for surprise — either a little-known rider performing better than expected, a favorite riding worse than expected, such as Thor Hushovd, or anything else?
GH: Well they've changed the course a little bit at Flanders. They put the Molenberg further back, and there's a new cobblestone section that's new. I'm going to ride it Friday, so I'll know it a lot better. The typical usual suspects are riding strong, like Boonen and Cancellara. As you said, Thor has been iffy with his health, I think he was sick last weekend, and (Cervélo's Andreas) Klier was hurt last weekend. But there are some new guys coming up; Matti Breschel was super strong at Ghent-Wevelgem last weekend. I think it's going to be a typical classics week, there are going to be some surprises and some non-surprises.
VN: There's been a perception, deserved or not, that you've had exceptionally bad luck at the classics, with mechanicals, punctures and whatnot. You've come as close as anyone could to winning Roubaix, sprinting for the win in the velodrome against Boonen in 2005. If you were to finish up your career without ever winning Flanders or Roubaix, could you be content with the classics campaign of your career the context of a career that has included Lance's seven Tour wins, a Tour stage win, multiple national championships and several classics podium appearances?
GH: If I don't win one of these classics it would always be the one thing I've missed in my career. I've accomplished a lot of other things that I'm quite proud of. But I don't want to think about what if it doesn't happen. Right now I just want to focus on getting it done. I may only have one or two shots left, that's it, so maybe that fact will give me that extra shot that I need.
VN: What's the dream scenario for you to win Flanders or Roubaix? Obviously coming to the line against Boonen or Hushovd is not ideal. Even Cancellara knew he had to jump Boonen at the E3 in the final kilometer or Boonen would win the sprint.
GH: Alone. That would be the dream scenario. Whether it's from 1km to go or 10km to go. Of course that's a lot easier said than done. You've just got to keep trying. Every year I've been close. Barring any bad luck I'm always close. There's no reason why it can't happen.