How a Belgian ex-pat is helping Rwanda prepare for the 2025 world championships
Simon Hupperetz is a Belgian language teacher based in Kigali who is helping to build the base ahead of the historic African road worlds.
Photo: (Photo: @naomicousinsphotography)
Heading out the door? Read this article on the new Outside+ app available now on iOS devices for members! Download the app.
Rwanda will make history in 2025 when it becomes the first African nation to host the UCI road world championships.
Africa is cycling's final frontier, with every other continent having played host to a world championships except Africa. Rwanda will close the circle.
Africa, too, already has a rich history in racing, with several South African and Eritrean pros winning major races, including worlds U23 medalist Biniam Girmay. There was even a Kenyan-born Tour de France winner in Chris Froome.
Backers are hoping that the Rwandan worlds will serve as a catalyst for African cycling, and bring new focus and energy for the sport into the heart of the continent.
Also read:
To help bridge that gap, a Belgian ex-pat is working at the grassroots inside Rwanda to help the host country make the most of the opportunity.
Hupperetz is a Belgian language teacher based in Kigali for six years. Not only is he an avid cyclist, he is a licensed coach who holds a UCI Level 3 Coaching Diploma.
Hupperetz has been riding the roads of Rwanda for years, and he knows the scene and he knows the riders.
"Rwanda is a beautiful country," Hupperetz said. "And seeing it from the sky [during the worlds races] will be something absolutely fantastic and completely different from what cycling fans around the world have seen before."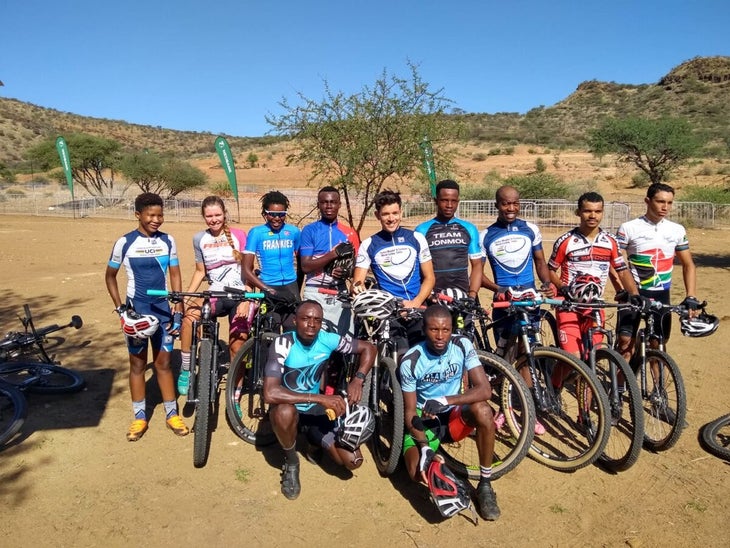 The 33-year-old is serving as a bridge between the Rwandan Cycling Federation (Fédération Rwandaise de Cyclisme—FERWACY) and the UCI, and its World Cycling Center and its African programs.
Hupperetz has traveled across the continent to spread his joy and passion for cycling with riders, clubs, and communities eager for more.
He's worked closely with the UCI as a coach, educator, and consultant since 2013. He's part of a Rwanda Development Project to help prepare Rwanda athletes compete on the world stage by 2025.
"We have some promising young riders currently racing in the Junior and Under 23 ranks," he said in an interview. "With better support and racing exposure, we believe that they will do much more than just participate in 2025."
Also read: Rwanda to host 2025 worlds
One of Hupperetz' priorities is to provide racing opportunities for the young Rwandan athletes in the Under 15 and Under 17 categories, with a view to having competitive Juniors in 2025.
The hope is that the next two and a half years will be enough runway for the youngsters to get more experience in time to race against the world's best.
The most promising will be invited to select training camps and perhaps even to the World Cycling Center in Switzerland.
"Our main focus is on youth development, one of the biggest missing links in cycling in Rwanda," said Hupperetz. "With the support of the WCC and WCCA our best riders will benefit from ongoing training supervision and will regularly attend training and racing camps in South Africa and Europe."
Hupperetz is also co-founder and sports director of the first Rwandan UCI Continental Team — Benediction Continental Cycling Team — and he coached mountain biker Nathan Byukusengein during the 2016 Rio Olympic Games.
The passion runs deeps, but he's most impressed with how the Rwanda cyclists steely determination and their untapped physical potential.
"Their mental strength is something I have always admired," he said. "I never heard a rider complain, even though none of them were used to racing in the cold. Another of their strengths is their power to weight ratio which often means they are strong climbers."
In addition to his work with cyclists, he also works closely with Rwanda coaches and educators. Every racer needs support, and it's about building the cycling community from its base.
"All of them are part of the same and fragile ecosystem. When one link is missing, you cannot progress. Coaches, teachers and educators are part of the success of the entire project," Hupperetz said.
"They care for and shape athletes until others take over. Mechanics, soigneurs and commissaires all have a part to play in the process and can enable riders to bloom."
There's new backing coming into Rwanda related to the 2025 worlds.
Israel Premier Tech recently inaugurated its Field of Dreams bike center in Bugesera which features a pump track, cycling equipment, and other facilities to help develop the untapped talent.
Rwandan cycling is steadily growing. In 2006, the Tour of Rwanda moved up to a UCI 2.1 category race. Clubs are flourishing, and the Africa Rising Centre, home of the national team, opened in Musanze.
Hupperetz is hopeful that Rwanda can catch up with continent leaders like Eritrea and South Africa, where cycling is already deeply embedded in the sport culture.
"We can build on the progress already made to catch up with the top African cycling nations such as Eritrea and South Africa. It really is possible," he said.
"Sport unites and creates joy and excitement for everyone. Like many other cycling enthusiasts, I dream of seeing an African rider become UCI world champion. When you know where these young women and men come from, you can only admire their resilience. Their pathway isn't smooth."
People like Hupperetz are helping to ease the way.