Interview: Sean Kelly out to create new Irish champions
Irish cycling legend Sean Kelly chats with Andrew Hood about his continental team and academy, the future of Irish cycling and Contador's chances in the Tour.
Heading out the door? Read this article on the new Outside+ app available now on iOS devices for members! Download the app.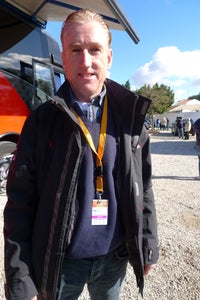 Sean Kelly is a living legend of cycling, but he's not resting on his laurels.
The 53-year-old Irishman has been throwing his weight behind efforts to make sure that the next generation of Irish professionals find it a lot easier in Europe than he did when he came to the continent in the 1970s.
Six years ago, he founded the Sean Kelly Cycling Academy in Belgium to nurture young talent. And from that effort grew the continental team racing under this name, this year as An Post-Sean Kelly. VeloNews chatted with Kelly about the team, here are excerpts from the interview:
VeloNews: What are the ambitions and goals behind the team?
Sean Kelly: We're at continental level now four years. We started six years ago in Belgium with the Sean Kelly Academy to develop riders, and we built the team from that. The team is growing slowly every year. It's really about taking some of the young Irish guys, the very few that are coming through, to see if they have the talent and motivation to try to go on to a bigger team.
VN: Do you hope to grow the team to a continental pro or ProTour level some day?
SK: That's always down the road. We had some contacts last year at end of the season with some potential sponsors. We'd like to go continental pro, but it didn't really come about because the budgets were a little too tight to go continental pro, so we decided to stay continental this year. For the Irish guys as well, the continental program is a perfect program for them to take them another year to see what capabilities and what talents they got. The possibility of moving up is always out there. If there's a sponsor ready to come on board, I think we're in a better position to do that now. The team has been developing over the years and I think the guys are ready to move on.
VN: How are things looking at the grassroots level for Irish cycling?
SK: It's getting better very, very slowly. It has been the last couple of years. The sports council is putting a bit of money into it and we are seeing some athletes coming through. There are very few right now. As I said, at the moment right now, the number of them coming through to the pro ranks isn't that great. At the junior ranks, we have six or eight potentially good riders coming through. It's a tiny number to get somebody good out of it. We have some of the U23 riders this year, they look good. We will try to take them along and hopefully we get some good ones out of that.
VN: There are some good riders now with Roche and Deignan, how does that help?
SK: With Deignan, Roche and Martin, it's good for us, because that's giving good promotion and good exposure to Ireland. And it gives some of the younger riders someone to look up, something we haven't had in the past 15-20 years since the time of (Stephen) Roche, Early and myself and all of us.
VN: How does it compare for younger riders today to your time 25 years ago?
SK: It's easier for them to come through now, because we have the academy in Belgium and the team now if they're at the level they can handle the racing and we can take them. We can look after them. That was a problem 20 years ago, they went to a team in Italy and France, they got too much racing one month and then not enough the next month. We have the structure there to look after the Irish guys. The opportunities are there more for them now. There are just not enough numbers coming through that we don't have a big selection.
VN: Is it just that Irish youth aren't racing today as much as in the past?
SK: If you go back to the years that we were competing in the Tour de France and the classics, we had huge numbers of juniors coming through. Unfortunately, we lost a good number of talented Irish riders because they weren't properly looked after. They got treated badly on some foreign teams around Europe. The opportunities are much greater now, but we don't have as many riders coming through, unfortunately. On the team, we have quite a few Belgians, the reason we have that is to take them along to help us fill out the team to get into races, because we don't have enough Irish riders to completely fill up the team.
VN: You're still working on race commentary with EuroSport, what is your role with the team?
SK: I am a general manager of the team. I look after the sponsors and some of the race program in helping getting the team into some events. Most of my work comes in August, September, October, working to line up any new sponsors, suppliers, new riders. Then once the season starts, I don't have a lot to do. It's run from Belgium by the staff. The team is based there, and all the Irish riders are based there, because it's much easier to work from there.
VN: Why did you personally decide to do this?
SK: That's what I started with, with Cycling Ireland, we created the Sean Kelly Academy in Belgium. We saw that we needed a team to take it forward, and it started to grow. The involvement became greater from me. I set up the academy because I had a lot of contacts in Belgium because I lived there for 14-15 years. Belgium is such a great cycling nation and it's easy to have riders in Belgium because you get to race a lot. My involvement has grown over the years and it's very satisfying. We've had great support from Irish sponsors, they've been very good to us over the past couple of years.
VN: A question about the Tour de France, do you see anyone able to challenge Contador?
SK: I think he will be tested in the earlier days. I think Lance and some of the others will try to put him under pressure. If the weather is bad, and it's windy, then the stage when they go over some cobblestones, they will try to do some damage there, because that's their only opportunity. Once they get to the mountain stages, nobody can beat him. And now in the time trials, he's showing that nobody can beat him. With the start in Holland, with the first four days, we saw last year with the start of the Vuelta, it can change the race if conditions can be bad. If you get a bad number of days, with wind, rain, they will certainly try to push him there, because that is where he truly is vulnerable.
VN: Do you believe Astana will be up to the task to protect him?
SK: We've been hearing a lot of that, that the team is weak. I think we'll see in the next couple of months if the team is really good. I think if he can get through the first couple of days, they will get through. It's better to have a somewhat weaker team with a strong rider like Contador than a very strong team without a top GC rider.