Jaén Paraíso Interior's 'golden olive' is suddenly one of cycling's coolest trophies
From winning their weight in Haribo to baby pigs and chunks of granite, a few races break the mould when it comes to awarding the winners.
Photo: Dario Belingheri/Getty Images
Heading out the door? Read this article on the new Outside+ app available now on iOS devices for members! Download the app.
Tadej Pogačar seemed like he didn't quite know what to make of the trophy he received Monday after winning in his season debut at the gravel-inspired Jaén Paraíso Interior race in Spain.
Was it a globe? Some sort of table decoration? No, it was a giant olive, of course.
The trophy pays homage to the "liquid gold" that's produced by the millions of olive trees dubbed the "mar de olivos" — sea of olives — that serves as the backdrop of the new Spanish one-day classic.
Also read: Pogačar sets early season marker
In just its second edition, the race and its over-sized olive trophy is suddenly one of the most unique in elite men's professional cycling in Europe.
Races have a long tradition of offering unique, elegant, and sometimes wacky trophies to the race winner.
Today, most races hand out bowls, plates, sculptures, and more traditional forms of trophies, some more inspired than others.
There are a few that stand out.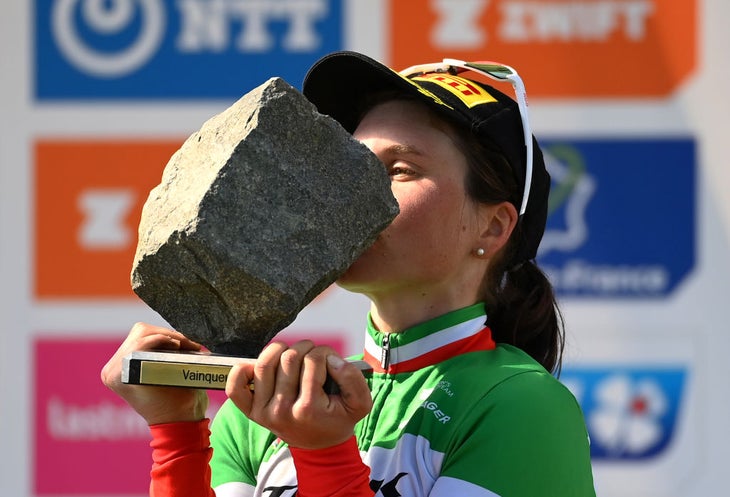 Paris-Roubaix ranks as perhaps as cycling's most iconic trophy, with the winner receiving a mounted piece of pavé extracted from the fields of northern France.
The Giro d'Italia goes over the top with its winner's trophy and is by the best among the grand tours. Inspired by soccer's World Cup and hockey's Stanley Cup, race organizers wanted something that would really stand out when it designed its "never ending trophy," with its spiraling loops and elegant golden design.
Tirreno-Adriatico also serves up one of cycling's most innovative trophies with its Neptune-inspired golden trident. The brash, bejeweled, gold-plated trophy would make any OG happy.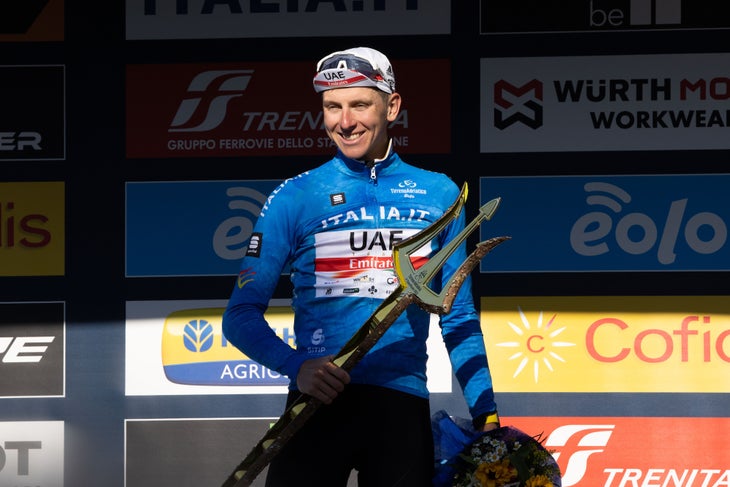 Many races, especially in Belgium's heartland, offer big servings of beer to the winners, though these days they're more likely to be served 0.0-alcohol beer. The winner of the now-defunct Haribo Classic received their weight in the sweet, French-made candy and gummy bears.
Winners over the years have been awarded entire cows, huge slabs of Spanish ham, and piles of cheese.
The Vuelta al País Vasco winner receives the trademark txapela, or the local Basque beret, that Chris Horner famously called "one of those funny hats" after he won.
Apropos of nothing in particular: Tro-Bro Léon was set up to fund Breton language education, still does, has a parcours like a wetter, hilly Paris-Roubaix with added butter, and has prizes of piglets with artwork like this.

There should be more sport like this. pic.twitter.com/rMVdj2EpVu

— Tim O'Connor (@timoconnorbl) January 16, 2023
One of the best trophies hands down is Tro-Bro Leon, every hipsters favorite race in northwest France. The gravel and dirt race is often called the "Little Paris-Roubaix" or the "Hell of the West," and instead of pavé, the winner is awarded piglet for a prize.
These days, the little pig is saved from the dinner table, and is returned to a local farm.
Tadej Pogačar donates signed jersey for Spanish cycling victim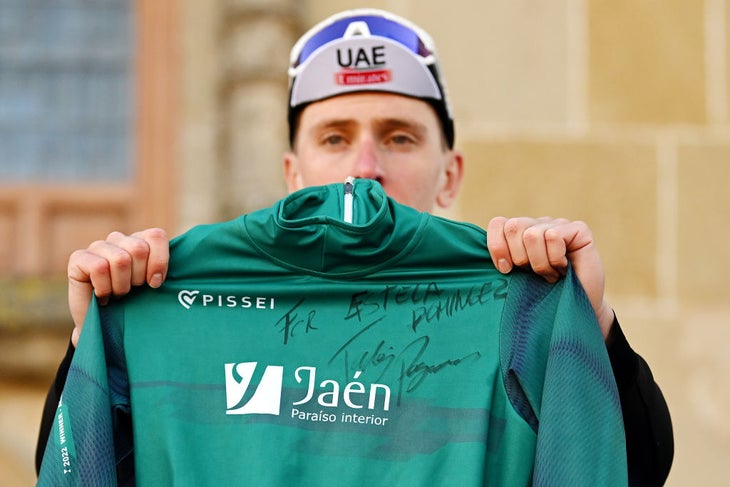 On a more somber note, Pogačar also donated a signed jersey as a gesture of solidarity to the family of the promising Spanish rider who was killed late last week.
Estela Domínguez, the 19-year-old daughter of ex-pro Juan Carlos Domínguez, was struck and killed by a driver of a truck while training near Salamanca.
Pogačar dedicated his victory Monday to her family.
A truck driver hit Domínguez in an intersection while she was on a training ride Thursday evening. Authorities have since opened an investigation into the case.
Domínguez was considered one of the rising stars in Spanish cycling, and her death is creating an outpouring of support for her family and frustration about road safety for cyclists.
Domínguez was a student at the Salamanca University and was planning on training with the Sopela Women's Team this season, the Spanish cycling federation confirmed. In 2022, she finished second in the women's junior category of the Copa de España de Féminas.