'Keep the ball rolling' – a conversation with Tyler Farrar
Tyler Farrar was one of the break-out riders in 2009. With 11 victories and a constant threat in the sprints, the 25-year-old vaulted into the elite pro ranks.
Heading out the door? Read this article on the new Outside+ app available now on iOS devices for members! Download the app.
Tyler Farrar was one of the break-out riders in 2009. With 11 victories and a constant threat in the sprints, the 25-year-old vaulted into the elite pro ranks.
For 2010, Farrar will enjoy even more support at Garmin-Transitions with a bolstered train following the arrival of such riders as Robbie Hunter and Murilo Fischer.
After making his season debut at Qatar and Oman, a podium spot last weekend at Omloop Het Nieuwsblad confirmed that Farrar is on the right track for another big season in 2010. Up next are the spring classics, followed by a heavy schedule that could include all three grand tours and a run at the rainbow jersey in Australia.
VeloNews sat down with Farrar at the team's training camp in Spain last month. Here are excerpts from the interview:
VeloNews: You had a tremendous season in 2009, how do you feel now compared to the start of last year?
Tyler Farrar: I am feeling pretty good. It's been a different approach, not starting the year with the Tour of California. It changes the way we trained through the winter, because California was such an important objective for the team, so we always needed to come into strong, with a big GC push. It's changed my winter a little bit. My training's been smooth and I am feeling good. So far, everything seems on track.
VN: With 11 victories in 2009, how important was that breakthrough in terms of your confidence?
TF: It's huge. When you believe that you're capable of winning, it makes it a lot easier to win a bike race. If you're constantly doubting yourself, or think you don't deserve to be there fighting for position with the best guys in the world, you're not going to ride as well. It was a huge year for me, confidence-wise. I proved to myself that I am ready to race at that level. I am hoping that this year will be a confirmation of that.
VN: You had plenty of highlights, does one moment stand out for you from last year?
TF: I would say Hamburg (Vattenfall Cyclassics). That was really special for me to win a one-day classic. It's a race that I've done a few times before. It's a fantastic race and it meant a lot to me. Winning a stage at the Vuelta was huge, too, a grand tour. For me, there's something special about winning a one-day race.
VN: After coming out of the Tour de France last year, you won eight races, how did that experience help you?
TF: We didn't know how I was going to react to the Tour. I had never done one before. The Tour obviously went pretty well. I felt like I got through it OK. I wasn't completely blown out in the third week. I was still strong there in the end. I did a few post-Tour crits, but I took good care of myself after the Tour and stayed focused. I didn't just say, 'OK, the Tour is done, the year is over.' I kept some goals in mind. It surprised me, too, but I felt like I was getting stronger.
VN: How important was the stage victory at the Vuelta?
TF: It was a big victory for me. It was a new experience for me to be in a grand tour and to win a stage there was important. The biggest thing for me was to get that experience of racing in a grand tour. Now we will have a stronger team, with Hunter and Fischer, so I hope that will make a difference. The team now has confidence in me and this year, I hope we can take more control of the races.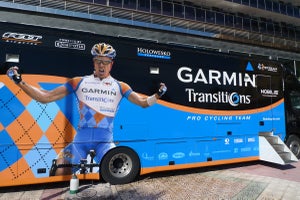 VN: The team is obviously believing in you; so much so your image is on the side of the team bus, was that a surprise?
TF: That was a surprise to me! I showed up at the first day of training camp and I said, 'wow!' It's nice. It's doesn't really fit my style, because it's not my personality to be so 'out there' like that. It's the team, the team wanted to put it out there. That was the picture from Hamburg. I am proud of that.
VN: After such a strong season in 2009, it's only natural that the expectations are higher?
TF: I ended last season on a really high note. The goal is to keep that ball rolling through this year. I am feeling good. It's always a test when you get into your first race. You can feel great in training, but you never really know. I've been feeling good in training camp and I had no problems over the winter. There's a block of racing in Italy with Eroica, Tirreno and Milan-San Remo, then a big block of Wevelgem, Flanders and Roubaix, all the cobblestoned classics.
VN: Your sprinting has obviously stepped up, but how important will the northern classics remain for you?
TF: I've always thought as myself as a classics rider. Thinking of myself as a true sprinter was something new for me last year. The classics will always remain a huge goal. The way the season breaks down, it fits really well, you can focus on the classics in the spring, then you can take a little break and change your focus and dial in your sprinting a little bit more for the rest of the season.
VN: After that, will you race the Giro or California?
TF: It's not a 100 percent, because there's also the Tour of California, so it will be up to the team to say definitively. We thinking there are a lot of sprint opportunities in the Giro, we just don't know yet. I think the Vuelta is in the plans. With the worlds being sprinter-friendly this year, I think the Vuelta is a good way to prepare for that. We'll see how I am feeling after the Tour, whether the Vuelta is the best preparation or doing some of the week-long stage races. We'll just have to see how I am doing after the Tour.
VN: How big of a surprise was your success in the sprints last year?
TF: I am not going to say it was a complete surprise for me, but last year went well above and beyond of what I had hoped for. In 2008, I had a strong end of the season. Things started to really click for me and I was feeling faster and faster in the sprints. I had the inkling that maybe I was capable of putting in some big results in 2009, and it came together really well. Other than getting hurt at Milan-San Remo, it wasn't as if it took me out for months and months. It only took me out for a few weeks, other than that, I had a pretty smooth-sailing season. I ended up getting a rest through all the classics that I had been targeting.
VN: Was there any conflict between you and Julian Dean on who would be team's top sprinter last season?
TF: Our objective as a team is to win bike races. It kind of happened that I really came on and I was riding well. Julian is an amazing professional. He said, this is our best chance to win bike races, and he started riding for me. He's one of the best lead-out men in the world. It was a pretty huge resource to have.
VN: Dean was Thor Hushovd's lead-out man for many seasons, how much did he help you last year?
TF: So much. Last year was my first year racing at that level. I had never done a grand tour before last year. When you go into a sprint with three or four good sprinters in any other race, it's not the same as doing a sprint in the Tour de France, when all the best in the world are there. Having someone like Julian, with all that experience, made my life a lot easier for sure.
VN: How much will the arrival of Robbie Hunter and Murilo Fischer help you in the sprints?
TF: You have to earn that confidence from the team. It's not something you can expect. I had a really good year last year, so the team is willing to put a bit more effort into our lead-out train. So now I am going to have some really fast guys at the end of the race. I think we have a really fast team for the final kilometers.
VN: Has the team worked out the rotation yet on where everyone will ride in the sprints?
TF: That's what these early season races are all about. It's a chance to get to know each other a little bit. Julian and I know each other really well because we've been racing together for a year. Now I can get to know Robbie and Murilo a bit more, and figure out how we work best together. For sure, there will be some kinks to work out in the first month or two of the season. It will be a matter of trial and error, mix it up a little bit, and see what works best. I don't know those guys well enough yet to say what's going to work.
VN: HTC-Columbia has established themselves as the top lead-out train, will Garmin try to derail them in the sprints this year?
TF: I don't know if I'd put it that way. We've put a lot of effort into beefing up our lead-out train. We are definitely much stronger than last year in the sprints. We hope that we will be able to take a bit more control in the races in the last kilometers, that's the goal. Sprinting is always a bit chaotic. I am sure that we will come together pretty well.
VN: How do you react when people measure you against Mark Cavendish?
TF: For me personally, I don't stake myself as racing against one guy. I want to try to win bike races. I want to be the best sprinter I can be. We'll see who I am racing against. I think it's natural that the press wants to compare me, or contrast me, to him, simply because he's the best in the world for the past two years, you can't really argue with that. I've put a lot effort into my training this winter and we've put a lot into making the team stronger in the sprints, so I hope that we will be able to give them a good run.
VN: Will you try to win the green jersey at the Tour this year?
TF: I don't think I am ready to stake that one out yet. Of course, if we get into the Tour and we're two weeks in, I am right there in the hunt, obviously I am going to go for it. Looking toward the grand tours in 2010, the goal will be stage wins. We'll worry about sprinter's jersey if the situation arises. We're not worrying about that too much right now.
VN: The world championships is a big goal for you in the next two years, how does that fit into your plans?
TF: There's a good chance it will be a sprint out of a fairly large group coming into the finish. It will be a big objective at the end of the season. I want to keep it in mind, to try to be fresh. But first come the classics, then the grand tours. It's going to make for a pretty busy year in 2010. Hopefully I will be able to fit in a few breaks throughout the year. I am going to be on the go all year long.