L.A. road rage doctor gets five years
The California physician, convicted of assaulting a pair of cyclists with his car, was sentenced to five years in prison at the close of a hearing in Los Angeles Superior Court on Friday morning.
Heading out the door? Read this article on the new Outside+ app available now on iOS devices for members! Download the app.
Breaking News – UPDATED:
The California physician, convicted of assaulting a pair of cyclists with his car, was sentenced to five years in prison at the close of a hearing in Los Angeles Superior Court on Friday morning.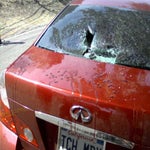 Sixty-year-old Christopher Thomas Thompson, found guilty of six felonies and a misdemeanor, has been in custody since his conviction in November. Following an emotional two-hour hearing Superior Court Judge Scott T. Millington sentenced Thompson to two years on the charge of assaulting cyclists Ron Peterson and Christian Stoehr with a deadly weapon and added a three-year enhancement because Peterson suffered serious bodily harm. The remaining lesser charges also carry prison time, but those sentences will be served concurrently with Thompson's five-year sentence. The judge also ordered that Thompson be stripped of his driver's license for life.
Prosecutors had asked that Thompson be sentenced to eight years for crimes mostly relating to a July 4, 2008 incident in which he abruptly stopped his car in front of the two riders descending Mandeville Canyon road, near Los Angeles. Thompson was also convicted of misdemeanor charges relating to a similar incident that occurred months earlier, but did not result in injuries.
Expressed remorse
Thompson took the stand Friday and accepted full responsibility for his actions, expressed remorse and apologized to Peterson, Patrick Watson and Josh Crosby, who were in attendance on Friday. Stoehr did not appear in court on Friday.
"I would like to apologize deeply, profoundly from the bottom of my heart," he told the three cyclists.
Thompson spent much of the hearing in tears, as the three cyclists testified about the incidents that ultimately led to Thompson's conviction. The riders asked that a severe sentence be imposed in the case.
While his client appeared contrite on the stand, Thompson's attorney, Peter Swarth, continued to maintain that he had never intended to hurt anyone. Thompson dropped his head into his hands and wept when Millington imposed sentence in the case.
In November, Thompson was convicted of assaulting Peterson and Stoehr on the morning of July 4th after a brief exchange of words, in which he demanded that the two – moving down the hill at nearly the speed limit – ride in single file. Thompson then passed the two cyclists and slammed on his brakes, causing the riders to crash into the rear his car.
Stoehr hit the back of the car and vaulted into oncoming traffic lane. His injuries included a grade-three shoulder separation and road rash. Peterson went through the rear window of the car; the impact broke his nose, nearly severing it from his face, and shattered several of his teeth. More than 90 stitches were required to reattach his nose.
Teach them a lesson
As Peterson lay on the side of the road, Thompson called 911, told the operator of the accident and added that the riders would probably "tell you they are seriously injured, but they're not."
Thompson also told the first police officer on the scene that he intentionally hit his brakes in order to "teach (the two riders) a lesson."
In court, however, Thompson claimed that he had merely come to a stop in order to take a photograph of the riders as part of his effort to document what he believed to be a violation of local traffic rules. Thompson's lawyer had argued that the cyclists were belligerent and may have fallen because of the inherent instability of bicycles. He suggested that in any case the incident was accidental, not criminal.
The jury rejected that defense, found that Thompson's actions were indeed criminal and convicted him of assault with a deadly weapon, reckless driving causing specified bodily injury, battery with serious bodily injury and mayhem.
Thompson was also convicted of harassing two other cyclists who documented an earlier run-in with the doctor on Mandeville Canyon Road. Patrick Watson and Josh Crosby say they were descending the road in March 2008 when a motorist sped ahead of them and hit his brakes. Watson bunny-hopped a curb and rode onto a lawn while Crosby dodged into oncoming traffic.
The vanity plate
Watson says the motorist made a second attempt to hit them and then sped away. He used his cell phone to record the vehicle's vanity plate, TCH MDX, an abbreviation of Thompson's medical records company. That plate was also on the back of a burgundy Infiniti driven by Thompson in the July 4 assault. While Watson reported the March incident to authorities, prosecutors declined to pursue the case at the time.
Following news reports of the July 4th assault, Watson called the attorney's office to remind them that it was not Thompson's first encounter with cyclists. Prosecutors then decided to pursue charges in the March case and were successful in efforts to join those with charges stemming from the July assault.
Thompson was convicted of misdemeanor reckless driving in that incident.
With his client facing up to 10 years in prison, Swarth asked the court to exhibit a degree of compassion in handing down a sentence. Swarth argued that a lengthy prison sentence could prove fatal to Thompson, who suffers from coronary artery disease. The defense team also offered testimony from a clinical psychologist who has concluded that Thompson has exhibited symptoms of post-traumatic stress disorder since the July 4th incident.
Sentence imposed
Despite Thompson's earlier acceptance of responsibility, Swarth continued to argue that the doctor lacked the necessary intent, maintaining that he had merely stopped to take a picture in the July fourth incident.
Prosecutors, however, recommended that the court sentence Thompson to a minimum of eight years in prison.
Thompson's troubles will probably not end with his Friday sentencing. His medical license was suspended last month, and a permanent revocation is probable, pending a hearing by the state's medical licensing board.
Although now reportedly near bankrupt, the founder of a successful medical records technology company, Thompson still faces likely civil action from the victims in the case.
Reporter Patrick Brady, who covered all of Thompson's criminal trial, attended Friday's sentencing hearing and will send a complete report to VeloNews.com later today.