L'Eroica excitement fuels Filofficina vintage shop
Inspired by L'Eroica, a bike shop in Florence, Italy sells fixed-up old bikes from the days of old Campagnolo groupsets and skinny steel frames.
Heading out the door? Read this article on the new Outside+ app available now on iOS devices for members! Download the app.
FLORENCE, Italy (VN) — Tucked down a side street in Florence's artisan quarter, the place where the Torrigiani family calls home, Lorenzo Abruzzo builds dreams. The bicycles he prepares and sells to customers around the world recall a time of Fausto Coppi breaking the hour record at Vigorelli or Eddy Merckx bashing the Flemish cobbles.
Space-age bikes with electronic shifting and $10,000 price tags have their place, but these Colnagos, Cinellis, and Rossins have soul. They were once forgotten to make way for lightweight carbon frames and brake-lever shifters. Now, these steel rigs are highly sought after, and that's why Abruzzo's Filofficina bike shop is thriving.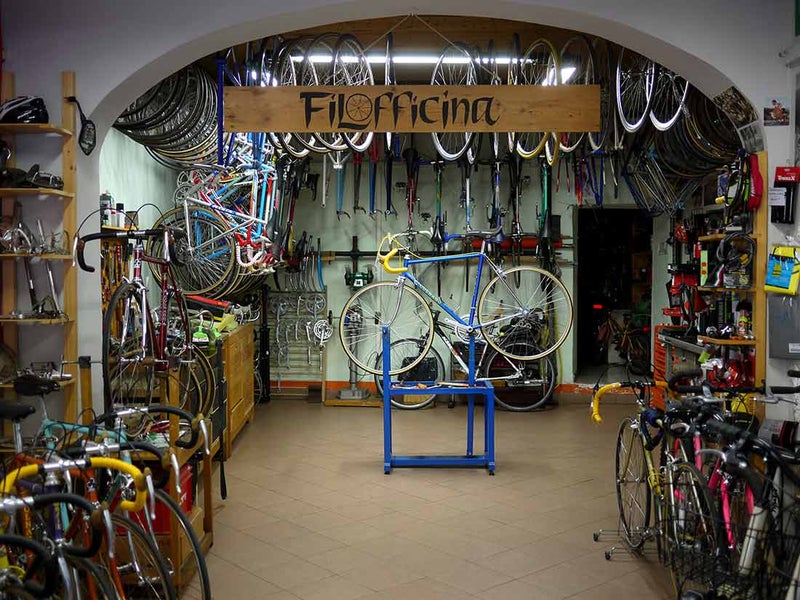 "These vintage bikes are more valued by foreigners. In Italy, more often than not, we look at them as normal. We take them for granted," the towering Abruzzo explains.
Abruzzo speaks in his shop on Via del Campuccio among many other artisan boutiques that dot the south side of Florence, what locals call "Oltrarno." A woman wheels her city bike out into the early morning sun. He says she should replace her worn tires soon.
"Many customers come from the United States, China, Japan, Korea, and in Italy. They find me via word of mouth, via Facebook or eBay," he says, reaching for a shipping slip for a Bianchi Specialissima order to be delivered to Boulder, Colorado.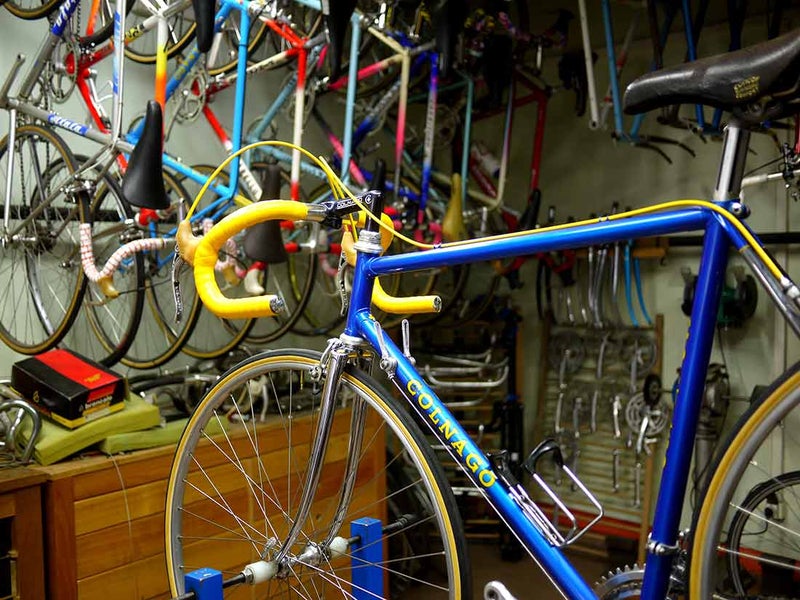 He turns his attention back to a 1979 Colnago Mexico frame mounted with its original Campagnolo Super Record groupset. The yellow club logo stands out on the blue paint, more so with the yellow bar tape.
The tubulars are not yet glued to the rims. Lorenzo says he lets the buyer do that so the rubber cement odor does not radiate from the shipping box and cause problems with customs officials.
A row of similar gems from the 1960s to the 1980s lines the wall next to the door. And above, Moser, Pinarello, and Tommasini bikes hang. All of them are waiting to be finished or sold.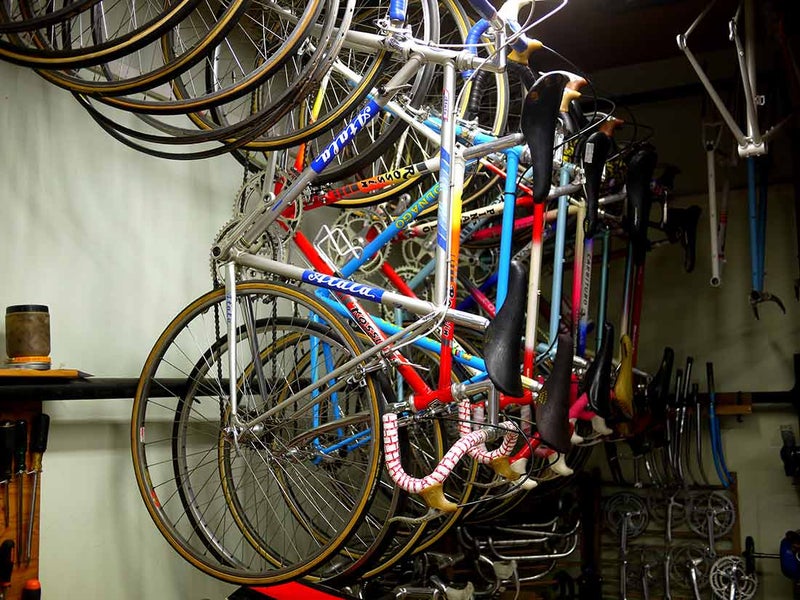 The cycling gods blessed Abruzzo with Florence. Tourists pour through the cradle of the Renaissance year-round. Here, the heart of cycling beats loudly. The city hosted the 2013 UCI Road World Championships. Gino Bartali grew up over the hills to the south in Ponte a Ema. Further out, the white gravel roads crisscross the Chianti hills.
Bartali rode these roads to deliver falsified papers to Jews trying to escape the Germans in World War II. Now, Tuscany considers these miles and miles of "strade bianche" sacred ground. Professionals race Strade Bianche annually on the roads, the Giro d'Italia often passes through, and the Eroica cyclo-sportive has its roots there.
"I also like working on new bikes but it's right to give these bikes their due space. These vintage Eroica bikes are part of Italian culture," Abruzzo continues. "There are not many mechanics that work on these old bikes. I want a buyer to have a safe bike and to have a mechanic behind it who has experience with vintage bikes."
L'Eroica started in 1997 in Tuscany, with the number of participants growing every year for the October event. Now people race to simply register, and the spots disappear as quickly as tickets to a Rolling Stones concert. The organizer's success has led to a second event in the spring and sister sportives in California, South Africa, Spain, Japan, and other locations across the world.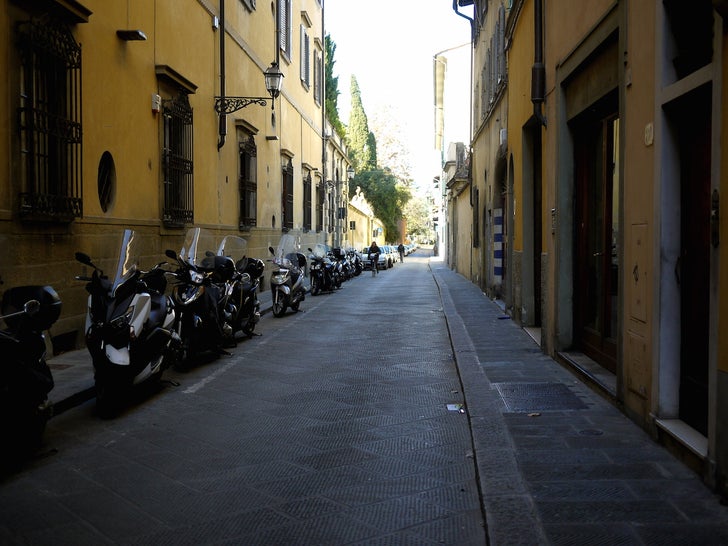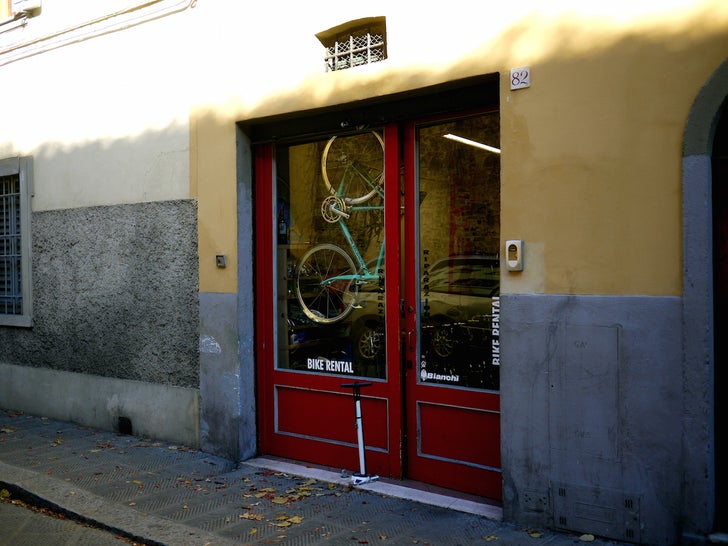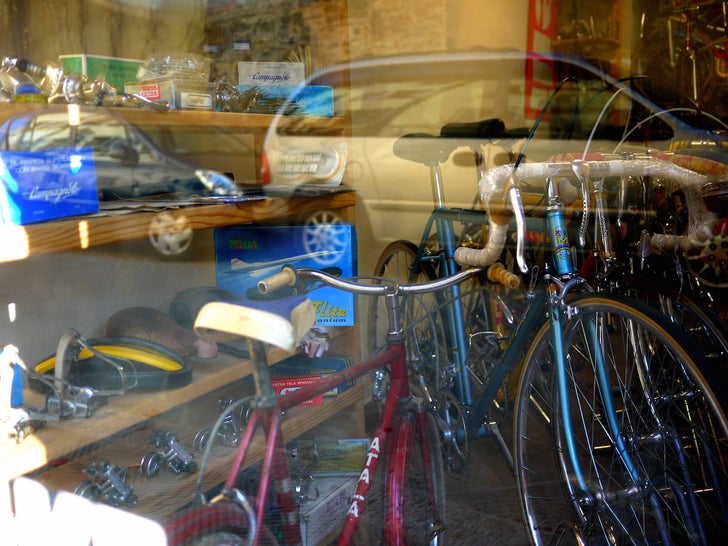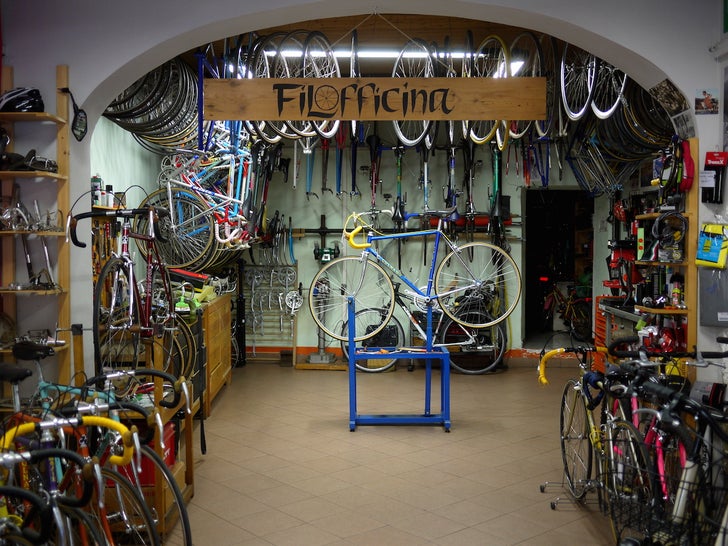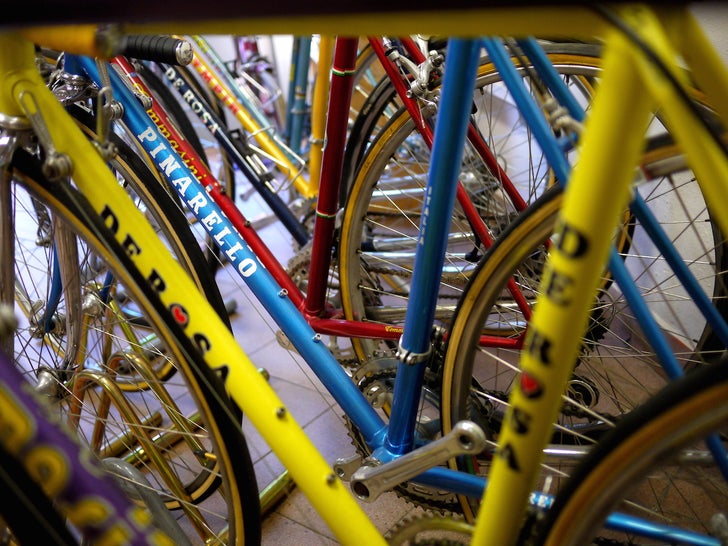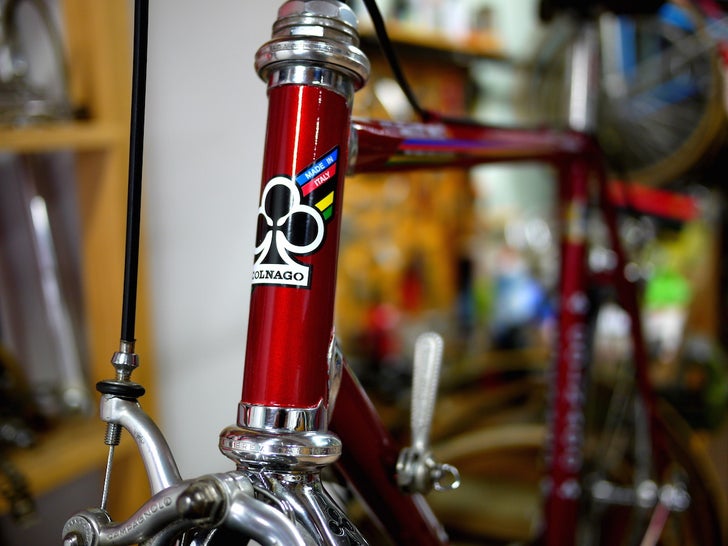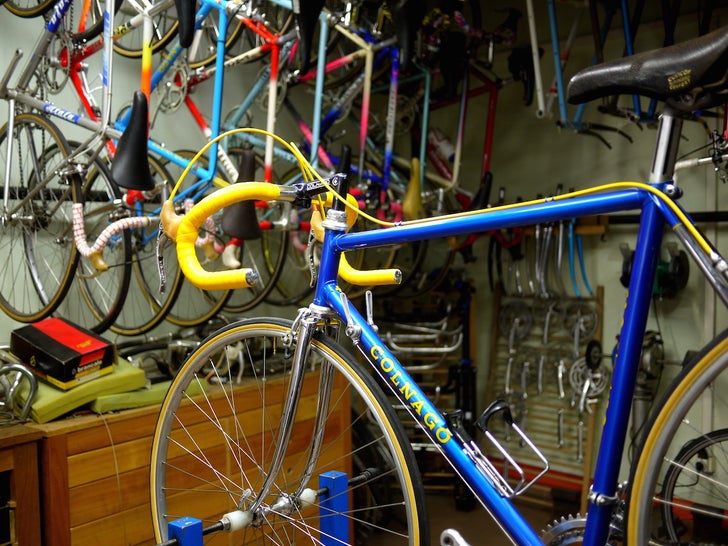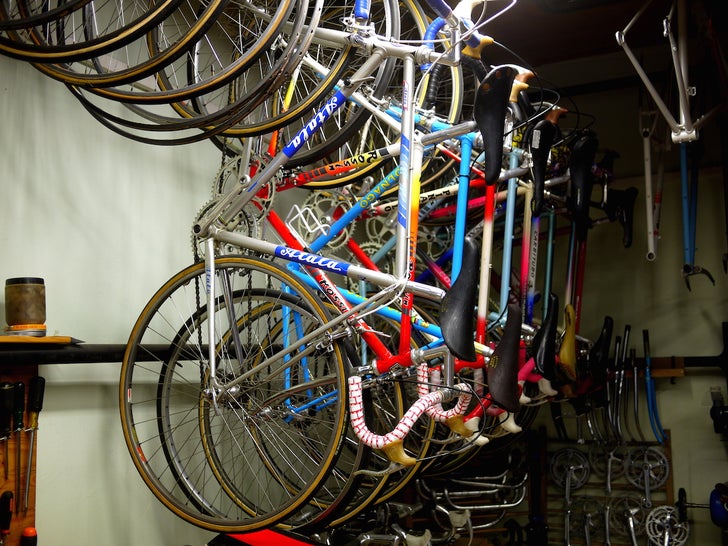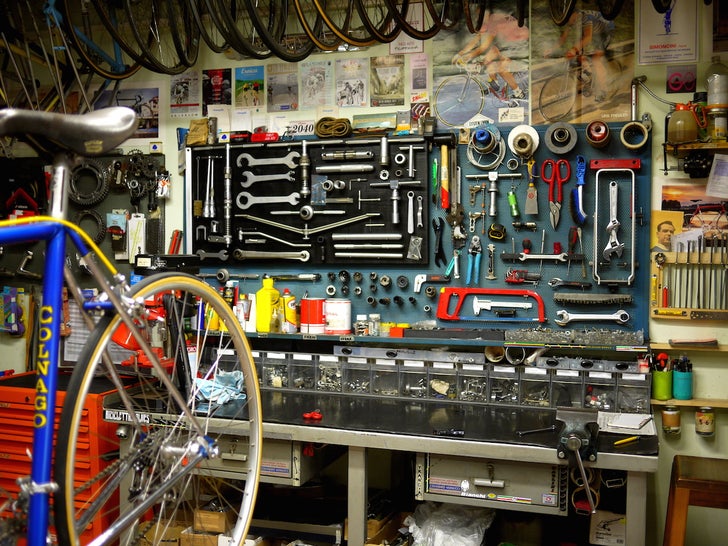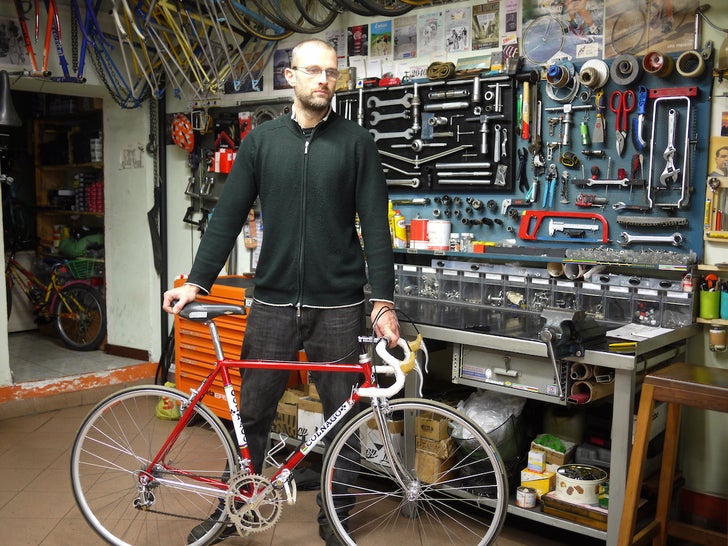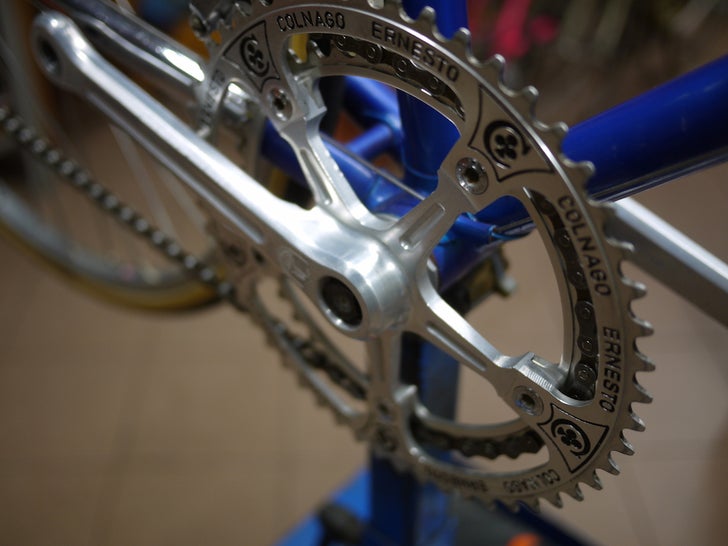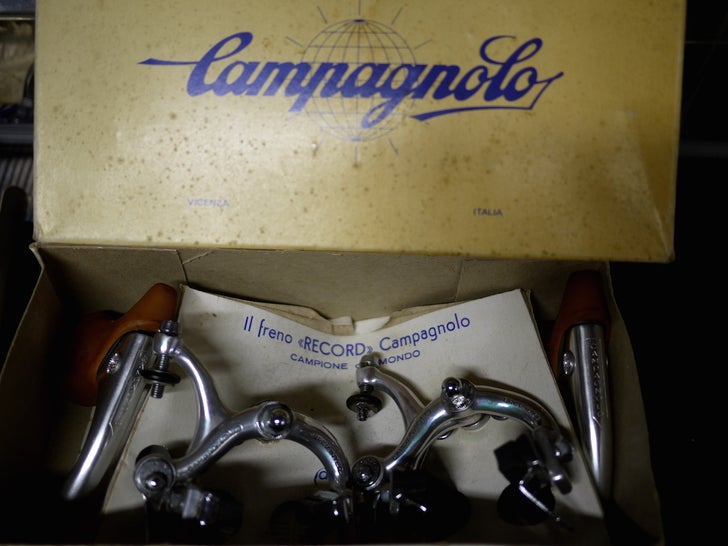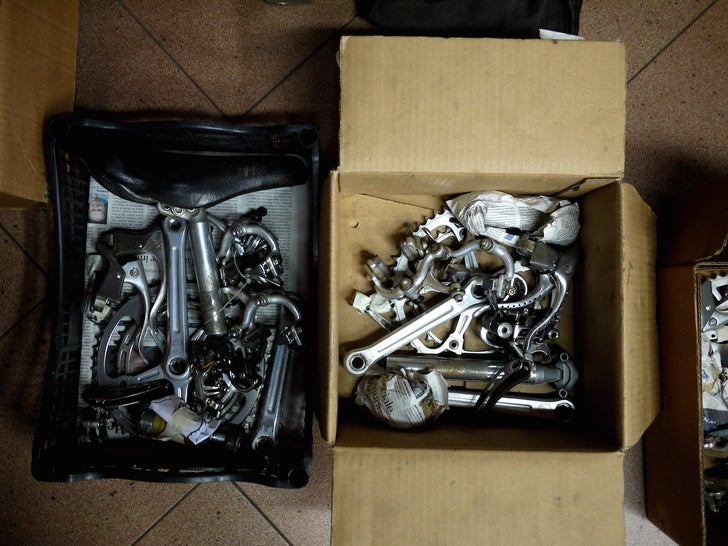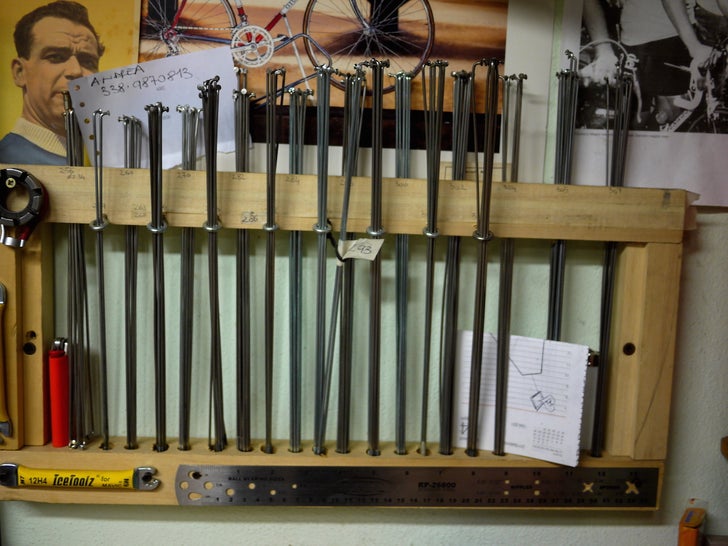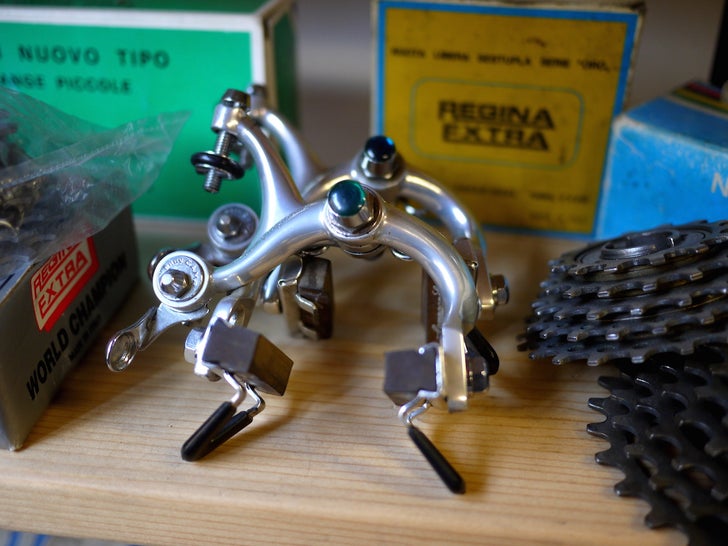 In the back of the shop, four or five rental bikes for L'Eroica are hanging and ready to go. Abruzzo keeps them solely as rentals and for the gravel undulating roads with easier gearing, bigger brake cables, and clincher tires. The rest are frames that he found in old bike shops, markets, and private owners from around Italy.
"I look for frames without any dents or cracks. We can repaint it if we have to, but I like to keep it all original," he says.
"I have to look all over for them, and there are fewer and people want more money for them now. I came across an old man one time next to the seaside who had a Colnago Master with straight city bars mounted on it. I said, 'I'll give you 200 [euros] for it.' He wouldn't sell. I said, '250 and then 300.' He wouldn't part with it, not because it was a Colnago, but because he valued it as a lightweight bike that he could easily remove the wheels from and lift it into the back of his Fiat car. I left him to it and did not want to separate him from his bicycle.
"My prized bicycle is this 1986 Bianchi Specialissima X4 in the Moreno Argentin colors. I found it from a Romanian who was asking 700 for it. I always ask the story behind the bikes and in this case, I was asking because I thought maybe it was stolen or something. But then he pulls out jerseys and shoes all matching, explaining how he was paid many years ago with the bicycle and jersey for some work that he had done. It's too small for me because I am so tall. I will not sell it even if it's worth around 4,000, so I gifted it to my girlfriend and it hangs here on the wall."
You likely won't see Shimano or other foreign brands in Abruzzo's shop. We spotted just one bike with Shimano parts, a Moser in the backroom. Abruzzo says his niche is Italian frames with Campagnolo Record, Super Record, or C-Record groupsets. The frames and components range from the 1960s up until about 1986, when Shimano introduced brake-lever shifters and when clipless pedals began to take hold.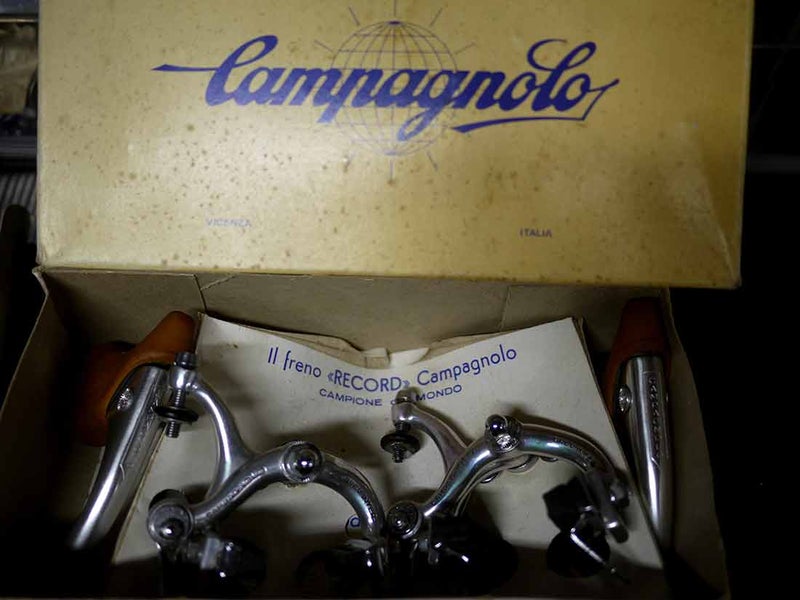 The Eroica organizer requires that bikes have exposed cables on the handlebars, down tube shifters, and toe-clip pedals with straps. Steel tubes are a must, but the old aluminum Alan and Vitus frames are allowed as they existed early on.
"Outside of Italy, abroad, they look at these bikes as 'Made in Italy', a piece of culture, a gem of our country. In Europe, the trend is to use them more and build them up with modern groupsets," Abruzzo adds.
"Americans want to have style. They want their Bianchi celeste green. They want a Colnago with bar tape matching the lettering. They want the details."
He prides himself on details. His father gave him the gift of turning a wrench. He began to disassemble bikes and build them again. Before the shop opened in April 2015, Abruzzo worked steadily for a set of customers out of his home.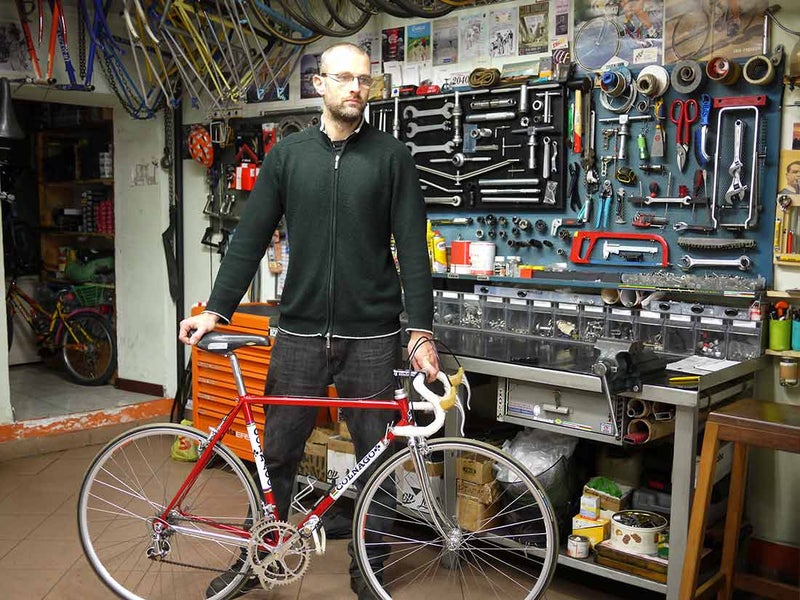 "It's worth it to have a shop in the center of Florence for people who just happen to pass by but also that someone can come from China or from the United States and see the shop, the tools, and meet the person behind the bike. I had one American who has just happened to pass by on the street come in and made a contact to order a bike. When he was home he sent an email and finalized it," he says, leaning on the blue Colnago Mexico that still needs a home.
"The big thing I want to get across is that this is not just an ad on the internet but that I am here in Florence and you can come and visit. You can take a flight from Colorado and visit the shop and see the person behind the bike and hear the story. The work will remain for years and it is a quality product. I'm a mechanic and I will stand behind the bike."