Make mine a triple: a chat with 1987 Giro-Tour-worlds champion Stephen Roche
It was some 24 years ago, in 1987, that Irish cycling hero Stephen Roche won the Tour de France; it was his and Ireland's only ever Tour victory — if you can actually be so blasé as to use the word "only" in the same sentence as a hard earned Tour de France victory; the culmination of a life's work and ambition for any cyclist.
Heading out the door? Read this article on the new Outside+ app available now on iOS devices for members! Download the app.
It was some 24 years ago, in 1987, that Irish cycling hero Stephen Roche won the Tour de France; it was his and Ireland's only ever Tour victory — if you can actually be so blasé as to use the word "only" in the same sentence as a hard earned Tour de France victory; the culmination of a life's work and ambition for any cyclist.
Now on a recent day, VeloNews found him packing his bike once more and making for a new challenge; the London-Paris ride, a major annual cyclo-sportive stage event, which he's ridden before in aid of charity (leukemia research).
"I'm flying straight from my Majorca cycling camp and will be riding the London-Paris, and then I start work at the Tour de France for Skoda France, so I'm busy enough."
Since his retirement at the end of 1993 Roche has continued to have a close involvement with the sport, both through his son Nicholas (and member of the Ag2r squad) and numerous roles he still has within cycling. Roche has always been known for his no-nonsense straight talking, a strong will and discipline, and for having had bundles of class and tactical sense as a bike rider.
Few will ever forget his precisely calculated ride to Les Deux Alpes in the 1987 Tour, where he pegged back Pedro Delgado on the final climb, to effectively put himself back into contention for the race, and in doing so ended up on oxygen and in the hospital. This kind of tactical astuteness and such guts characterized Stephen Roche as a rider.
These heroic acts are seen less and less these days, as riders often seemingly race as virtual robots, controlled by directors back in their team cars, an issue that has caused much controversy in recent months;
"I think race radios should be abolished," Roche said. "The reasons from the managers for keeping them are not viable reasons. I don't think having a radio in every rider's ear and yelling at them helps in their reasoning. I think looking at cycling long-term that (radios) will kill it off because it makes the racing less spectacular. People outside often wonder if the riders are men or machines. There's seemingly no rider-thought behind actions; it's basically the DS in the car behind calling the shots, it makes it look like all the riders have to do is ride their bikes and not think."
The "radio-controlled" system often starts at junior level, Roche noted.
"I had the opportunity to speak to some young riders last weekend and they were saying that sometimes you have to take a step back to step forward, agreeing with my thoughts. I think you have to stop it at junior level. Lots of riders have never really raced without them, and don't know how to. They have to learn to think and race. One guy actually said; 'Who's going to tell me what to do?' That's exactly the point, and I recognise that, and it will take time to learn. But I think for the future good of the sport they have to go."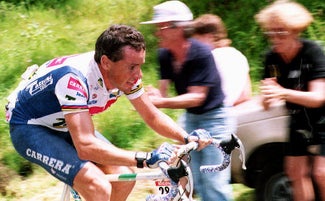 When Roche won the '87 Tour it was sandwiched right between a Giro d'Italia win and a world road race title, something that only the great Eddy Merckx had achieved before, and that nobody since has come close to. Can it be done again?
"First you have to get riders who will do both the Tour and the Giro, and then the course for the world championship has to be demanding enough for these Tour riders to attempt it; and for example, this year's world's course — I can't see it suiting Contador, so it's not going to be done this year. Then they're talking about next year suiting Gilbert, and so on. But yes I'm sure it can be done. I was just fortunate that it fell my way. This suits me well, as it means there's less chance of more people doing the triple."
How exactly did it fall his way back in 1987?
"As I rider I was an all-rounder. I was more of a Tour rider, but I was also capable in the classics. I had good form at the Giro, which was ideal preparation for the Tour. Then the world's course and the conditions suited me."
At worlds, Roche didn't go to win, but an attack designed to take the sting out of the break for teammate Sean Kelly was never reeled in, and Ireland won its only world professional road race title.
Having won both the Giro and the Tour, which does he rank as the toughest to race win?
"They're two totally different concepts and challenges. At the Giro you always had a lot of small Italian teams that nobody's ever heard of and will maybe never hear of again. While at the Tour you have the crème de la crème of cycling, all racing each other on every mountains and going for every sprint, and they're the best, and everybody is on their best form. But having said that, the itinerary of the Giro was always harder for me; it is more demanding, and the climbs were hard for me."
There's seems little doubt that Alberto Contador is odds-on favorite for this years Tour, and the Tour-Giro double; can he be beaten?
"Looking at the field and itinerary (barring accident) I think that Contador has the upper hand, and I can't see Andy Schleck beating him – because of his form at the Giro, and he's been and rec'ed the climbs in the Alps and Pyrenees and the time trials. I went and checked the time trial course myself, and I think that if Schleck wants to win that he will need at least 2 minutes' advantage on Contador for that final TT."
Roche said Contador seems to thrive on performing well at both races.
"He does things right; I think the Giro is ideal preparation for the Tour. You don't need to go off and worry about the Tour de Suisse and Dauphine and then prepare for the national championships. He knows this, and is very good at preparing well. After the Giro he quietly goes away and recovers and prepares mentally and physically. He's under a lot of stress, and it's more important to arrive at the Tour 100 percent mentally prepared and a little bit off physically, that will come back with the racing. You need to cut off from cycling for a while between the two."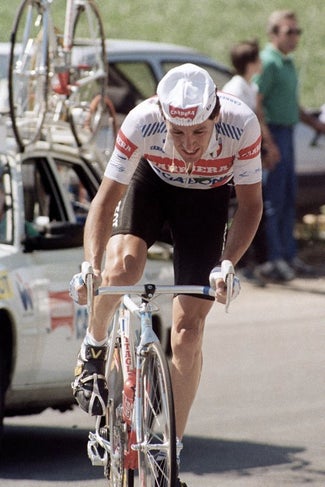 There's much said about the Schleck brothers challenging Contador at the Tour, yet at times (especially in Liege-Bastogne-Liege) their tactical attitude seems flawed. How did Roche you rate their riding?
"I don't rate the way they ride tactically very much. They're good riders; they have a lot of muscle power and horsepower. But I think they can be over-estimated, and they don't use the power right. I think Frank probably has the better tactical head, but I think they look too much to each other rather than getting on with the job."
The Roche name is of course being represented in the 2011 peloton Tour by Nicholas, who has progressed steadily through the ranks, and finished 15th overall last year, and then went on to take seventh overall at the Vuelta a Espana.
Unfortunately Nicholas suffered a nasty early season crash and then another crash in the recent Dauphine.
"Looking at the negative he had a bad crash in the Dauphine, and was pretty badly cut up. He's nursing his wounds, which is hampering his training and final preparation. But on the other side I've said to tell him that it could turn things into a positive; he's crashed, he hasn't raced much this year, so now there will be less expectation and less people looking to him. If he can stay upright and in contention for the first week then things get more complicated. He could well be fresh and play a major part in the end. For sure he hasn't had a good start, but maybe he can make the most of it."