Old dogs and underdogs: A chat with Langkawi's veteran GC contender, Libardo Nino
Steve Thomas chats with Libardo Nino, the 42-year-old Colombian climbing who is just two seconds out of the lead at the Tour de Langkawi.
Heading out the door? Read this article on the new Outside+ app available now on iOS devices for members! Download the app.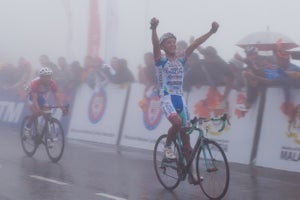 If you've been following our daily coverage of this year's Tour de Langkawi you've probably noticed a couple of things: firstly that the overall GC has been running seriously close. With just two stages to go a slender two seconds was separating the first two riders overall, Libardo Nino and Jonnatha Monslave); secondly, the race leader after the mountain stages was a staggering 42 years old (Nino will be 43 in September).
When Nino, a Colombian who is guest riding for the Malaysian Le Tua Continental team, took the lead in Asia's highest ranked race, it brought a hopeful smile to the faces of many of us older cyclists.
As the 6-foot tall climber reflected on the mountain stages when asked how he'd managed this amazing achievement.
"The mountains are hard and tough, that's for sure; and the climbs are high. Genting is also very steep, but I knew before I came what to expect and prepared very well for the race. Where I live in Colombia we have a lot of mountains like this, and I train most days on them. It's preparation, and a lot of experience."
Central American riders have taken victory in Malaysia many times. "I think that with the very cold winter they've had in Europe, many of the Italians were not as prepared as well as they had hoped for. Whereas I've had great conditions and hard racing at home, which means I'm on great form."
As an Asian racing debutant how had Nino found the racing? "The organisation here is great (not like in Colombia), and the people are also very warm and welcoming. The standard of racing is similar to Europe, as there are a lot Italian teams here too. As for the Asian riders; there is a lot of potential and talent there, but I think they really lack good training and preparation for racing at this level."
The Le Tua team has been around for a few years now, and has many "transient" guest riders in the past few years. They've achieved stage wins in races such as the Herald Sun Tour (with Jann Kirsipu). But if the team pulls off this victory it will be by far its biggest ever, and the first ever overall win in the race by a Malaysian (or even Asian)-based team.
How did Nino find his way here? "I'd wanted to do this race for a long time — and just wrote to them (the organizers)."
Is this the start of something new for him in Asia?
"No, I'll be heading back to Colombia to race for the same team I've ridden with on and off for many years. But, I would really like to get an invite in the future for my team to race here in Asia. The Qinghai Lake tour would be great; it's very hilly and would suit us well."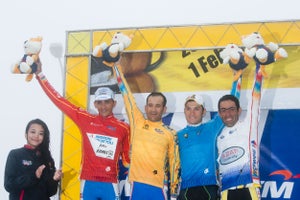 Ironically Le Tua translates to mean "the old ones" in Malay, but Nino seems to be showing few signs of slowing down and growing old gracefully; "Sure, my passport picture looks very different now than it did before. But, physically I think I'm as strong as I was 20 years ago. But now I have much more experience, so overall I think I'm a better bike racer than I was before."
It seems there's plenty of life left in his legs, so what comes next? "I think I can race at a good level in Colombia for another two, three, or even four years. I just love riding my bike! Every day I train with a group of 20-25 really talented riders, a great group. The team I'm with has a number of very good young riders, and in time I'd like to maybe turn to team management and help them to break out of Colombia."
Digging deeper into Nino's past you'll see that he finished 76th in the 1992 Olympic Road Race in Barcelona, riding alongside Lance Armstrong and Co. in the last of the 'amateur Olympics", and then went on to spend three years with the climber-heavy Spanish Kelme team;
"It was a great experience, but I was very young and inexperienced, and eventually went home. I had responsibilities to handle there."
During his time at Kelme he rode as a teammate to other leading Colombian riders such as Santiago Botero and Henran Buenahora, as well as multiple Vuelta a' Espana winner Robert Heras. After returning to Central America he went on to be one of the regions dominant riders of the 90's, and right on through until now. His time trial and climbing prowess earned him an endless array of stage wins and overall titles in races such as the Vuelta a Colombia and the Classico RCN.
In 2007 he received a two-year suspension after testing positive for EPO usage in the Pan American Games. During his career he was tested countless times, in a period where positive results were rife at every level of the sport. But his love of bike racing led him back to competition in 2009, at the ripe old age of 40. In 2010 Nino scored numerous wins and podium finishes in Central America.
Nino lost the lead on Sunday to Monsalve, but remained just two seconds back. Before the stage, he was philosophical.
"It's been great to have the lead. There is still a chance for me to win, but it's going to need a lot of luck," he said. There are two stages still to go, will youth triumph over experience? Or will the underdogs, and the old dog, have their day?
Steve Thomas is a Welshman living in Thailand. He's been racing bikes on and off for over 30 years, at every level, road and off road. He's been a freelance writer and photographer for 18 years for most of the leading cycling magazines and web sites. He's written for VeloNews 16 years.