Outback and beyond: Lachlan Morton's return to pro racing
When talented young Morton became disenchanted with the European peloton, he rode to the center of the Australian outback with his brother
Heading out the door? Read this article on the new Outside+ app available now on iOS devices for members! Download the app.
Editor's note: This article was originally published in the February 2015 issue of Velo magazine. 
Imagine the life of a professional cyclist. You get to ride, all day, outside, basking in the sun. You jet set across the globe, on someone else's dime, racing on the best equipment money can buy. You receive a daily massage. You never have to wash your bike, never have to adjust a derailleur.
From the outside, the life of a WorldTour racer would seem like a dream come true. Pro. Pampered. Made.
But now imagine this — what if you ended up hating that life?
For years, Australian Lachlan Morton had ridden for the Colorado-based Slipstream Sports organization, turning professional with Garmin-Sharp in 2013 after riding for their development squad since he was 18. He circled the globe to race his bike, living in Europe for much of the year, darting home to Australia when he could, and basing himself in Boulder, where his parents live, to prepare for the late-summer swing of climb-heavy stage races in Utah and Colorado that suit him best.
And then, after a 2014 season in which results were non-existent — visa issues kept him from racing in North America, and he found himself isolated and unhappy in Europe — he gave it all up. Voluntarily. He walked away from the dream, at age 22.
Some were incredulous. Waste of talent, they said. Spoiled brat, they claimed.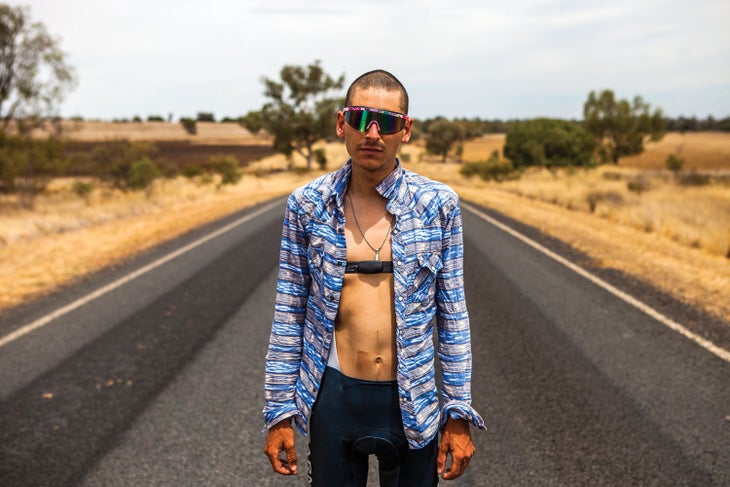 Morton had shown flashes of brilliance in his fledgling career, never more so than in August 2013. On stage 3 of the Larry H. Miller Tour of Utah, he stormed away on the early slopes of Mount Nebo, never to be seen again, riding home solo into Payson, one arm raised in triumph as he crossed the line. He took the race lead that day, and eventually finished 14th, after shifting duties and working for overall winner Tom Danielson; he claimed the best young rider's competition in the process. He followed that performance with a stellar ride at the USA Pro Challenge a week later, taking second on stage 2, wearing yellow for two stages en route to fifth overall and another best young rider's competition victory.
But in Europe, in 2014, he lost his way, his drive. His relationship with the sport soured. He wanted to do things differently; he wasn't having fun. He saw his priorities veering left, while his momentum was propelling him straight ahead.
"You come to a realization that you've got to build a life around what you're doing and not just go lock yourself away and do something that, even though you may love, isn't necessarily a sustainable way of living," Morton said. "I wasn't enjoying it to the fullest. I was a bit homesick. I didn't feel really motivated by the racing I was doing. I didn't feel motivated to succeed in that lifestyle. I didn't want that for myself, for my life at that point. When that's the case, it's hard to push yourself to do it because it's not your dream; it's someone else's. I tried a number of things to try and work my way around it, and get motivated to do it, because riding at the WorldTour level is a pretty big opportunity, you know. It's the sort of thing you want to do justice to. It was still my job."
Morton brought his girlfriend, Rachel, to Europe to help alleviate his homesickness. For the young couple, it was a heavy decision, necessitating that she put her schooling on hold. As soon as she came, Morton realized it didn't change a thing.
"That sort of helped — her being there, she's my best friend — seeing her in that environment and then seeing how out of her element she was; it just sort of helped me realize I wasn't living how I wanted to live," Morton said.
It was a problem that he wasn't altogether unfamiliar with. His older brother, Gus, 25, competed at an elite level with the Australian Drapac-Porsche team from 2008 to 2010. Then, much like Lachlan, he became disillusioned and retired from the sport. He was gone.
"Lachlan is extremely headstrong, a lot like I was," Gus said. "We're the type of people who need to learn things for ourselves, for better or for worse. Sometimes, when you're in those situations, you have to make decisions and live with them, based on the conclusion that you arrived at yourself, instead of other people's advice.
"You know, I think it's nice to know that you're not trapped somewhere. I think a lot of the trouble that I felt — and I can't speak for Lachy — but when I was in that situation racing my bike, it's just so consuming and you're always so tired. You get on the back foot and feel a bit trapped. For me, I felt trapped in the sport and had no other options. I was 20 years old and looking back, it's a bit crazy, but when I was there, it was like, 'Shit, this is my entire life, and I've already made this decision.'"
Lachlan made the bold decision to give it up. He quit the WorldTour. Left the Garmin team, turned away from the Euro-centric career. He had to reassess what it was that he enjoyed about the sport, so he made the choice to let it all go.
"He was exactly the kind of talent I liked to have in our team," said Jonathan Vaughters, general manager of Slipstream Sports. "He's fun-loving, he has that quirky mentality, he's a highly intelligent, switched-on kid. At the end of the day, Lachlan didn't love racing at the WorldTour level. It's so regimented, so hardcore, and he just got burnt on it. Even though l love his quirky personality, there's only so much I can do to protect guys. It's hard racing at the Tour of Romandie, in the pissing rain in the Swiss Alps, and you have to ride the front for your teammate. It's hard; it's not fun. Races like the Tour of Utah and USA Pro Challenge are fun races, but there are a lot of races that are not fun at all — they are horrible, they are hard, and they really separate the men from the boys. I think when he realized it was not fun, he got demoralized."
Enough was enough. Lachlan had the talent to be there, but he didn't have the desire. He did what he needed to do for himself, and never looked back.
"It's something that a lot of people would like to do, but often don't have the courage," Gus said. "Lachy impresses me all of the time with his maturity. He's a very smart kid and a very good thinker. It's a huge decision, especially with people saying all of these things … He wants to do what he wants to do, and not do things for other people. I think it takes an enormous amount of maturity, and I think that this year was one of the most impressive things that he's done. We've done this sport since we were eight or nine, and we always thought we'd be pro bike riders. And all of a sudden he is a pro bike rider, and a successful one, showing a huge amount of promise, then turning around and saying, 'I'm out of here.'"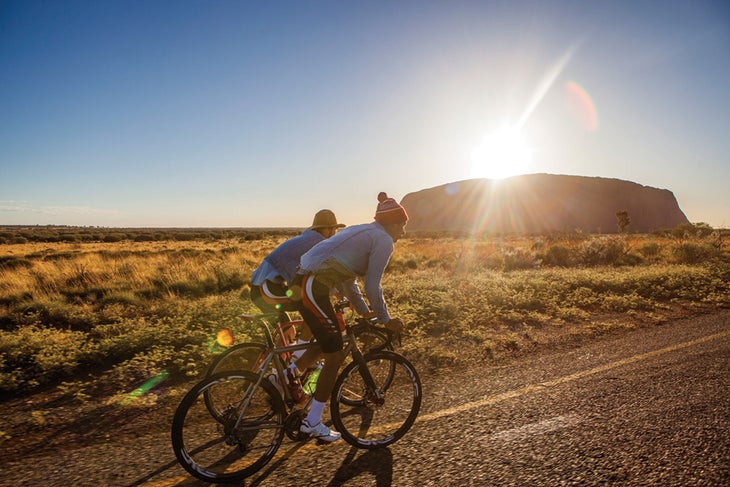 Was it destiny? Is there a better word for what happened out there near Oodnadatta? For Gus, who was working in television and film as a director, feeling constrained by the editorial loopholes he'd been made to jump through, there was no other way to put it. His attachment to sport was only bolstered by the realization, as the director of this particular script, that he could craft it all according to his vision.
"One of the things I like about sports is that it's your job to get your body prepared, and no one can really f—k with that," Gus said.
The search began to try and find a team that would take on Gus, which was easier said than done. He had been away from the sport for three years. The goal was to slot him in one or two levels above where he should have had to restart. It was hard to find someone who would take such a gamble. Though Lachlan had faith in his brother's abilities, it wasn't him that needed to be convinced.
Lachlan hired an American agent, Michael Rutherford. He told him he wasn't interested in riding in Europe anymore, at least for a year, but wanted to take a season to do something else. Lachlan was worried that if he stayed in Europe, he would fall into the same habits and waste another season, floundering out of his element. Look for teams in America, he told Rutherford. Oh, and by the way, find a team that will also take Gus.
Soon enough, they had what they were looking for. Rutherford reached out to his friend Danny Van Haute, manager at Jelly Belly-Maxxis. It wasn't long before the longest-running Continental squad in the U.S. became the answer for the two young Australians.
"Danny [van Haute], he got it, you know," Lachlan said. "I was quite clear: I didn't want it to seem like I had wound up out of the WorldTour and was just looking for somewhere to be for a year so I could get back to the WorldTour, because that was not what I was after. I wanted to be on a team that realizes I want to be there, that I'm really motivated to race for them, and having Gus along for that is part of that."
Did Van Haute have any reservations about taking on a talented kid with the caveat that he also bring along his older brother, someone who hadn't raced in years? If he did, his concerns were quickly assuaged.
"I talked to [former Garmin rider] Christian Vande Velde first, and all the reports were that they're good guys, on and off the bike," Van Haute said. "My main concern was, 'Is this going to be a guy that just wants to come to the U.S. and collect a paycheck and have fun and maybe be serious once in a while?' No, that's not Lachlan and Gus. They want to race their bikes often and win bike races. So, I'm convinced I made a good choice, to find both those guys. They're going to race their you-know-whats off and have fun doing it. And that was the key."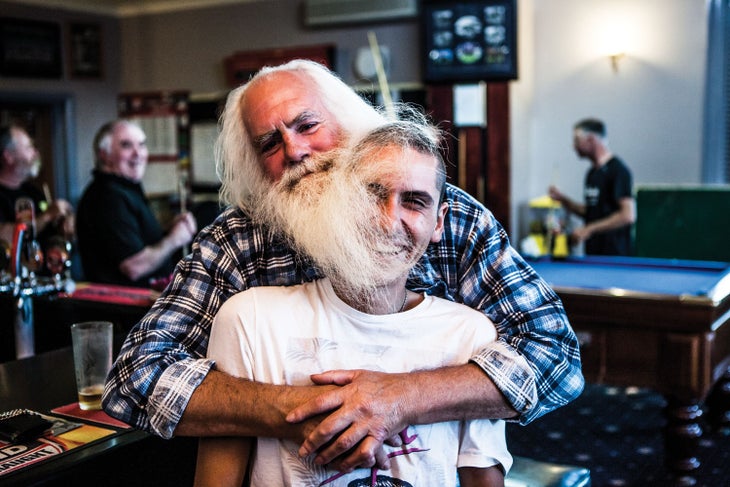 The seeds of discontent were already in place when Lachlan began to train for the 2014 season. In December 2013, the brothers hatched a plan, one that would take them back to their roots of riding. No more pinning on numbers. No more doing it for pride. Professional cycling, and the rigorous training it takes to stay at the highest levels of the sport, had become monotonous; in many ways, at the elite level, the sport has evolved into a science of data — distances, watts, statistics, percentages, thresholds, averages, ratios. In Lachlan's case, those numbers and figures, and the lifestyle required to sustain them, became overwhelming; he had lost the simple joy of pedaling.
The brothers set out to ride from their hometown of Port Macquarie, 248 miles north of Sydney, covering 1,242 miles in a charge due west through Walcha, Gunnedah, Cobar, and Broken Hill. They crossed into South Australia and went down to Peterborough, then Blinman in the Flinders Ranges, up to Marree at the beginning of the Oodnadatta Track, then to Coober Pedy.
They crossed into the Northern Territory and stopped at Kulgera, then finally made their way to Yulara and Uluru. Twelve days of riding bikes for no other reason than, well, riding bikes.
"When you put yourself in an unfamiliar setting and take yourself where you're a little bit uncomfortable, but at the same time, you're a bit free from anything else or anyone else who knows you, there are no preconceived notions or expectations out there. You're sort of just another body, another guy riding his bike around — maybe the only guy. But you're just a fly on the wall," Lachlan said. "In that regard, it's a great reflection and you can be a bit more honest with yourself and take a step back to look at what you're doing. From a riding aspect, I got more in touch with cycling in a purer sense — riding, not for no particular reason, but without restriction."
Beyond sweating together on the dusty, desolate tracks of the Outback, the two brothers learned many lessons, often from the most unexpected of teachers. They met an array of people, from guys who run 10,000-acre cattle stations, to gun-toting locals at the deserted bars in the heart of nothingness. When they sat down to chat, the brothers realized something very simple: Everyone has an interesting story about how they came to be where they are. And understanding the arc of life helped them feel more connected to humankind, to each other, to their sport, and to the physicality it took to deliver them to that place on earth.
That's a lot to ask of a bike ride; but it unfurled before them. The bike became more than a tool to pit them against others in competition; it was more than just a method to explore their homeland. From this, the "Thereabouts" project was born, ultimately delivering a documentary, but also much more.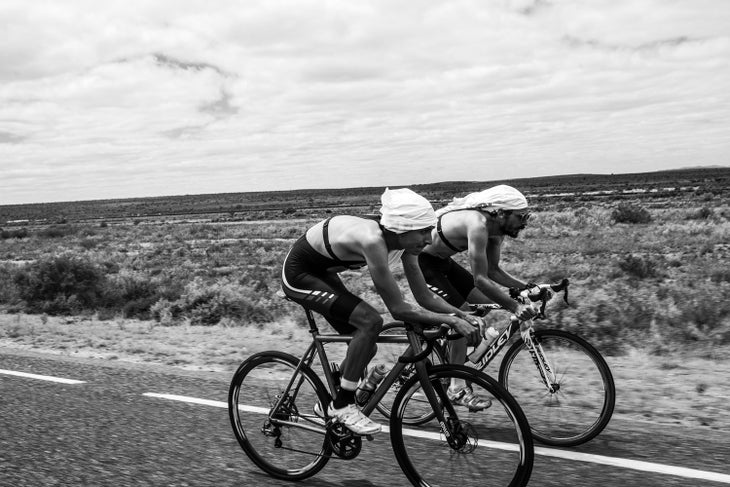 "Thereabouts" helped the Morton brothers realize that the simple machines they used to transport themselves across the sweeping expanses of bone-dry desert could also help them to negotiate around the perceived barriers that exist between emaciated, chamois-clad cyclists and the most hardened bar flies in the dustiest, dirtiest pubs halfway to nowhere.
What began as a journey to alleviate the stresses of European racing, offering time for the two to reflect on life and motivation and passion, ultimately brought the brothers back to racing.
"It didn't seem like cycling was this big thing that was overbearing me, that I had to do. It was just something I wanted to do again," Lachlan said.
Profound changes can strike in the desert. Maybe it's because of all the time that exists out there. Maybe it's because of all that space. It could be that being in the Outback leaves you exposed, open to the elements and your own thoughts about who you are and what you want to be.
In any case, the brothers changed in the desert. They reconnected with cycling — not with racing, but with riding — and they were able to look at it with fresh eyes, reengaging with everything they loved about rolling along the open road, propelled solely by the strength of their own resolve. A couple of 180-mile days near the end kept them honest and hurt them good.
"Knowing that you can look at it fresh, train hard, and have the body respond well and get excited by the suffering and physical challenge really reconnected me," Gus said. "Being able to do that alongside Lachy, and seeing him really get enjoyment out of it, and spending time with your mate, that's what it was for me."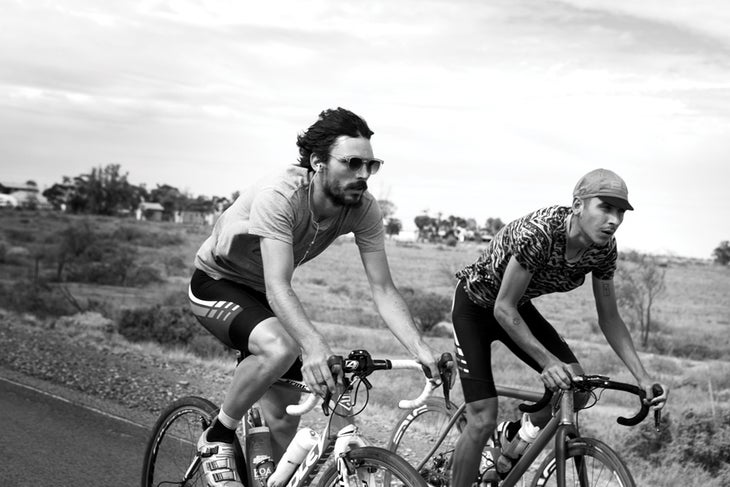 The Morton brothers agreed that what they have before them in 2015 is an immense opportunity.
"Gus and I still can't really believe it," Lachlan said. "We are here training together again, all of a sudden, in Port Macquarie where we both grew up, except its five years later. It's cool in that we sort of get to go back to our roots of bike riding and it feels like a second shot at it. We can go down a different path that won't lead to cycling being something that's taking away from you, but something you really love doing. In that sense, I feel really lucky. My brother's my best man in the world, and to be able to live with him again, and then train and race with him, I think it's going to be unreal. So I feel really, really lucky."
Gus gave up cycling at 21 when, like Lachlan, he lost all motivation for it. He took up a career in television in Sydney, and could see a career path laid out before him for the next 20 years. But that was the thing — he wasn't sure he was ready to do that just yet. Cycling wasn't always going to be an opportunity that was on the table. In two years time, the situation would be entirely different, and there wouldn't be any team that would have taken him on as a professional rider. This was the time; here was the moment.
"In a lot of ways, I think the step he's taken is a bigger leap of faith than I've taken, because he's jumped out of a pretty promising career in TV in Sydney and is up and moving to America. He's loving it," Lachlan said.
For Gus, the magnitude of the opportunity is undeniable, and his appreciation of it sincere. And, he has been served up with an additional ingredient: heaps of pressure.
"I'm lucky — super lucky. But with that luck comes a bit of pressure, so it's up to me to grab that opportunity, and I'm happy to wear that jumper," Gus said. "I have to repay what's been put before me and perform and do a good job, so you gotta pinch yourself every day, because it is like a dream. It's a scenario where the highest we could aim and the ideal place came true, so we're super fortunate and that only motivates me more … I'm willing to tear my legs off for them."
Across the ocean, thousands of miles away in California, the manager that took a chance and offered an American alternative to a dismal Euro campaign, to Lachlan, and a second chance for the unknown question mark that was Gus, had much the same sentiment.
"Oh god, yes, I feel lucky to have Lachlan and Gus," Van Haute said. "At the end of last season, was I looking for someone to replace Sergey [Tsvetkov]? Yes. But I knew it was going to be pretty hard. Was I going to get someone to replace him? Probably not. I wasn't thinking about a Lachlan or a Chris Horner or somebody like that. I was thinking, 'Well, we might have to change our strategy a little bit and go for stage wins.' But then Lachlan was available … so now I'm looking for podiums again."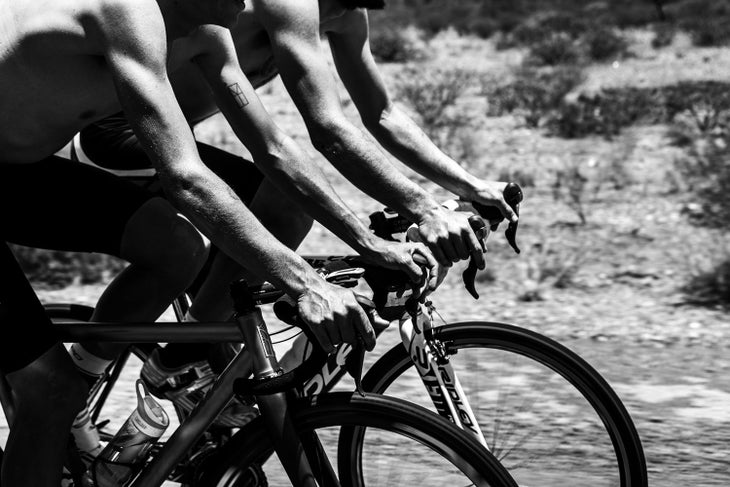 That Lachlan has natural talent is clear. He has it in gobs. He also has the physique that enables him to soar in the mountains. Lithe, petite, waifish — whatever word you use to describe him, they all hint at the fact that he is genetically predisposed to climb with the angels. But talent can only get you so far.
"I worked pretty hard when I was young; I think that has a lot to do with it," Lachlan said. "There was a period of two or three years, when I was in high school, when I rode 30 hours a week. I just got up at 4:30 in the morning and just went out and did it. I'm not a physiologist, but I think that the body learns from it. You know, if you build your body to be a bike rider, it just happens."
Otherwise, genetically, he hasn't a clue where it all came from. His father played rugby and ran a few half marathons — not very fast. His mother is not athletic at all.
There is a nonchalance about most everything with Lachlan: his dress, his demeanor, his manner of speaking. He isn't a boisterous kid; he isn't boastful or brash. But he could go very far, if and when he decides to put it all together.
"I don't regret any of the investment [in him]; he's an immense talent," Vaughters said. "I remember watching him at the 15-16 junior national championships, and he killed everyone, and it was pretty much the day after Connie Carpenter had called me and told me that Taylor Phinney was going to leave us, and sign with Lance. I was bummed, I had just lost a really big talent, then I saw Lachlan, and I called up Doug Ellis and told him I'd found a rider who was just as talented, although it was a completely different kind of talent."
Vaughters saw him from afar, but Gus has been witness to Lachlan's talent his entire life.
"I think he's as good as it gets," Gus said. "I think he's got the potential to win anything he wants in this sport, whether that's the Tour de France or the one-day races. He's a smart kid, he's very analytical in his training and he works really hard. He's also very cool and relaxed under pressure. So I see his potential to do whatever he wants in this sport, but at the same time, it doesn't really matter to me."
It's because of the potential that people see in Lachlan that their criticism has come so sharply. Here is a kid — yes, just a kid that rides his bike for a living, lives with his brother in a rented home in their hometown of Port Macquarie — that had what so many can only dream of. And those who criticize him for not staying at the highest level see him as having thrown it all away. If I was in your shoes, I'd relish every minute of it … If you only knew how much you had, you would appreciate it much more …
But there is something lost in that interpretation of the situation: Lachlan isn't them and they aren't him. He doesn't live his life for them, and they don't have his talent. It's not their choice to make. And, in the end, shouldn't choosing happiness be applauded? Who are you to criticize his choice?
"You can try as much as you like not to think about [negative comments], but whenever someone says something negative about you it always finds its way in there … it's a little seed of doubt that goes into your head, that you have to deal with at some point," Lachlan said. "It's hard for people to understand the situation you're in, you know. It's easy to make a comment like 'He's a waste of talent,' because they see bike riding differently than I do. Maybe they just live it for two or three hours a day when they get to go out on their bike; it's not something that's all consuming …
"At the end of the day, I have to tell myself that what I'm doing is right for me, and the moment you start doing something to try and please someone on a cycling forum or someone who's commenting on an article, then you're doing it for the wrong reason."
As for the criticism that the brothers are spoiled and privileged, unappreciative of the opportunities they've been given in the past, Gus has a simple response.
"There is no doubt that we've been privileged, but at the same time, we still have to work hard. People say that we've had everything handed to us from a silver spoon. I don't know if you've ever eaten from a silver spoon, but you still have
to chew the food," Gus said. "People can say what they'd like. Lachy hasn't taken a step back, but a step forward."
Forward: His choice, his path. Together: Bonded, just as they wanted. Moving forward.
In the grand scheme of pro cycling, Lachlan's demonstrative stage win arcing across Mount Nebo in rural Utah is a distant memory. For him, it's right inside the mind, motivating him as he trains, helping him reconstruct the path; something to get back to, and go beyond, the form that saw him outclass the field that day. He was young then; he's still young now. He thinks about that day often, and he believes he can go faster, climb farther. But beyond racing the bike, and loving it, again, he doesn't think much about where that road will take him.
Photography by: Scott Mitchell and Gus Morton