Pegasus grounded as Continental license denied
Pegasus Racing, which just six months ago aimed to become Australia's first ProTour team, has been denied a Continental license, leaving more than a dozen riders without jobs for 2011.
Heading out the door? Read this article on the new Outside+ app available now on iOS devices for members! Download the app.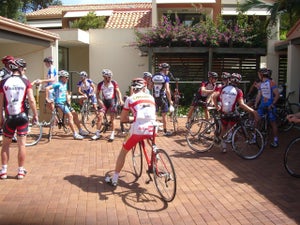 The Pegasus Racing program, which just six months ago aimed to become Australia's first ProTour team, has been denied a Continental license, leaving more than a dozen riders without jobs for 2011.
The team had applied with Cycling Australia for a Continental license after the UCI's Licensing Commission had rejected its bids for both ProTeam and Pro Continental status.
Neither Cycling Australia nor Pegasus general manager Chris White immediately replied to VeloNews' request for an explanation why the application for Continental status was denied. However, the deadline for applications was November 29, 2010.
Australian Ben Day, who rode for White's Fly V Australia team in 2010 and was signed with Pegasus for 2011, confirmed that the Continental license application had been rejected.
"All UCI deadlines have passed, and a last-minute potential sponsor withdrew interest," Day said.
The latest news comes as a final blow for an upstart program that had attempted to make the leap from Continental to ProTeam, but was dealt a series of blows — some unforeseeable, others suggesting the team was the victim of favoritism — that doomed the project.
Big dreams, empty pockets
While the Fly V Australia team spent 2010 dominating the North American circuit — earning top domestic road team, rider, sprinter and climber honors in the 2010 VeloNews awards issue — White, a former racer turned accountant, was quietly building what would be the strongest Australian team to date.
In spring 2010 White met with Alex Gillett, son of Colorado-based businessman George Gillett, who has owned properties ranging from the Vail ski resort to the Montreal Canadiens hockey team. The Gillett family signed on as a financial backer of the Pegasus project, and with its relationships in NASCAR — the family owned Richard Petty Motorsports — the Gilletts brought Red Bull aboard as a title sponsor of the Australian cycling team.
Gillett declined requests to speak with VeloNews about the Pegasus project, though he confirmed he had been involved with the team.
But by fall, things had taken a turn for the worse. After news broke of Alberto Contador's Tour de France positive drug test, Red Bull CEO Dietrich Mateschitz pulled the cycling sponsorship, fearful of the negative impact on his brand should consumers associate the energy drink with performance-enhancing drugs.
Around that time the Gillett family was facing a $100 million loss; its ownership of the Liverpool Football Club was put in escrow after George Gillett and estranged business partner Tom Hicks had defaulted on a 2007 loan. And on November 2 the UCI announced that it had ranked Pegasus 23rd, and out of the running for ProTeam status in 2011.
Over a five-week span the team had lost its title sponsor and bid at ProTeam status, and its financial backing was in jeopardy.
White had signed riders such as Robbie McEwen, Svein Tuft, Luke Roberts and Trent Lowe, and he pushed on towards UCI Pro Continental status, urging Alex Gillett to remain on as the team's financial underwriter in order to satisfy the UCI's bank guarantee requirement, which all pro team applicants must submit, totaling 25 percent of the annual team staff salary.
Gillett agreed, with the agreement that the investment would be rescinded prior to the December 10 deadline regardless of whether White had found a replacement sponsor.
However as the December 10 deadline approached, White was adrift. The UCI's independent Licensing Commission rejected a pair of the team's sponsorship contract amendments and requested new documentation. Fearing that any sign of a rider exodus would scare off a replacement sponsor, White did not inform his riders and staff that their jobs might be at risk. His options were to walk away or push forward, and he chose the latter.
Finally, days before the December 10 deadline, Gillett's bank nullified the deposit. After the Licensing Commission rejected the team's Pro Continental bid, White pleaded with UCI president Pat McQuaid for a five-day extension, acknowledging via press release that the team had lost its financial backer on December 7.
White submitted the team's Hail Mary application on December 15, with a budget claimed to be in excess of $500,000. However the bank guarantee was in the form of a letter of credit, rather than the UCI-required bank statement. While waiting to hear from the Licensing Commission, White claimed to have secured a new sponsor.
It proved to be too late — on December 20 the UCI posted a brief press release stating the team had been rejected, meaning the team had no chance of taking part in the sport's top races. Eighteen teams had been chosen for ProTeam status and another 23 teams were registered as Pro Continental; in all, Pegasus had been deemed a less-viable organization than 41 other pro teams.
Victims of favoritism?
Days after Pegasus was denied a Pro Continental license, Cycling Australia's national performance director Shayne Bannan announced he was leaving his post to run a new ProTeam project, titled GreenEDGE Cycling and financed by Australian cycling's most prolific benefactor, Jayco Caravans owner Gerry Ryan.
The timing of White's failure to license the first Australian ProTeam and Bannan's resignation to do the same raised eyebrows — particularly given the sentiment among those involved in Pegasus that Cycling Australia had done little to support their project in its struggles with the UCI, and that the UCI instead favored a new team to come from Cycling Australia.
An American ProTeam staff member told VeloNews that during the Québec ProTour weekend in early September, a colleague standing next to McQuaid in a hotel lobby overheard the UCI president say, "Mark my words, Pegasus will not be Australia's first ProTour team."
"At the time, I thought, 'What? Wow, who would it be?'" the source said. "It seemed preposterous. Now, months later, with everything that has transpired, it seems clear what (McQuaid) knew, and what we didn't know."
McQuaid denied any favoritism, telling VeloNews, "There's no way I ever said that. I couldn't say that in September, the process was still ongoing. Had Chris White produced everything on time and in order the team would have been approved for at least Pro Continental status."
Cycling Australia CEO Graham Fredericks could not be reached for comment, and requests for the federation's position on the failed Pegasus project were not returned. Ryan told the Sydney Morning Herald that he had "long admired" Bannan, and that it was only logical he would support Bannan's plan for an Australian ProTeam, adding that he empathized with White's loss of major backing from the Gillett family. "I admire what he has done. Unfortunately he was let down at the eleventh hour," Ryan said. "Hopefully he can regroup and get back up and get a license. I have a lot of respect for what he's tried to achieve."
Final options
All that was left for Pegasus riders and staff was to pin their collective hopes on an application submitted to Cycling Australia for an additional, separate Continental team, to be based in Europe, employing as many Pegasus riders as possible. However the sponsorship of that team was, again, contingent on its UCI status.
The team learned this weekend that the application was denied, leaving more than a dozen riders and an equal number of staff without a team.
As in 2010, White continues to run Virgin Blue, a development team in Australia directed by Pat Jonkers, as well as a UCI Continental team in North America, again called Fly V Australia and led by former Australian national road champ Peter McDonald. White's long-term plan was always to have a multi-layered development program; those lower-tier programs are financially separate entities from his failed ProTeam.
One option that remains is to put some riders from the failed team into Fly V Australia. This would run into issues with the UCI's Continental team rules, which restrict the number of riders aged over 28, as well as the total number of riders, which is capped at 16.
"Riders have already been contracted to Fly V," Day told VeloNews. "There may be some room with some shuffling but it's all still an unknown."
Day said at this point, all that was left was to hope to be picked up by another team.
"I'm devastated," he said. "I finally thought I was getting an opportunity to get back to Europe. But the succession of events since the beginning of December has left me gutted, dreams destroyed. I don't know, but I hope I will get another opportunity.
"We had a great team and some great moments in the past couple of years and I wouldn't change that for the world, but it makes dealing with this all that much harder. Everyone put so much work into the project. Chris, the administration, the staff and the riders, and I held faith up until the last minute that it would work out. It was a big investment by everyone. I don't know what else to say.
"I'm out looking in the marketplace, but it's nearly February. If anyone is looking for a rider with my capabilities, I hope they'll find me. I have the ability. I just need the opportunity."
Editor's note: Sections of this article are excerpts from "Clipped Wings," a feature story in the March 2011 issue of VeloNews magazine.