Pegasus Sports up and flying — but still with no name
Just who is the title sponsor of Australia's preeminent cycling team, and what is stopping Pegasus Sports CEO Chris White from revealing its identity?
Heading out the door? Read this article on the new Outside+ app available now on iOS devices for members! Download the app.
The suspense is killing Australian cycling fans.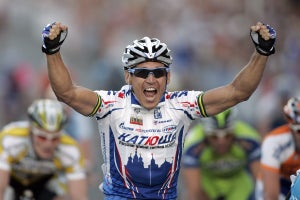 Just who is the title sponsor of the nation's preeminent cycling team, and what is stopping Pegasus Sports CEO Chris White from revealing its identity?
"Our branding is not quite ready. A bit like the Luxembourg Project, we're scrambling to get our branding squared away," White told VeloNews Wednesday from the team's first preseason training camp in Noosa, Australia, an idyllic coastal haven 130 kilometers north of the Queensland capital of Brisbane, in an area known as the Sunshine Coast.
"We're very close," he said, "but to do something (now) would be premature."
So if not now, when? Will Pegasus Sports bank on a wildcard invitation at the UCI World Tour opener in 2011, the Santos Tour Down Under, and do it then? "We won't wait for an event like that to occur. Right now, the Pro Continental licenses will be issued before the 10th of December, so I'd like to do it before then."
Missed it by that much
On November 3, the UCI told White that his team would not be receiving one of the 18 ProTeam licenses on offer and would thus be classed as a Pro Continental team next year. However before then, it was well-known in Australian cycling circles he was after a few of the sport's marquee riders to add to his highest-profile acquisition, triple Tour de France green jersey champion and fellow Queenslander, Robbie McEwen.
It was thought one or two more big names would tip the balance in favor of Pegasus Sports' desire to become a ProTeam; an Australian first.
Around the time of the Vuelta a España and with checkbook in hand, the former chartered accountant made a calculated trip to Europe in an effort to court and sign either quadruple time trial world champion Fabian Cancellara, triple TT world champ and winner of this year's Tour of California, Michael Rogers, or 2010 season revelation Richie Porte.
Or all three.
"If Richie Porte had been an option, or Cancellara got on board, or Michael Rogers had seen us as relevant, (there was a) very, very good chance that only one of those guys would have been the difference for us to be in the ProTour," White said. (ProTeam spots were guaranteed to the first 15 teams on the UCI's controversial 2010 team rankings; for those ranked 16-20th, they stood a three-in-five chance of a ProTeam license. Pegasus Sports was ranked 23rd.)
It is questionable exactly how seriously Cancellara considered White's invitation, given his allegiance to the Schleck brothers and that he is not only the best time trialist in the world but arguably the best classics rider, who appears capable of winning at will. Not to mention his reported asking price northwards of two million Euros.
Similarly, Team Sky, after a maiden year left wanting, had long sought the signature of Rogers, conceding that they needed an experienced campaigner if they were to come close to achieving their lofty if not unrealistic ambition of a British Tour de France winner within five years. And although team principal Dave Brailsford at first denied it when news leaked on October 12th, it became official on November 1.
As for Porte, who was still at his European home in Monaco when VeloNews contacted him, awaiting his Saxo Bank team's first get-together before returning to Tasmania, he said any thoughts of joining the mutiny of sorts aboard the Good Ship Bjarne Riis were quickly put paid to rest. "Of course I considered it. Money's not everything (although) I had a lot of money thrown at me — but at the end of the day, Bjarne wasn't going to let me out of this team. So … it was kind of an open-and-shut case," Porte said.
"But hats off to Chris (White); (the team is) Pro Continental next year, and that's an incredible step for an Australian team. Maybe a lot of people questioned him to start with but I think he's the one that got the last laugh. What he's doing for cycling there (in Australia) is huge. Good on him."
Not the first Aussie Pro Continental team, but the best
Had they become a ProTeam, Pegasus Sports would surely have broken new ground in Australian cycling terms. And if you believe what Tour Down Under race director Mike Turtur said, even though they're not the first Pro Continental team — that honor went to the Melbourne-based Drapac-Porsche outfit, who in 2008, lasted just one season in cycling's second division before reverting to Continental status — they're arguably the most legitimate, with the most to offer.
If success is to be judged by results attained at the highest level, given Team Sky's constant scrutiny and failure to perform, we asked White if the Pro Continental license is perhaps a blessing in disguise.
"Sporting teams and sporting performance is very transparent," he said. "And athletes and organizations around sporting teams, a lot of the pressure comes from within — it has to. We put it on ourselves.
"Public expectation is one thing, but regardless of whether we're a ProTeam or Pro Continental team, the pressure's going to come from within. We've come out of a couple of years of success on the international stage, predominantly in the US; we are the number-one team and we've got some got momentum there. We want to carry that momentum where we left off. We're by no means paying lip-service to how tough it's going to be, but (as we move to Europe), that pressure is still going to be there and it's going to be coming from us."
Going Dutch
Choosing not to comment on their title sponsor or its tenure, or on the size of their operating budget, Pegasus' current Pro Continental roster tallies 22 individuals (they will also run a Continental squad to race predominantly in the U.S., Australia and Asia, and a development team of under-23 riders). Some 20 others, comprised of sport directors — led by ex-Omega Pharma-Lotto sport director Hendrik Redant and supported by Henk Vogels and Ed Beamon — soigneurs and logistics managers make up various other backroom staff. Their European base will be in the Netherlands, the town of Vessen closest to the city of Eindhoven and 15 kilometers from the Belgian border.
Phil Zajicek, who rode for Fly V Australia this year, is back on board in 2011 as the only American, and together with ex-Garmin time trial specialist Svein Tuft, they're the only North Americans. "In our Continental team, we've got Chris Baldwin, Zachary Davies and Taylor Shelden, so overall, we've actually got more Americans next year than in the past," said White.
Another known is their brand of steed, Pegasus securing a "two year-plus deal" to ride aboard Scott bikes. Asked how the agreement came about, White explained: "Columbia-HTC moving from Scott to Specialized created a vacancy. We are also the only team supported by Scott, and that is important to us. It gives us and them the ability to engage in a meaningful way."
Tirreno, Oman, Qatar, Ghent-Wevelgem confirmed
Whether Pegasus receives an invitation to the Tour Down Under, the first of 26 races on the 2011 UCI World Tour calendar, is yet to be confirmed — although it looks a hell of a lot more likely than Drapac-Porsche's chances in 2008. "Robbie McEwen obviously represents a lot of interest for us," Turtur said, "because he's won more stages of our race than any other rider. So that factor would come into play." Without a pedal turned or a result posted, White added: "We are Australia's best team. It is Australia's best cycling event — Australia's best sporting event. We'd love to be there."
As for the rest of the calendar, White said the team's license designation has now provided clarity to map out a race program in Europe that amounts to a significant 250 days' racing. "We've already got invitations to most of the northern classics. We've got confirmations from Qatar and Oman. We've also got Ghent-Wevelgem confirmed. We don't have Paris-Nice confirmed, but it's something we are working towards.
"The only thing we haven't been invited to is Paris-Roubaix and Flanders," he said. "We have an invitation to Tirreno-Adriatico and some early-season RCS races. I think if we can do well in those races, then we can look positive towards the Giro (d'Italia)."
Ever the optimist, White said that if the team performed solidly at the Tour Down Under as well as the Tours of Qatar and Oman and "other ASO events like Paris-Nice, we'd be well-positioned to think that we've got an ability to do the Tour de France".
Right now, it would take a lot to clip Pegasus' wings, it seems.