Phinney: 'It was long-term security that led me from Shack to BMC'
Contract stability heading into 2012 Olympics was paramount for American phenom.
Heading out the door? Read this article on the new Outside+ app available now on iOS devices for members! Download the app.
Following the announcement that Taylor Phinney will be joining BMC Racing for 2011, the team held a short teleconference call Wednesday afternoon for a group of journalists.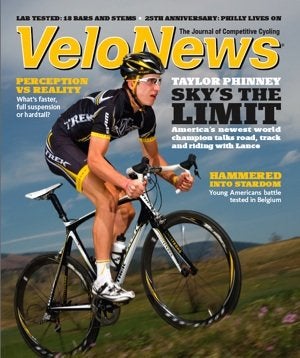 Joining Phinney was BMC Racing team president Jim Ochowicz, as well as his father, two-time Tour de France stage winner Davis Phinney. Phinney rode under Ochowicz at 7-Eleven during the 1980s.
Though Phinney did not disclose the length of his contract or what his 2011 race schedule would be, he did reveal details about his decision to leave Lance Armstrong's RadioShack/Trek-Livestrong program, about how he will balance road and track racing leading into the 2012 Olympic Games, and his relationship with BMC Racing's George Hincapie.
BMC Racing U.S. Media Relations Officer Sean Weide moderated the teleconference call before opening the floor to the press. Below is the transcript of the call.
Jim Ochowicz: Thanks everyone for joining us. Obviously this is big news for U.S. cycling and for the sport as a whole. We're talking about one of the future stars of the sport — well, present and future, really — and we're very proud to announce his signing. This was an extraordinary opportunity, for us to bring Taylor Phinney into the organization, and I think it says a lot about the future commitment the BMC Racing team is making to the sport. I know we are all excited, and that comes down from [team owner] Andy Rihs to the sport directors, the staff, and the players on team. I've had several calls from riders, and I know they are excited. We're looking forward to 2011, to bringing Taylor on the racing front, but also integrating him into the BMC Racing family. We're looking forward to the opportunity to work together. We've had these kinds of challenges in the past, but this is the biggest opportunity the BMC team has had so far in its short history. We're real proud to have Taylor on the team.
Taylor Phinney: I'm very excited right now, to start this new chapter in my life. It's a special position for me to be in — Jim has worked with my parents for a while, and BMC is a very committed sponsor, it's a great group of guys with everything from young guys to older, wiser team leaders like George Hincapie, Cadel Evans and Alessandro Ballan. I'm in a very happy place right now, and looking forward to some success with this team. I'm going to do what I can for the team next year, and in the years after that. The future is bright. I'm mostly looking forward to rocking my U.S. national time-trial outfit next year.
Q: I understand you spoke with Lance Armstrong this morning?
TP: This morning I mentioned in an interview that I hadn't spoken with Lance since I was given the option from BMC. He called and clarified things, that he had been distant because he was busy, which I understand because he is one of the most busy human beings on the planet. It was good to hear from him. He was supportive, and that means a lot, because burning bridges is not something anyone likes to do. It's sad, in a way, to move away from Trek-Livestrong and RadioShack, but I'm also excited to start this new venture.
Q: Davis Phinney how instrumental were you in helping Taylor with this decision?
Davis Phinney: I am stoked, I have to say, to have Taylor riding under my old team boss, and working with team doctors Max Testa, who was my team doctor when I was racing, as well as with Eric Heiden, who I know well. I also know guys in the management team, like Charlie Livermore and Gavin Chilcott; they are men I have worked with in the past. I have a good feeling about Taylor joining this BMC venture. Andy Rihs is a terrific guy, and I couldn't be happier. This was a difficult process, not just because of leaving RadioShack, but because Taylor was tremendously sought after. We had to look at various teams really critically and make the best choice for Taylor. And here we are at BMC, and we couldn't be happier.
Q: Taylor, what was the significance of joining an American team?
TP: Of course it's always special to be racing on an American team. It's good for my image and my fan base and it helps with the crew, the support staff, and the communication.
Q: How much do you think your racing the classics help bring an American following to those races?
TP: I'm always trying to bring new people into the sport, whether they are following me in the classics, or any other race. For me it's not really highlighting one kind of race, just the sport in general, and putting a more positive light on it. We've had some dark days in cycling, and now we're emerging out of this cloud.
Q: With the 2012 Olympics in mind, over the next 18 months how will you balance the road and track?
TP: To tell you the truth I was not expecting myself to have this sort of success in time trials, and that has opened new doors and possibilities for the Olympic Games, especially since the individual pursuit was taken out. I have a few options going into 2012. Of course the track is a focus, with the new event, the omnium, I'm proven on the world stage that I can medal, I took a bronze at the world championships last year. I will have to make a decision whether or not I'll focus on the track or road, but for now the track is still the goal for the Olympics. I keep surprising myself on the track, and I'm looking forward to BMC making me a sweet track bike.
Q: Two years ago at Interbike you sat beside Lance Armstrong as he announced his comeback and the new Trek-Livestrong team. Why did you choose BMC Racing over RadioShack — and its Trek-Livestrong program you, in a sense, helped get off the ground?
TP: What it came down to, for me, was a mental security. Looking forward to the Olympics, I want to know that in the next two years and beyond I will not have to worry about things like new bikes, and new contracts. With RadioShack there was a question, it came down to what happens after next year, and during an Olympic year I don't want to have to change anything, I want to be in the flow, with a year of pro racing under my belt, and that was main thing, being able to secure that, and to know going into Olympics that I would not have to change anything for the track or the road. So it was really about being able to start my career out and have that security. When there's a one-year deal on the table versus two or three or four years, it's hard to come by that.
Q: Can you tell us what your race schedule will be? Being the winner of the past two U23 Paris-Roubaix races, it's natural to wonder if you might race the professional edition next year.
TP: I'm not sure, I'm going to meet with the BMC management and let them pencil that out for me. Next year is about experience, and meshing well with the team. I'll do whatever I can, and if I get to race Paris-Roubaix that would be an amazing opportunity, especially since George Hincapie has been going for that title for a while, and it would be cool to be helping him out in one of his last years doing it. But I understand I'm not as high on the totem pole as some of the other guys on the team, and that I have to establish myself, and I'm looking forward to that process.
JO: I'd like to add that this team, as a whole, is centered around the grand tours and the classics, and in particular the spring classics. With the roster we have, and with the group we have, we'll be monitoring Taylor in team training camp, and into the early season. I don't think he'll be at the Tour Down Under, but next year will be about integrating him into that system and trying to give him experience to build a career. It's not all about results, it's just about the learning curve, understanding how the pro peloton races, and the nuances around a ProTour team, if we are so granted the right to participate in those races. It will be a rookie year for him, and he will be covering a lot of new territory. We want to give him the experience he needs, but not where it's going to cost him in the future.
Q: Can you discuss your relationship with George Hincapie, and his role in your decision to join BMC?
TP: George is a legend and one of nicest guys I have ever met. I talked with him a while back in Girona, before I rode as a stagiaire with RadioShack, and he was selling me on the team. He was super excited about everything, and was saying it would be great if you could come race with us, but if not, that's fine to. It got me thinking a little bit. All through the process Jim was calling me, or my parents, almost every day, and George was sending me tweets or emails. It's cool to be chased after, in that regard, from influential and cool people. I've only raced with George once, at the national road championship last weekend. He's definitely a presence in the peloton and I'm looking forward to wearing the same jersey as he does. He has so much knowledge when it comes to the classics, he's been around for 17 years, and I'm looking forward to getting some of that knowledge from him. Even in Greenville last week he was very supportive, telling me about the race and Paris Mountain. I look forward to those talks, and hopefully he will also be telling me about [Paris-Roubaix pavé sectors] the Arenberg Forest and the Carrefour de l'Arbre.