Pro peloton to get some Iranian firepower in 2012
For the first time ever, the European pro peloton will see Iranian riders among its numbers in 2012.
Heading out the door? Read this article on the new Outside+ app available now on iOS devices for members! Download the app.
For the first time ever, the European pro peloton will see Iranian riders among its numbers in 2012.
As things stand there are two Iranian riders confirmed as signed for major European squads in 2012, and at least two others with contracts in front of them.
Joining the French-based AG2R team will be Amir Zargari, who has ridden for the past three seasons with the Azad University Continental team, while signed to the Pro Continental Geox-TCM team is Mehdi Sohrabi from the Tabriz Petrochemical Team.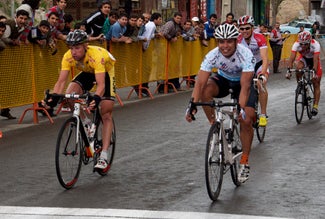 Sohrabi's contract was confirmed last week, prior to the news that Geox is ending its sponsorship of the team. It's not clear what that will mean for Sohrabi's future in Europe.
For many years the Iranian riders have been by far the strongest riders in the Asian peloton, but due to political issues they have always been severely restricted when it came to racing outside of "friendly" fellow Asian countries. Thus they've had limited opportunities to pitch themselves against the very best pro riders in the world.
But, as the Asian race scene has developed more and more in recent years so Australian, European and U.S. teams have made their way across the water to races such as the Tour of Qinghai Lake, Tour of Hainan, Tour de Langkawi and Tour of Korea, and have well and truly had their lungs opened to the power of the Iranian riders.
More than a decade ago one of Iran's greatest ever riders, Ghader Mizbani (now 36 and riding with TPT), was offered a contract with a major Spanish team of the day, but due to visa issues he was unable to make the team's opening training camp, and received no help in the process and was promptly left at home to race in Asia.
A few years later his countryman and teammate Hossein Askari also fell foul to visa restrictions and was unable to attend the season-ending UCI presentation in Italy, where he was due to collect his trophy as winner of the UCI Asia Tour. It's these issues that have always marked them as "somewhat out of bounds" to major teams; but now it seems like something has changed, or has it?
Iran currently has four UCI Continental teams and four UCI Asia Tour ranked stage races; cycling ranks among the country's most popular sports (currently fifth).
The most accomplished Iranian team is the Tabriz Petrochemical Team, which was started by Mizbani, Askari, and Ahad Kazemi (who is now team manager). The team has taken on foreign riders in recent years; including former Footon-Servetto rider (and ex-world track champion) Boris Shpilevsky of Russia, and between them they have almost ruled the roost in Asia, with the team from Azad University (a sporting university) running not far behind.
Leading the TPT team's score-card this year is Sohrabi, who was ranked the number one winner of UCI races in the world until August, when a dip in the Asian calendar allowed Philippe Gilbert to pass his mark, although with several races left to run, Sohrabi could possibly regain his lead (he currently ranks equal fifth with Mark Cavendish with 13 wins). Combine Sohrabi's great victory tally with the team's other victories and they currently rank second in the world for UCI wins this year — just behind HTC.
The upshot of this is that these riders have huge amounts of UCI points, which are crucial in a team keeping its UCI rating and getting into certain races. It's common knowledge that AG2R has been somewhat desperate in its quest for points, and to hold their World Tour ranking. Without it they could stand to lose entry to the biggest races, and thus lose sponsorship.
The AG2R team manager Vincent Lavenu had been hotly pursuing the points-rich Iranians with this in mind, with Sohrabi as his number one target, but he was not the only one to sight this "loop-hole" and chase after these riders and their points; Geox also took on the pursuit, and Sohrabi ultimately decided that theirs was the better offer, while Zargari accepted the French team's courting advances.
Sohrabi (aged 30) took the overall Asia Tour title this year, with 327 points, while Zargari finished third with 218 points, with their respective teams taking first and second in the final Asia Tour rankings.
Although it would look as though these UCI points are clearly the motivation in their signings, there is no doubt what so ever that these are incredibly talented bike riders, with the ability to mix it with the very best of the pro peloton; it just remains to be seen if they are to be given that fair crack of the whip. If they are, then they could well raise a few eyebrows, which could be the start of something great for cycling.
Steve Thomas is a Welshman living in Thailand. He's been racing bikes on and off for over 30 years, at every level, road and off road. He's been a freelance writer and photographer for 18 years. He's been an occasional contributor to VeloNews for 16 years.