Rally's Olivia Ray, L39ion's Justin Williams win inaugural Into The Lion's Den criterium
L39ion of Los Angeles hosts Sacramento race, with $100,000 purse split evenly between men and women.
Heading out the door? Read this article on the new Outside+ app available now on iOS devices for members! Download the app.
Some $100,000 were up for grabs at the Into the Lion's Den women's criterium, and Rally Cycling's Olivia Ray and L39ion of Los Angeles' Justin Williams took the lion's shares by sprinting to the wins of their respective races in downtown Sacramento, California.
With overcast skies and temperatures in the mid-60s on Halloween Eve, racing was animated. Five primes, $1,000 to $4,000, were available in both races on the 1.09-mile, four-turn circuit encompassing the State Capitol, its monuments and community park.
Williams' L39ion of Los Angeles team hosted the race, a much-touted, late-season event that organizers hope will bring further inclusion into cycling with a new city- and region-based team format.
Williams, 32, a multi-time national champion, stormed to the win after his teammates including his brother Cory Williams led him out. L39ion fielded two squads — L39ion of Los Angeles A and L39ion of Los Angeles B — in the men's race that ended well after nightfall. The men's race lasted about 1 hour and 17 minutes.
"I've never been this nervous before a race since I was a kid," said Williams. "I didn't sleep all night. I didn't know how I was going to feel."
Luke Lamperti, the 18-year-old criterium national titlist from Sebastopol, California took second with Cory Williams in third.
"We knew the primes would bring the field back together," said Justin Williams. "Our strategy was just to just let the race unfold."
While the debut event featured place-based teams in the men's event, the women's race consisted of normal trade teams.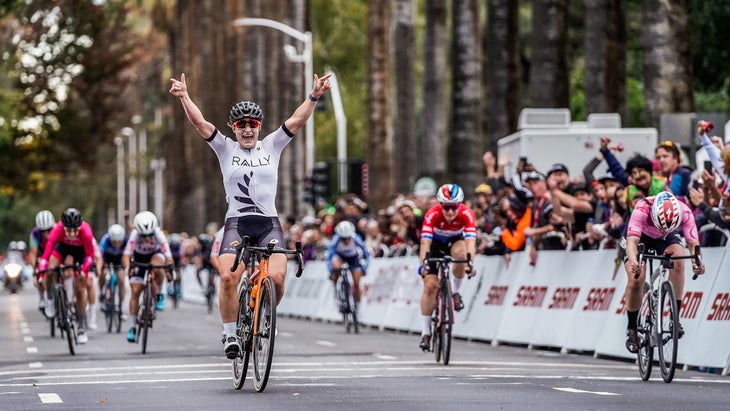 Ray, 22, the former ballet dancer ending her second year with Rally Cycling, sprinted to a big win over Kendall Ryan (L39ion of Los Angeles), the reigning U.S. national criterium champion and Amy Pieters (SD Worx), the current Dutch national road champion.
"For the most part the team was there for me the entire race," said Ray, the New Zealand national road titlist. "When I called them to help me, they were there."
Following a series of community events and amateur races, the women's race began with 18 teams and it progressed quickly as a race of attrition. The field quickly split into three groups, completing each lap in about 2 1/2 minutes.
After the second and third groups were whistled off the course, only 27 women — less than half the field — remained for the remaining 20 laps.
Newly married Coryn Labecki (nee Rivera), a several-time road race and criterium winner in Sacramento, sprinted for penultimate lap prime, but was second and shook her head with disappointment. Without a teammate in the race, Labecki (Team DSM) didn't recover and wasn't in the podium picture.
"I was a little bit disappointed I wasn't in position for a (prime) sprint," said Ray. "If was there, I would have gone for it. But the win is what we wanted and we got it.
Rally's women's coach Joanne Kiseanowski knew the sprint was in Ray's favor.
"She has a really good long sprint," Kiseanowski said. "When I looked she and Kendall [Ryan] were drag racing side-by-side. It looked closer than it was. I just kept saying, 'Don't post up too early.' She's just really, really powerful and the four other were girls were selfless."
The $100,000 purse and was evenly divided between men's and women's races.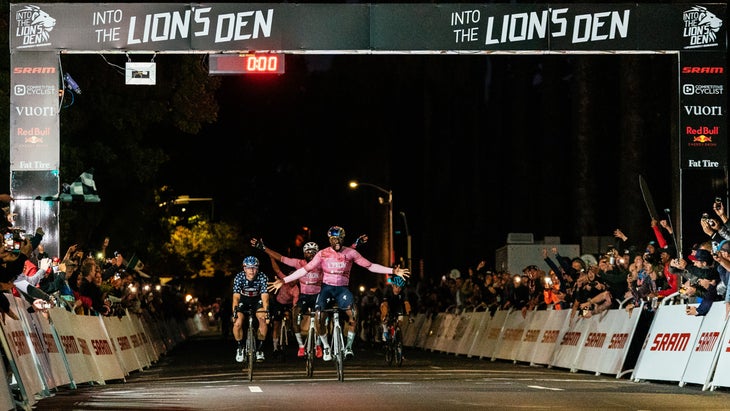 The race paid ten deep, with the winner of each raced netting $15,000.
Further, each race $10,000 in cash primes. The prime at ten laps to go was for $4,000 — more than many races reward for winning the whole thing.
In the women's race, L39ion's Skylar Schneider and Rally's Heidi Franz scored a $1,000 prime like Labecki. LA Sweat's Danielle Morshead took the $4,000 prime with 10 laps to go. (VeloNews is still trying to determine who won the final prime for $3,000.)
In the men's race, where some riders raced under a city or region affiliation instead of a trade team, the first two primes went to the Austin Outlaws, with Brody McDonald and Eli Husted scoring $1,000 each. Then Lamperti took $1,000 before Clever Martinez (Miami Blazers) captured the $4,000 prime, and Tim McBirney took the final $3,000 prime at one lap to go.
Into The Lion's Den marked the return of pro cycling to the state's capital after a nearly a 2.5-year absence. It also continued the sport's professional presence in Sacramento dating about 40 years.
Sacramento was included several times in The Coors International Bicycle Classic (1980-1988), Greg LeMond's "hometown" event.
The California Lottery Classic was also held on a partially cobblestoned loop in Old Sacramento for a few years beginning in 1989.
Peter Sagan won the open road race stage of the 2019 Tour of California that began and ended in Sacramento. Women raced in nearby Elk Grove in the 2018 Tour of California. But they last competed in Sacramento in 2017 when Lebecki, then Rivera, won stage 3 into the capital.
Women's Results
| | | | | | |
| --- | --- | --- | --- | --- | --- |
| Rank | Bib | Name | Affiliation | Time | Gap |
| 1 | 41 | Olivia RAY | Rally Cycling | 1:15:28 | |
| 2 | 8 | Kendall RYAN | L39ION of Los Angeles | 1:15:29 | :01 |
| 3 | 50 | Amy PIETERS | Team SD Worx | 1:15:29 | s.t. |
| 4 | 31 | Makayala MACPHERSON | LUX Cycling | 1:15:30 | :02 |
| 5 | 32 | Kaia SCHMID | LUX Cycling | 1:15:30 | s.t. |
| 6 | 52 | Heather FISCHER | Terun Elite | 1:15:30 | s.t. |
| 7 | 29 | Olivia CUMMINS | LUX Cycling | 1:15:30 | s.t. |
| 8 | 12 | Danielle MORSHEAD | LA Sweat | 1:15:30 | s.t. |
| 9 | 55 | Emily EHRLICH | TWENTY24 | 1:15:31 | :03 |
| 10 | 16 | Rachel CANNING | LABC LADIES | 1:15:31 | s.t. |
Men's Results
| | | | | | |
| --- | --- | --- | --- | --- | --- |
| Rank | Bib | Name | Affiliation | Time | Gap |
| 1 | 34 | Justin WILLIAMS | L39ION of Los Angeles A | 1:17:32. | |
| 2 | 1 | Luke LAMPERTI | | 1:17:32 | s.t. |
| 3 | 35 | Cory WILLIAMS | L39ION of Los Angeles A | 1:17:32 | s.t. |
| 4 | 12 | Lucas BOURGOYNE | Austin Outlaws | 1:17:32 | s.t. |
| 5 | 33 | Ty MAGNER | L39ION of Los Angeles A | 1:17:32 | s.t. |
| 6 | 88 | Cole DAVIS | Team Mikes Bikes pb Equator | 1:17:34 | :02 |
| 7 | 3 | Sebastian CANO | Aminorip Factory Racing | 1:17:34 | s.t. |
| 8 | 14 | Eamon FRANCK | Bahati Foundation | 1:17:34 | s.t. |
| 9 | 99 | Osvaldo MORA | Compton | 1:17:34 | s.t. |
| 10 | 54 | Cesar REYAS | Methods to Winning | 1:17:34 | s.t. |