Andrew Talansky Vuelta Diary: Perseverance is the name of the game
" ... I always find solace in telling myself that I will only feel better as the stage goes on. Luckily, today I was telling myself the truth ... "
Heading out the door? Read this article on the new Outside+ app available now on iOS devices for members! Download the app.
Editor's Note: Garmin-Cervélo's Andrew Talansky is riding his first grand tour starting Saturday morning when the Vuelta a España kicks off in Benidorm, Spain. Talansky will be sharing his diaries with VeloNews readers throughout the race.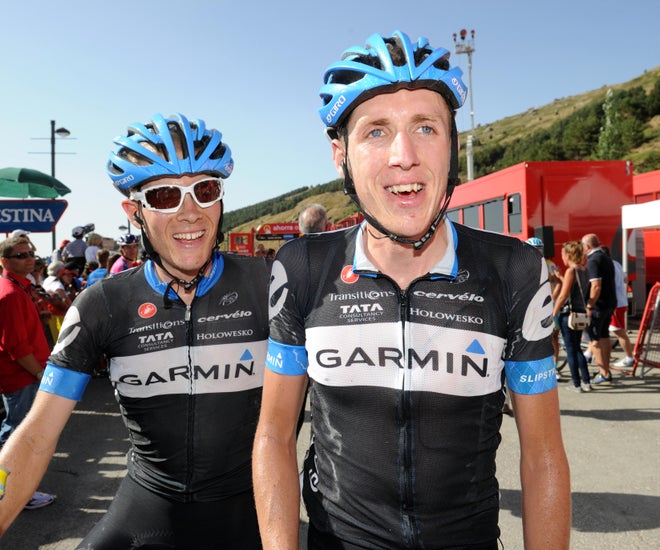 Waking up this morning, knowing that today would be the first test in the Vuelta for those hoping to stand on top of the podium in Madrid, I have to admit I was slightly intimidated. From a glance at the race book we had quite a stage in store: 3,700 meters of climbing, two large mountain passes, one right at the start and the other serving as the summit finish, with rolling roads in between that were sure to offer little or no respite.
While the road up to the finish in Sierra Nevada isn't nearly as steep as some of the climbs we will face late in the race, it was still a climb to be respected, and in the case of many riders, feared. On the bus this morning I wasn't sure how to feel. While I have shown that I can climb very well at times, I've found myself suffering more often than not when the road turns upwards. Still, I was hopeful that today would be one of the days that things went right, and if not I took solace in the fact that there was sure to be a large grupetto in which I could easily cruise up the climb.
Bingen Fernandez, one of our directors, knew I was nervous, looked at me and simply said, "No problem, for sure today it's no problem." Little things like that can be quite reassuring at times.
The day began, as it usually does, with a neutral roll out: a procession through city roads that serves as a chance for riders to sort out any last minute mechanical issues, take a nature break, or just mentally prepare themselves for what lies ahead. I made a rather ill-timed stop at the side of the road and found myself just tagging onto the back of the pack the moment we crossed the official start, or "kilometer 0" as the banner reads.
Those first few kilometers are always difficult for me. I have learned that my body is a bit of a diesel engine (one that runs significantly better once warmed up) rather than a finely tuned Ferrari. It's one of the reasons why long climbs and time trials seem to suit me. During the sharp accelerations, constant slamming of the brakes, and full-gas attacking that happen the moment the race starts, before my legs even have a chance to get warmed up, I always find solace in telling myself that I will only feel better as the stage goes on. Luckily, today I was telling myself the truth.
As it has so in every stage of the race so far, the sweltering heat made its presence known. All day it was a constant procession of riders back into the caravan, in search of ice socks and cold drinks. Our team pulled out all the stops for us, making sure to freeze the bottles that we picked up from the car (they melt within minutes once on the bike). I cannot fully explain what a difference getting an ice-cold bottle makes when you are beginning to overheat. Personally, I like taking one with water and one with sports drink and reserve the one with water for pouring over my head and body to keep myself cool. Ice socks are also critical; we place them just under our jerseys behind our neck and as the ice melts, the water cools us. Extreme heat also stunts the appetite, making it difficult to consume enough solid food during the race, placing even more importance on the bottles filled with the calorie-dense sports drink we are constantly gulping down.
As we crested the penultimate climb, the tension in the bunch was palpable. Twenty kilometers of descending with a few flat sections thrown in would lead us right into the base of the final climb. The break still had over three minutes at that point and the chase was on in earnest. Risks were taken in every corner, riders diving under one another in a desperate bid to gain a few spots. In one of my other posts I referred to "crunch time." Well, here it was and I was ready. At certain points, the race itself becomes so all-consuming that strange things happen. All logic, fear for my safety, worries of consequences, they all disappear and instinct takes over.
By this point, I had suffered just like everyone else, never on my limit but certainly not comfortable on all the climbs. Still, I had a feeling that maybe today was a good day. We hit the climb, riders exploded all around me, some sitting up by choice, others because their bodies would simply not do what they were asking of them.
Suddenly, I felt good. Maybe it was the caffeine gel I had taken on the last descent, maybe it was the fact that I made myself eat and drink till I was practically sick knowing my body would thank me when the final climb came. Whatever the reason, it doesn't really matter. The fact is, I was there. Little by little the front group dwindled down and I still felt good. I went back for bottles and ice, making sure Dan Martin and Christophe had all they needed. As the finish approached I was still there, suffering more than I had at the beginning, but still hanging on.
At the end, a few riders managed to escape off the front and hold on for the top placings while Dan unleashed his trademark unstoppable uphill sprint to take third on the day. He is a special and interesting rider and, if I am a diesel, then he is most certainly a finely tuned Ferrari. I was satisfied crossing the line knowing I had done all I could to help our leaders, and I have to say it was a serious confidence booster for me after suffering on some of the shorter climbs we have faced this race. Now, I know that it is possible for me to be up at the front supporting Dan in his first real attempt at a high overall placing in a grand tour. While there are sure to be many ups and downs waiting for me between now and the end of the race, I am hopeful that the good sensations will outweigh the bad ones in the weeks to come.
It's time to head down to dinner and see what Chef Sean has prepared for us tonight. I am thinking of doing a more in-depth profile of Sean on one of the rest days as I think some of you might be interested in just what exactly his job entails and I'm sure many of you would be surprised to learn just how all-consuming his job actually is. Until next time, thanks for reading.
(Talansky finished 31st on stage 4, just 11 seconds behind stage winner Daniel Moreno.)