Ben King Diary: Nothing but sweet – handing the road champion's jersey to a teammate
The latest diary by RadioShack's Ben King, the 2010 U.S. pro road race champion. King's teammate, Matthew Busche, won the 2011 title on Monday.
Heading out the door? Read this article on the new Outside+ app available now on iOS devices for members! Download the app.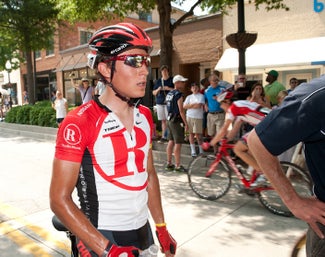 Editor's Note: This is the latest diary by RadioShack's Ben King, the 2010 U.S. pro road race champion. King's teammate, Matthew Busche, won the 2011 title on Monday.
Matthew and Lisa Busche flew east to stay with my family in Central Virginia before the USA Cycling pro road championships. We pedaled through the foothills of the Blue Ridge under a bright sky. I threw out my arms in a victory salute to the spectacular day. Matthew mocked me, but I told him "You'd better start practicing, because it'll sneak up on you. You don't want to get to the line and look stupid."
Fresh off a standout performance at the Amgen Tour of California and my mom's gourmet home cookin', Matthew Busche claimed the title "US Professional Champion."
"I told George, that it felt like a crime —  taking the jersey from him at his home race," Matthew said. Respect and ethics are rooted in cycling. That's how a pack of 200 racers can bomb a descent at 60 mph inches from each other without crashing.
Matthew sprinted in a fury that belies his mild mannerisms. To challenge a legend takes guts bordering on disrespect. That's why Matthew and I, accustomed to following instructions in support of the team leaders, felt the same humility bordering on compunction after winning our respective championships.
In 2010 I realized my dream of riding for a WorldTour team and two weeks later became the youngest national champion ever. All the sudden the pro peloton knew me. When I introduced myself to Jens Voigt at my first race with RadioShack in Mallorca as "Ben King, a long time fan." He said, "yeah, I know who you are. Thanks!" It gave me an immediate sense of belonging at this level. Although I enjoyed only half a season in the custom jersey due to this year's earlier date, some of the rewards will last a lifetime.
After Matthew's victory, I heard "bittersweet" in many questions and comments. Passing the jersey to a friend and teammate, however, is nothing but sweet. I'm no less 2010 champion than I was on Monday morning, and Monday evening I celebrated with the 2011 champion.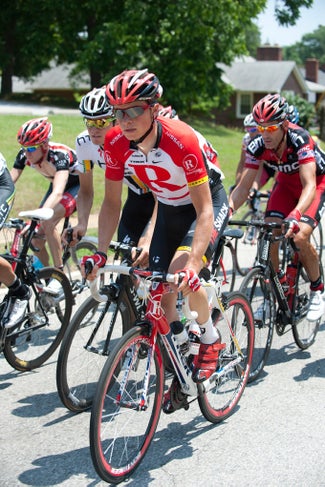 J-Mac, Matthew, and I defended the jersey in textbook fashion. My legs felt blocked from the start, so I tagged a few early moves, missed the first breakaway, which BMC brought back on Paris Mountain, then tagged a few more. Just when I began to lose steam, J-Mac slingshot around me into the race's long breakaway. Matthew and I waited in the field for the big hitters to go on Paris Mountain.
When Tejay attacked the climb from bottom to top, only George and Matthew responded. Kelly Benefit Stategies (the Continental team that both Matthew and I once rode for) led the chase group of twelve. I hurt worse than expected. Ted King and Louder blasted across the gap. After the climb our group swelled to 25, and the four leaders gained a two-minute advantage.
When four of the Paris Mountain attackers caught the breakaway, J-Mac gave his final contribution to the team, pulling until cramps forced him to the side of the road. I marked attacks on the circuits and finished in eighth place, but I only cared to know who had won. A strange tension at the finish caught my attention. Officials hustled back and forth. Somebody said George won. Then I heard Busche. "Busche?" Pause. "Yes, Busche!"
The sprint was so close that neither had to worry about the victory salute.
We celebrated in true Southern fashion with an ice cream, a toast, a late night game of corn hole, and a cannonball in the pool. I'm excited to watch Matthew represent the jersey as his career takes off.