Ben King Diary: Part 2 of a pro race day – Start to Finish
"After a hard turn on the front Nibali drifted back and took a slow calculated look at me as if to say, "is something the matter?" Yes! This is the sixth day over 100 miles, and you're killing me!"
Heading out the door? Read this article on the new Outside+ app available now on iOS devices for members! Download the app.
Editor's note: This is the second rider diary from U.S. professional road champion Ben King of Team RadioShack. King is planning a three-part series on a pro's race day. His first column talked about the day from breakfast to getting on the team bus. Part 2 covers the race from start to finish and the third part will deal with the post-race period.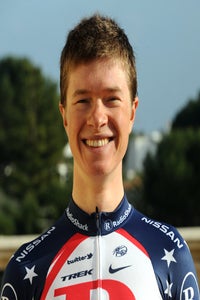 Race Day: Part 2- Start to Finish
Briefed on tactics and expectations, tanks topped off with espresso and carbs, legs oiled and heads helmeted, we find our bikes, pristine, and equipped with bottles where the mechanics lined them up. Some days we feel like rock stars stepping out of a tour bus into the sunshine, costumed and ready for action, with a huge crowd bouncing against the barriers begging for autographs. On others, days like today, a few curious bystanders, watch us tramp through puddles to sign in and huddle together out of the drizzle. We roll for 10 neutral kilometers before the 195km stage begins.
A reassuring reality is that the highest level of cycling follows the same ethics, rhythms, and strategies as every other category. It's the same sport on longer courses at higher speeds. The neutral, however, that I know has always been a dangerous fight to start at the front without passing the official's car. In the pro peloton I notice more respect and caution. I took advantage of this and led the parade beside my friend Chad Byer (BMC). We'd both been instructed to be aggressive.
Neutral complete, race on, I attacked with Byer on my wheel. Seven of us ripped off the line. Small groups bridged across. One by one, I recognized the hitters, Nibali, Sagan, Cunego, Sella, and my teammate, Matthew Busche. What did I get myself into?
When I sought council on surviving the ProTour transition, Axel Merckx became the first of many to say, "It's so much faster all day. I struggled the most with that in the beginning." For the next 100 km I fought to keep my tongue out of my spokes. After a hard turn on the front Nibali drifted back and took a slow calculated look at me as if to say, "is something the matter?" Yes! This is the sixth day over 100 miles, and you're killing me!
The peloton, less than two minutes behind, chased in desperation for two hours. At last, they cracked and we broke free.
Each team has two follow cars in the caravan, one behind the peloton and one behind the breakaway. Any time I wanted a water, bar, or word with our director Gallopin, I sagged to the back of the 22-man group, put up my hand, and waited to see our Nissan zip up behind the official's car. Having guidance and accountability so close gave me assurance that this wretched suffering had purpose.
Ten riders pulled away from our group on a descent of all places, and I went on to finish 13th. Missing the final split disappointed me, but our director and my teammates said, "well done."
It is strange and humbling to feel like pack meat again. In Sardegna, however, I accomplished my goal. If I can affect races in favor of my teammates and earn a pat on the back, it means I am on the accelerated learning program to navigate the pro peloton, position myself for future action, and develop good habits.
At the finish line, our soigneurs had bottles of protein and mix to immediately initiate the recovery process. They wrapped me up in a thermal jacket and informed me that I had been randomly selected by the UCI for drug testing. Glad to have been well hydrated throughout the day I hurried through the process, then weaved spectators on a crowded street to the bus.
Finding my bags, clothes, and shoes where I left them gave the bus a sense of home. Step one, shower. Imagine! Fifteen minutes after racing I'm clean and comfortable eating one of the post-race sandwiches that our soigneurs made at breakfast and sipping a recovery shake. Legs up and joking or picking apart the stage with my teammates, the driver chauffered us away. These are some of the luxuries that accompany and enable such violent efforts day after day.
(Editor's note: King was the top RadioShack finisher, at 13th, in the Classica Sarda)