Bobby & Jens: Tony Martin spills all his time trial secrets 
The former TT world champion turned entrepreneur has some stories to tell from the WorldTour trenches. 
Photo: FABRICE COFFRINI/AFP via Getty Images
Heading out the door? Read this article on the new Outside+ app available now on iOS devices for members! Download the app.
Stage races, leadout trains, and of course time trialling, powerhouse Tony Martin could just about do it all. This week, the four-time TT world champion turned entrepreneur joins Bobby & Jens, and he's full of stories from his racing days and insider secrets that made him so unbeatable in the race of truth.
Martin works just as hard now as he did then, maybe even more so, making getting him on the show difficult with his busy schedule. But we're glad he finally found the time — the wait was well worth it. 
"My life didn't get boring," he says of retirement. "Actually, it's the opposite; it's getting even more exciting and I'm seeing different sides of life."
Before getting into what he's up to now, we first start with his junior days. He discusses the realization that he could become the time trial world champion as a pro after never performing particularly well in the discipline as a junior, then evolving to the point that he became disappointed when he didn't win time trials, especially the worlds.
Also read: Bobby & Jens: Tiffany Cromwell's gravel and road racing balancing act
He talks about developing his signature TT style of pushing a massive gear rather than a high cadence. "Riding with this kind of power just felt natural for me," he says. But he also credits the team around him giving him tons of gear to test to optimize his time trialing, including discovering his signature 58-tooth chainring. 
The German was never afraid to test the latest tech either. He was the first to use clinchers in a TT, and also figured out early on the superiority of a 28mm tire.
There was hardly anything he wouldn't try. He also innovated some things that got banned, including using a Camelbak purely for an aerodynamic advantage. Then there was the sandpaper he glued to his saddle to reduce movement.
And after the UCI required all equipment used in races to be publicly available, he started working with suppliers directly to make equipment available to the public, even having Fizik make a saddle with sandpaper available to the public, continuing his cat and mouse game of innovation with the UCI. 
It didn't always work perfectly. One time it led to a bloody TT that shone bright through his pristine white world championship skinsuit.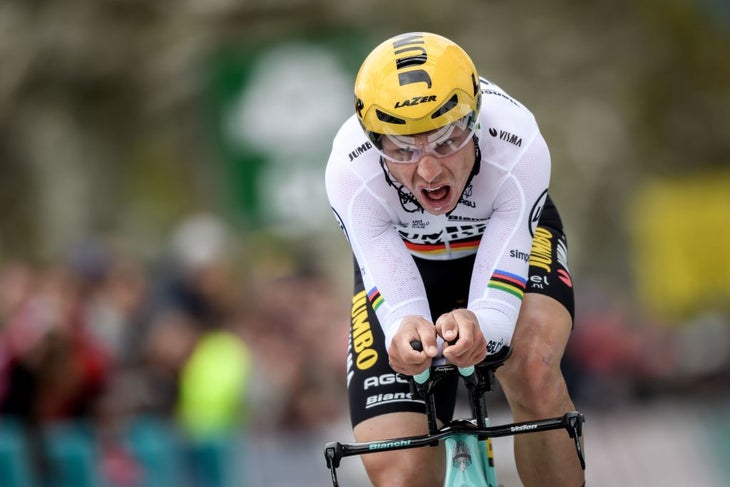 He then takes us through his routine and how dialed things were to maximize performance, and talks about the insane lengths he went to contort his body into the most aerodynamic shape possible. 
Bobby and Jens also have plenty of questions to ply Martin with.
There's the origins of the Panzerwagen nickname, and the Olympics he came back to medal in after breaking his wrist just weeks before.
Martin talks about one of the craziest stories of his career, having to leave the Tour de France in the yellow jersey after a crash and flying a private jet to a hospital that night to get surgery in the morning. It's a timeline that he says was possible to restart the Tour but the doctors prevented it because the risk of infection was too high. 
"I'm really satisfied with my career," he says. "I did achieve everything I wanted to achieve."
Tony also gives us the lowdown on his new kids' bike company, Li:on, that he started with Marcel Kittel. It's focused on creating more visible bikes (Li:on stands for "Light on") to enhance safety while ensuring that the bikes look good.
Bobby & Jens is a Shocked Giraffe production for Velo. This episode was produced and edited by Mark Payne.
Follow Bobby & Jens on social media to continue the conversation and keep up with the latest episodes: