Learning how to stage race at the Breck Epic: Day 1
Karen Jarchow will be chronicling her experiences of her first mountain bike stage race at the 2012 Breck Epic
Heading out the door? Read this article on the new Outside+ app available now on iOS devices for members! Download the app.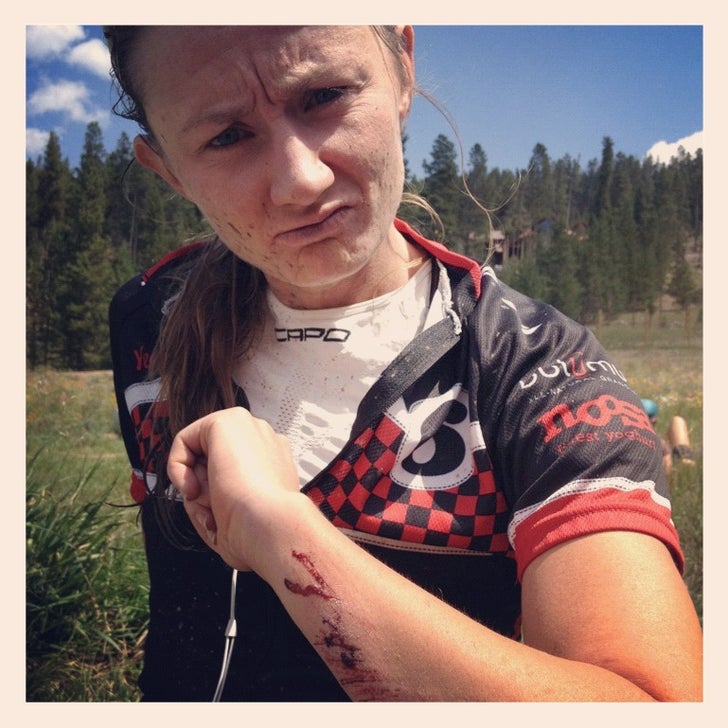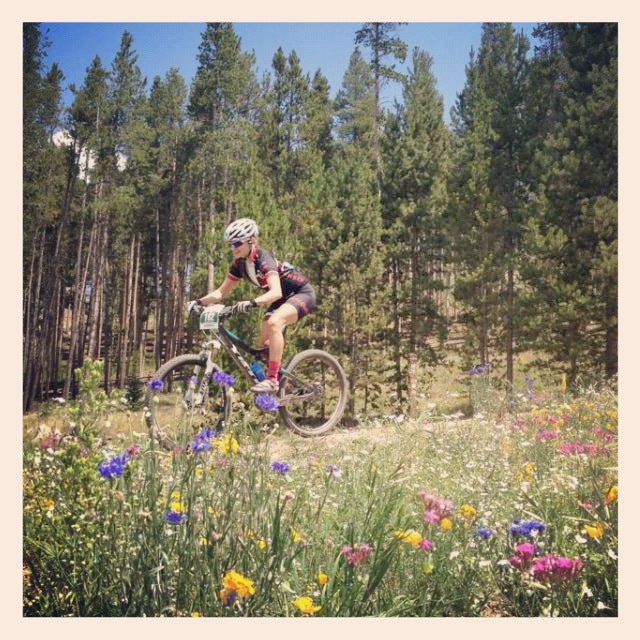 Karen Jarchow will be chronicling her experiences of her first mountain bike stage race at the 2012 Breck Epic. Check back for her updates.
Pennsylvania Gulch
Waking up this morning I was less than thrilled about starting the 6-day Breck Epic. This feeling had nothing to do with the race itself, as Mike McCormick does a phenomenal job at organizing and emphasizing the fun factor of mountain biking. It was more fear of the unknown and the sense that I was completely unprepared, because with Mike's fun factor emphasis also comes a lot of pain and suffering. So, with some no BS pep talking from Jeff along with a more sensible coddling talk from Yeti Beti teammate Natalie Ryan, I packed up my stuff and headed to the start line.
Stats of what was ahead of us were 39.6 miles and 5,419 ft of climbing. For you visual learners, here's a graph to show you the literal ups and downs of the series of road, double and singletrack.
The countdown: 3, 2, 1 and we were off!
As we got going on our neutral start, I was able to properly amp up to an in-control climbing pace that was actually feeling really good. The pack I was with kept picking up a faster and faster pace that I knew would be dangerous to even draft off for me, so I held back and settled into my own pace.
This kept me in the lead through the opening climb, onto the first stretch of singletrack some more punchy climbs until I started feeling a little squishy — literally. Knowing I checked my air pressure before the start I was a little panicked and pulled over to grasp a rear tire that was not holding air. I gave it a shot of a gas bomb (as the Euros call it) and filled it like it was a road tire and kept on my way. Soon after came a punch in the hoo-hah steep climb that knocked me around and off my bike.
This is where Amanda Carey rode very strong past me. I gave her a cheer and kept on pushing.
Shortly after seeing Amanda, I felt the squish coming back… so I pulled over to add some more air and this time I could hear a hiss and saw Stans splooges. Some more air and sloshing around and it FILLED! In the meantime, I was passed again. It was friendly, and gave me some encouragement.
That was at that moment I reminded myself "don't get caught up in chasing, just ride steady from here on out." So, from that moment until getting back to Boreas Pass Road, I did just that.
At Boreas Pass road another lady rode very strong and steady past me. This is when I realized my steady pace should probably pick up a little and stop smelling the pretty flowers.
Flash forward through fun singletrack, steep and loose double track climbs and descents and we were at Sally Barber Road. Finally, I was somewhere I knew what was coming up next: everyone's favorite, Little French Gulch. I was not feeling very sparky at that point and walked more than I normally do.
At this point I caught up with the third woman who passed me, and quickly learned she was racing singlespeed. We went back and forth, I would get a good gap on the descents and she would mash by me on the climbs.
Back to the road and slogging towards the last aid station I tried to hold her wheel on what I felt was the hardest part of the day. She hammered on and I fell back. Feeling slow and sluggish, I decided to spin it up to the last aid station. Number four in the Open Solo Women category was right behind me, and stopped at the Aid Station. I once again filled a low rear tire while she went right on by.
"One more climb, and then it's ALL DOWNHILL" is what I told myself to keep the gears moving on the slog forward. At this point I found the day pretty comical, so switched my frustration to a "just rail the downhills and have fun."
Following that mentality, I caught up with number four. She wouldn't budge from her line, so I took a little risky route to get around her that quickly led to a flat FRONT tire. All I could do was laugh, fill it up, and keep having fun. This is where I took away my "railing it" thoughts and just kept it between the lines as both my tires felt like road tires at that point.
I kept it steady, and rolled back through the Carter Park switchbacks to the familiar voice of Larry Grossman and Jeff at the finish! The end result was third place, way off the women's leader 15 minutes ahead of me, and Amanda Carey was five minutes behind her in second.
I don't like to play the "what if" game as you have no control what can happen during a race. Yes, I had some unfortunate issues, but I am very happy with my result. Now, to try to figure out how to do it all again tomorrow!
---
Growing up in a small, rural community of Southern Minnesota being a professional mountain biker was a foreign concept to Karen. Her reality was more accustomed to church, school, and mimicking the small town American sports her brothers played. Post college Karen packed up and moved out to Colorado, and was well on her way to a secure career as a Physician's Assistant, white picket fence, 2.2 kids, and a cabin on a lake. The mountains gradually broke down this Minnesotan dream and she soon found herself living a whole new life; a life that was rerouted through her introduction to cycling in 2009 after supporting a four-woman RAAM team. Karen caught the bug and dabbled in grassroots racing in 2010 and 2011. She then became a little more structured in 2012, racing for Yeti Beti and earning her UCI Pro License in cross-country within her first two races of the season. Her love for the sport and community can be seen on and off the bike in her enthusiasm for encouraging new riders to get involved, and always congratulating other racers, no matter their results.
"I haven't been racing long, but have noticed how people become consumed with comparison and results. Once you fall into that game, riding and racing starts to lose its luster. My focus everyday is to keep pushing my limits while keeping it fun. Yeah, winning is fun but I have felt more inspired and in general have learned more from a mid-pack 15th place finish than a podium spot. Racing to me is about much more than a time or a place but more about the experiences and relationships built along the way," Karen believes.
For updates on endurance mountain biking and exclusive Leadville Trail 100 coverage, follow Singletrack_com on Twitter and like us on Facebook
Catch the week's best stories by signing up for The Dirt newsletter