Life as a Bike Jockey: Needles Do a Body Good
Reading Judy Freeman's new Singletrack.com column won't be anywhere near as painful than when she tweaked her hand in Australia as part of the USA Cycling team during the 2009 MTB World Championships. Read Freeman's "Life as a Bike Jockey" to learn how she is getting a grip on things.
Heading out the door? Read this article on the new Outside+ app available now on iOS devices for members! Download the app.
Editor's Note: In between races, training, work and morning coffee, pro mountain bike racer Judy Freeman will be bringing you stories about life on fat tires as a regular columnist for Singletrack.com.
Twice a month, Freeman, who rode for the U.S. at the 2009 MTB World Championships in Canberra, Australia, will touch on a variety of topics — not just the goings-on between the start and finish lines. From nutrition to conditioning or traveling and recovery, you'll be able to follow Freeman's trials and tribulations in "Life as a Bike Jockey."
BY JUDY FREEMAN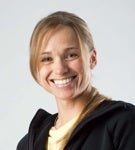 This past summer I made USA Cycling's National Team to represent at the MTB World Championships in Canberra, Australia.
I was psyched! I figured my first Worlds would be full of new experiences: New trails to ride, new people to meet and new food to try.
And sure, some experiences were based in fantasy, like a podium finish and a stadium of people cheering my name like in that movie "Rudy" — except they'd be yelling "Judy," and of course we wouldn't be wearing shoulder pads (that'd be way too '80s).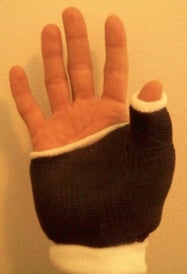 But I never entertained the idea of crashing my bike while pre-riding the course, or the subsequent doctor visits, x-rays and rehab — let alone the needles. Yeah, needles. If I've learned much in racing it's that injuries are lame.
Oh, and that doing what it takes to recover is actually sound advice, which is where the needles come in.
Punished Pinkie
Flashback circa 2002: While trying to maneuver a bike stunt I once saw performed by Chinese acrobats (which is never a good idea for mortals), I dislocated my pinkie. It was a minor injury that hurt, but it didn't hurt as bad as I thought a bill from a hospital would.
I had little money, no insurance and, in retrospect, about as much in smarts. Instead of seeing a doctor, I decided duct taping the pinkie to the neighboring ring finger was a suitable splint and patted my own back for being so clever. Today, that finger is a gnarled, partially functioning shadow of its former self that can barely hold its own in a pinkie swear.
So when I stacked my bike in Australia and jacked up my favorite hitchhiking thumb, I decided to do what it took to get my Fonzie back in order.
X-rays showed no breaks, but the thumb-wrestling contest with the hand specialist determined I had won myself a partially torn ligament and earned a stylish plaster glove for three weeks.
When the cast came off, the next step was rehab. The standard thumb sit-ups and thumb squats were prescribed, but a friend also recommended Intramuscular Stimulation (IMS) or Dry Needle Therapy.
Trigger Points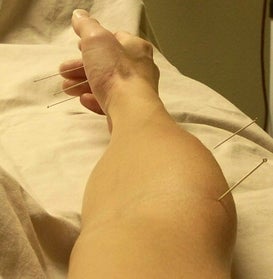 This is where the needles really come in. To the untrained eye, IMS looks like acupuncture. The needles are the same tiny gauge. Most often the sensation is a mild discomfort if anything. And as a patient, all you know is that by mid-session you'll be looking like a porcupine and sitting reeeeal still. But that's about extent of it.
Simply stated, where acupuncture focuses on accessing the body's energy, or "chi" via the meridian lines to promote healing, IMS approaches an injury through the neuromuscular system. In creating a micro-lesion deep in the muscle at the trigger point near the injured area, the body reacts by releasing healing chemicals and increasing blood flow in addition to relaxing the muscle contracted by the injury.
I've had acupuncture in the past and believe both methods have their time and place.  My IMS time, however, was on a cold Wednesday morning this past October.
I visited Debrah Falk, PT and IMS practitioner in Boulder, Colorado. I gave her my laundry list of aches and issues that included my hand along with the shoulder that also took a good beating in the crash. I could imagine how "needling" the shoulder muscle would work, but I was wondering how this was going to help my hand.
At the same time, I also knew how effective my diagnosis and DTT  (Duct Tape Therapy) was back in the day, so I figured I'd just leave this one to the professionals.
Insert Here
Debrah got to work starting with my back, shoulder and neck. The shoulder area was obvious, but she put needles in the neck since this is were the nerves for my arm, hand and thumb originate. Relaxing these nerves would help remove stress down the line all the way to the injured thumb.
About 10 needles later, I was face down in the head cradle watching her feet scoot around the table as she worked the pins into the target spots. I didn't feel much more than warm tingling, which is crazy as some of the needles found their way a good inch into the muscle. She later showed me a three-inch needle used for addressing glute issues. (Insert your own pain-in-the-ass jokes here.)
Once those pins were out, I flipped over for my front-row seat to the voodoo doll action on my hand and arm. Applying pressure with her hand, she found the trigger spots that when needled, would relax the muscle and provide the most healing. Then, after some quick tapping to get all six needles in, she twisted the pins deeper into the muscle till they found a natural stopping point. It was kinda surreal watching it without feeling much. The needles in my hand had the greatest reaction, but other than that it could have been someone else's arm for all I knew.
Still, none of the entertainment of looking like puffer fish on defense was worth it if my hand and shoulder kept hurting. And they didn't. I could probably use one more treatment, but my hand and shoulder already felt worlds better after that visit.
I admit, I had my doubts, but now I am a convert and will take needles to duct tape any day.
Judy Freeman is a pro mountain biker out of Boulder, Colorado. This summer she rode for the Tough Girl/SCOTT Cycling Team as well as represented the U.S. at the World Championships in Canberra, Australia.
Freeman went pro about six years ago. She regularly cracked the top-20 in major domestic races in 2008, such as the Sea Otter Classic and select national events. In 2009 she was a woman to beat in the Colorado Mountain States Cup and a regular top-10 finisher on the Pro XCT.