Phil Gaimon Blog: All kitted up with no where to go
Since my last blog entry in July, the theme of my life has been "all kitted up and nowhere to go."
Heading out the door? Read this article on the new Outside+ app available now on iOS devices for members! Download the app.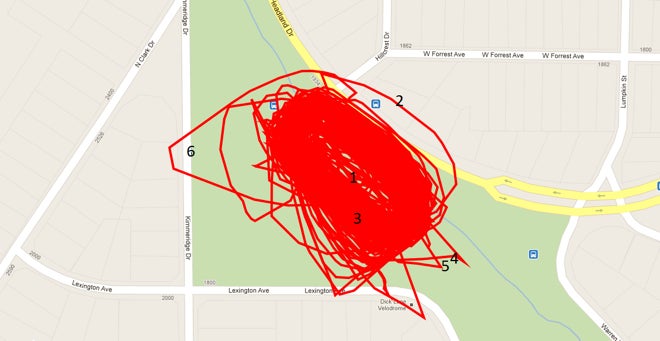 Since my last blog entry in July, the theme of my life has been "all kitted up and nowhere to go." With Kenda left out of Colorado and Utah, and just a few big crits in the budget for the rest of the summer, my only team race left for the year is a one-day road race. In Taiwan. In November.
Thirty hours of flying and a week in Asia for one race might sound like a form of torture, but I'm a sucker for bike racing, and I like rice, so I couldn't say no. Trying to stay in shape late in the year also gave me an excuse to come back to Elite Track Nationals to get my butt kicked.
Although I'm technically a climber, I've raced the track a decent amount over the years, and I really enjoy it, especially the mass starts, which breed aggressive, tactical racing. In a road race, the early break gets 5 minutes, and gets sucked back with 3k to go. In a scratch race, a 15-second gap is all you need to lap the field, so the racing is action-packed. Racing a bike with no brakes sounds scary, but I always feel safer on the track than in a crit, because the guy in front on of me doesn't have any brakes to slam.
This was my second time at track nats, but last time was entirely on a whim, so I got to do a little training at the Dick Lane Velodrome in Atlanta. Let's quickly analyze my GPS file from one workout.
As you can see, I rode many laps around the track, but I've numbered the critical points.
1. The infield. I'm not exactly sure why there's so much riding on the infield. I rode through the grass twice. The first time was for the purpose of this image. I wanted to write PHIL WAS HERE, but it didn't come out. The second time was when I changed my gears, but didn't tighten it enough, so I unthreaded the cog from my wheel trying to slow down before I entered the track. I found myself with a lot of momentum and no means to slow down, so I did an involuntary lap of the gassy infield to scrub some speed for a safe dismount.
2. Apparently I went to check the bus schedule.
3. I'd like to emphasize that I did many laps around the track.
4. Nature break
5. Nature break
6. Went up to my car to make sure that the kids that walked by didn't break a window or steal anything.
I landed in LA at midnight, which felt like 3 am to me, because that plane ticket was $80 cheaper. I stayed in Lake Forest, right down the street from where U23 nationals started in 2008. I kept having flashbacks to a 12-man breakaway with six Garmin Development guys attacking the crap out of us, and no water.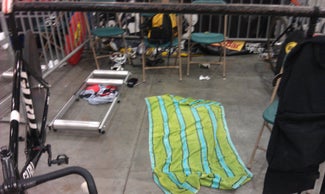 I had a couple days to get accustomed to the fancy wooden track, with its ridiculous banking. When you first hit the top of the track, you're always nervous that you won't have enough speed to keep your tires down, and the sign at as you enter the track doesn't help: "IF YOU SLIDE DOWN THE TRACK, YOUR SESSION IS OVER." Like I'd want rip out 90 splinters and keep riding.
After one workout at the ADT center, and five other rides on my track bike in the last year, I was now fully prepped to compete against the best of the best at national championships. I signed up for four events: the pursuit (4k time trial), team pursuit (4k team time trial), scratch (basically just a crit: lots of lapping, and the first man wins at the end), and the points race (points for lapping the field, and sprints for points every 10 laps). I considered the omnium, which is a combination of pretty much all the events: points, pursuit, kilos, flying laps, etc., but when I found out there was no hillclimb, I decided to skip it.