Phil Gaimon diary: All that embrocation and for what?
Kenda-5 Hour Energy's Phil Gaimon knew he was in for a long day when the rumors began circulating: Portions of stage one would be neutralized, it would be shortened to a prologue, or he'd have to do the full race, and the lead moto would be replaced with a snowplow.
Heading out the door? Read this article on the new Outside+ app available now on iOS devices for members! Download the app.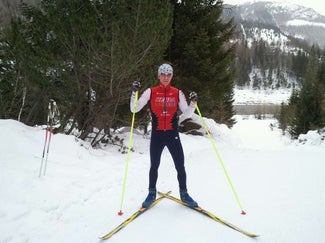 I swear they could move this race to Ethiopia in early August and it would probably get its first-ever blizzard.
The weather had been beautiful since arriving in South Lake Tahoe Friday, but we all knew the forecast was for snow starting Saturday night. Rumors began circulating that portions of stage one would be neutralized, it would be shortened to a prologue, or we'd do the full race, and the lead moto would be replaced with a snowplow (I made that up).
The course looked amazing, and I hoped the weather would back off and we'd get to do the whole thing. It was all out of our control, so it wasn't really worth worrying about.
Friday night was the team presentation gala, where we got to dress like a boy band (or in team Jelly Belly's case, extras from "Willy Wonka and the Chocolate Factory"), and go out on the stage to be introduced to a room of VIPs. It was a chance to rock our new Hincapie Sportswear jeans, and we were all prepared with fresh haircuts (nothing to do last week but get rested and make sure you look good for TV.)
Saturday morning we went for a ride, our last chance to enjoy the scenery without suffering. Highlights included Chris Horner shooting by us during an effort (although we're pretty sure he slung off of his team car), and a huge grizzly bear rooting through a Dumpster.
By now, you know that the stage was aborted at the last minute. The good news is that we're all 190km closer to finishing the stage race. The bad news is that it was a bit of a mess. Once the stage was postponed and shortened this morning, we all sort of assumed it would be canceled, but the word eventually came that the race was on, despite the snow.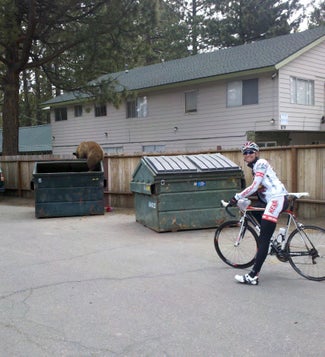 At Kenda-5 Hour Energy, we thought they'd be crazy to start the race, but figured if there was any complaining or decisions to be made, the Euros would take care of it. Sure enough, after an hour of getting dressed, slathering on the warming cream and watching icicles form out the windows, we lined up at the start, only for Levi to announce that the stage wasn't happening.
It was a bummer that they let it drag on that long, when it was pretty clear hours before that conditions weren't going to improve, but it was the right decision. Better late than never. The race organization had a fine line to walk between rider safety and sponsor/TV/spectator obligations, and we all appreciated the respect they showed in calling it off. To the hotel we went. My teammate Luca Damiani was probably the most disappointed. He came prepared for snow.
Looking around in the dining room over the past few days, it's hard not to be star-struck or intimidated by guys like Hushovd, Schleck, Voigt, and Jamey Driscoll. Even if the guys here weren't the best in the world, the races they've already done this year are amazing preparation, and there's only so much we could do to match it (see my last blog about training through the Tour of the Gila).
For us this week, it's going to be all about reasonable expectations, opportunism and putting on a good show to prove we deserved the invite. No fear here. Besides, none of those guys ever won Athens Twilight.
Phil Gaimon is a 25-year-old VeloNews columnist and third-year pro racer for Kenda-5 Hr Energy Presented by Gear Grinder. He has an English degree from the University of Florida, and owns online stores at podiumcycling.com and sharethedamnroad.com.