Phil Gaimon Diary: Cracked the top- … 36
Stage 7: Today's stage was of the no-hiding, no-excuse type. Uphill from the gun for about an hour (best described as "apeshit" pace), a long, twisty descent that wouldn't allow for much catching on, and then back up an extended version of the climb, starting in Claremont at the base…
Heading out the door? Read this article on the new Outside+ app available now on iOS devices for members! Download the app.
Stage 7: Today's stage was of the no-hiding, no-excuse type. Uphill from the gun for about an hour (best described as "apeshit" pace), a long, twisty descent that wouldn't allow for much catching on, and then back up an extended version of the climb, starting in Claremont at the base of Glendora Mountain, and finishing at the ski resort, with a couple hours of sadistic climbing in between.
Note the dinner-plate-sized cassettes on Garmin's spare wheels at the start. That means we're in for a tough one.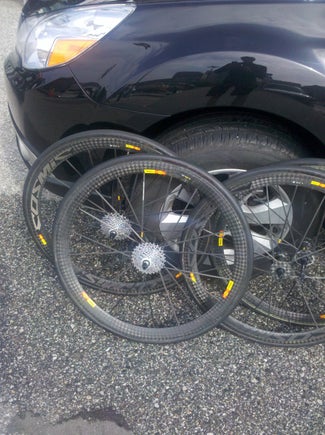 The break went during the apeshit stage, and never seemed to get much of a gap. We could usually see them a switchback or two ahead, and RadioShack rode a steady tempo, which kept the race hard, but the remnants of the field were safe for awhile, as it was mostly sort of draftable.
The team prerode this stage in March, and we were already familiar with the first stretch of Glendora Mountain Road, home to the TT at the San Dimas Stage Race. Shawn Milne kept me in bottles until RadioShack started to turn on the gas. He'd done all he could, and it was no longer in his job description to be there.
This week has taken a lot of the snap out of my legs (not to mention years off my life), so when the surges and attacking started on the steeper pitches, and there wasn't much of a point to hide from the wind anymore, I let the remnants of the field ride away, and did the last hour at my own pace, picking off guys that came out of the front group. I felt like that would be a better option than to try and stay with the top guys until I blew sky-high, a mistake I've made before.
That last hour was one of the longest of my life, despite the amazing crowds cheering for us (it looked like Halloween out there). Surprisingly, a "Go Phil" or "Go Kenda" didn't help me go any faster, though. I finished 36th on the stage. Nothing amazing, but ahead of almost all the domestic guys, including a good bunch that can usually drop me.
Whatever the result, I know I couldn't have gone any faster, so I'm satisfied. I came off the back with Johan Van Summeren, who I recently watched win Paris-Roubaix on TV. True, it's a different race, but that takes a bit of the sting out. It's still surreal to be racing these guys, even the ones I know pretty well. I rode behind Ben King for awhile today, and wondered how I could get some red, white, and blue sunglasses like his. Then I remembered what he did to earn those, and decided my current glasses will suffice for now.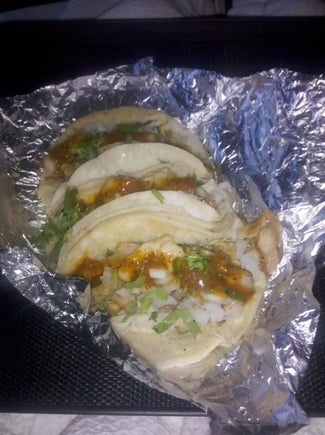 A few of my teammates rolled in with the groupetto, accompanied by (among many others) Lars Boom. With 3k to go, still well within the time cut, he saw his team RV and pulled out of the race. I'm not sure what his reason was, but some would say it makes him a quitter. I say that's the act of a true champion, because what does he care?
After the stage, Shawn and I hit up a taco truck across the street from the hotel, and I got some great tacos. I needed a break from the pasta, and if you don't already know my stance on diarrhea, you should pick up the latest VeloNews.
That's it for stage 7. Last stage tomorrow, and Kenda still has seven dudes in the race, ready to throw down. You'd better be screaming for us if you're out there.
Phil Gaimon is a 25-year-old VeloNews columnist and third-year pro racer for Kenda-5 Hr Energy Presented by Gear Grinder. He has an English degree from the University of Florida, and owns online stores at podiumcycling.com and sharethedamnroad.com.