Phil Gaimon Diary: The bridge attempt and post-race party
My numbers look like I feel. Stage 8: I woke up at 3 am last night, horribly hungry. Luckily, the soigneurs had put out the snack box early, so I sat on the cooler in the hallway eating cereal and rice cakes, and didn't have to…
Heading out the door? Read this article on the new Outside+ app available now on iOS devices for members! Download the app.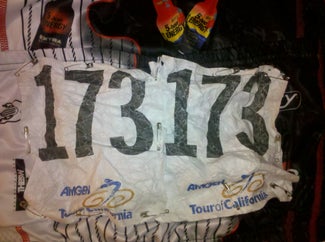 Stage 8: I woke up at 3 am last night, horribly hungry. Luckily, the soigneurs had put out the snack box early, so I sat on the cooler in the hallway eating cereal and rice cakes, and didn't have to search downtown LA for food in the middle of the night. I did manage to sleep for another few hours afterward, and didn't feel too horrible by the noon start.
Since it was the final stage, all the teams, especially the domestics, were going hard for the early break. Nothing to lose, and we all wanted that little bit of TV time, but HTC had decided that they weren't going to let anything go with more than four dudes. With twelve teams going for those four spots, you can do the math and figure out how the first hour of racing was.
The team was very active, but finally, we hit a narrow road, and four guys got a small gap, so HTC lined up across the road and went super slow. The physical barrier tactic is something you only see in high-level UCI races, and Cat 5s. Anywhere else, there's really no such thing as "blocking." Frustrating to anyone trying to make the break, but on the other hand, part of their job is controlling the race, so you can't blame them. Since the break was a major goal for the day, I slowly elbowed my way through everyone, and attacked with a Jelly Belly rider (they'd also missed the move), despite being way down on the break already. The two of us never had much hope of getting across to four guys with a big head start, but we had to try.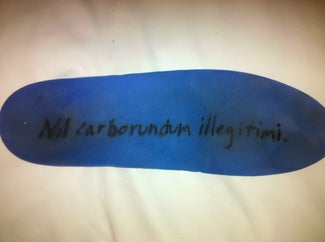 After an hour-long hard effort, the field brought us back. There were some rude words from a few of the Euros, which didn't really make sense to me. We hadn't made their day any harder by dangling out there, and we were just doing our jobs, so the disrespect was uncalled for. It was just a few bad apples, though, and I think most of the field understood and respected the effort. I got some kind words especially from Maarten Tjallingii on Rabobank. If you're looking for a badass bike racer to follow, I hereby vouch for him as a good dude.
From then on, the chase was on, and my legs were empty. Every mailbox looked like a 5k to go sign from the distance, and the five laps on the finishing circuits felt like forever. I came off with 3k to go on the last lap, and cruised in, just glad to finish (about an hour down on GC, by the way), while Shawn Milne managed a not-to-shabby 11th in the sprint.

Often, when I don't have a good finish at a race, it bothers me mentally afterwards. I forget the pain, and think maybe I could have gone harder. This week, I haven't forgotten the pain, and I know I gave it what I had. The results weren't off the charts, but I look forward to the legs I'll get from this effort when I've recovered in a week or two.
Back at the hotel, I opened the laundry compartment of my suitcase to toss in today's jersey with those from the last few sweat-soaked days. I have an English degree, and have no words to explain the smell (maybe if I hadn't gone to a party college).
Tonight, I think there's a ToC afterparty, open to riders, staff, and whoever else shows up. I think we'll make an appearance and have a drink or two. Based on past experience at these events, I expect lots of hairgel, tight jeans, cologne, and a full range of sexual preferences to attend, including straight, gay, lesbian, bi, Euro, and Jim Stemper.
I'd like to thank everyone for reading and following this week. We were glad to be invited to the race, and hope to do many more. The blogging was a fun post-stage distraction for me, and hopefully good for the team and sponsors (go buy some Kenda tires and 5-Hour Energy).