Phil Gaimon Diary: Track Nats, part 2
" ... Someone should invent an "emergency brake." I'm not sure how it should work (I'm just the idea man), but when there is a crash in the field, there'd be nothing worse than watching it come and having no way to avoid it. Maybe if you could just pull a parachute ..."
Heading out the door? Read this article on the new Outside+ app available now on iOS devices for members! Download the app.
Editor's Note: Phil Gaimon, 25, is a Velo magazine columnist and third-year pro racer for Kenda-5 Hr Energy Presented by Gear Grinder. He has an English degree from the University of Florida, and owns online stores at podiumcycling.com and sharethedamnroad.com. Phil's previous blogs
At track races, everyone rushes to claim a small booth on the infield. This becomes your home while you race, and you leave your bike, your dirty skinsuit, and if you're me, a giant explosion of your suitcase, because it's easier to find things that way.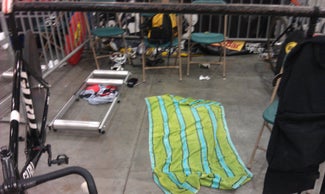 For the pursuit, everyone was trying to give me advice. It turns out that there's a specific amount of time you're supposed to sprint off the line, when you start to swing your bike while you sprint, when you sit, when you get in the aerobars, etc. Everyone sets a target time, picks a gear, and has a coach yell their lap times from the sidelines. I decided to ignore everyone and just go hard until it was over, and I'm pretty sure it worked fine. I did a 4:48, placing ninth. Not fast, but now slow. At least now I have a baseline for next time.
I won my qualifier for the scratch race, and attacked the final that night like only a roadie can. I couldn't make anything stick, and got out of the way when the field sprint started.
I had to accept the advice for the team pursuit, since I was riding with former champions Roman Kilun and Dan Harm, and Zach Noonan, another strong pursuiter, and I didn't want to screw it up for them. We had one practice session, where I was pretty useless, until I learned that there's really no pacing, and I basically needed to just sprint all-out when it was my turn to pull. I eventually managed some lap times that were deemed "fast enough," and we called it a day.
We ended up qualifying second for the gold medal final, and the guys spent the next eight hours completely over-analyzing our tactics, splits, lap times, and pacing strategy for the final, telling each other the same things over and over. I pretended to listen, but mainly just visualized pulling hard and not screwing up the same way(s) I had before. I was determined that if we didn't win, at least it wouldn't be my fault, and that's exactly how it played out: I took my half-lap pulls, we all pedaled hard, and the more experienced national team kids smashed us.
The points race is usually my best event, but it didn't work out too well at nationals. Based on the scratch race, I suspected that the more I attacked, the harder the race would be, and the better I would do at the end. The points race is a good bit longer, though, with a stronger field, and I dug myself deep into the pain cave in a few failed early attempts to lap the field. When my break was caught, Bobby Lea countered, I could barely hold on, and I looked up to see 85 laps to go. I never really recovered from that mistake. Dan Holt raced smarter, saving it for the end, and finally lapping a shattered field to take the twenty points he needed for a repeat win, just as the race was winding down.
Some observations about track racing in general:
1. If you eat real food anywhere near a track race, you'll vomit. The only way to survive is on sugary liquids, caffeine, and 5-Hour Energy.
2. The morning sessions started with riding at 8 AM, and the evening sessions went on until close to 9 PM. That doesn't allow for a lot of sleep. Although the events were short, the schedule made for a different type of endurance test.
3. Driving around and warming up all day for an effort of 4-30 minutes is a huge let down, regardless of the result.
4. Gears and shifters: good inventions.
5. When Bobby Lea attacks, even if he's 15 points down, it's time to panic.
6. Sprinters are bigger than me.
7. All the good track riders have high-end carbon road bikes, for the sole purpose of riding back and forth to the bathroom. These bikes never leave the granny gear.
8. There is no qualifier national championship, so they refused to give me a medal or jersey for winning the scratch heat.
9. When the official points at you in a points race, it means "you're leader on the road," not "you're pulled," like they do in criteriums. I yelled "I'M OFF THE FRONT" at him several times before I figured this out.
10. Someone should invent an "emergency brake." I'm not sure how it should work (I'm just the idea man), but when there is a crash in the field, there'd be nothing worse than watching it come and having no way to avoid it. Maybe if you could just pull a parachute.
11. As a climber, I'm good at going up track, but it doesn't help much in the racing.
Overall, I had a good time in LA, and enjoyed the late-season variety of track racing, but I'll stick to the road for at least the next 11 months. In fact, I'll mail my track bike home and not unpack it until then.