Phil Gaimon Journal: Pickle juice and goose bumps
Gaimon explains why nationals gives him goose bumps, even if it isn't exactly the most "important" race of the season.
Heading out the door? Read this article on the new Outside+ app available now on iOS devices for members! Download the app.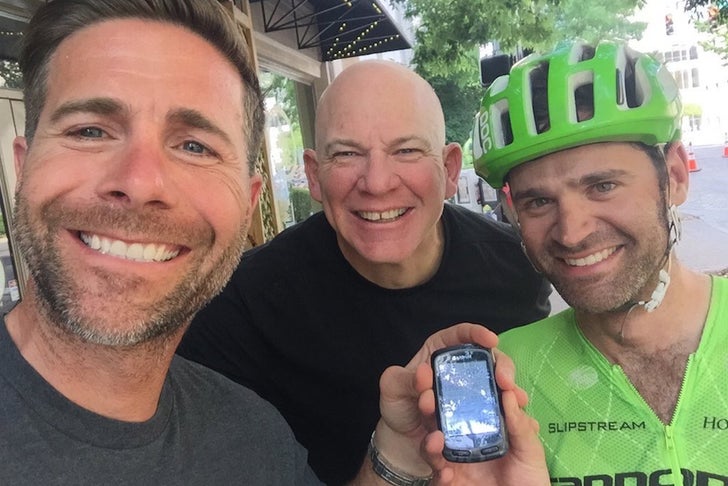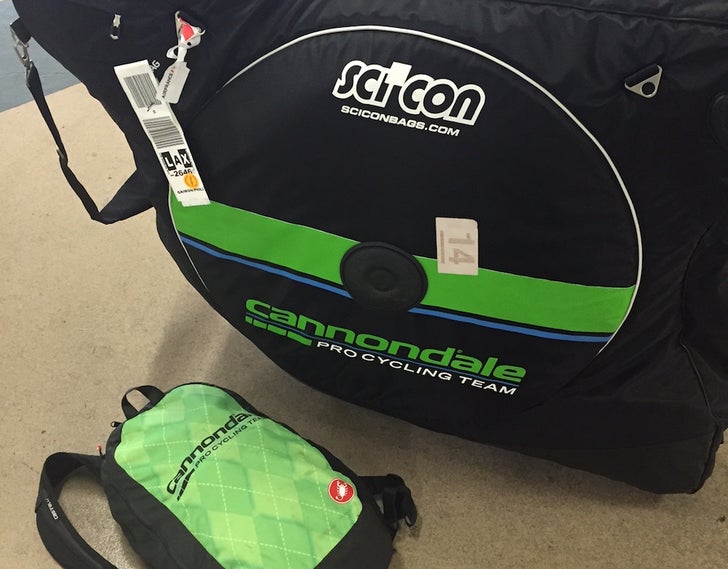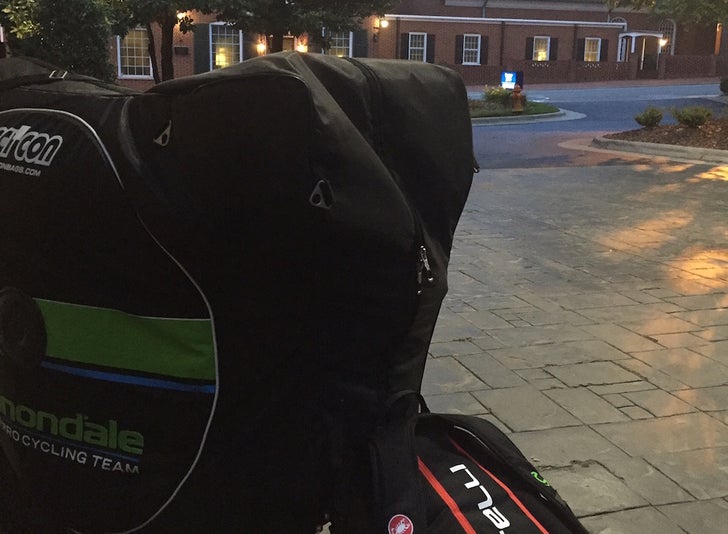 I've done 30 race days this year, and you treat them all about the same: you have breakfast, you have a race meeting, you win and drink champagne, or you lose and drink beer. When you're a professional, you don't get nervous and you don't stress. We've done hundreds of races, and this is our job. But there's just something about nationals.
If you measure what's at stake, nationals should be relaxed. We all want to win, but WorldTour teams don't put a ton of focus or resources into national championships. Most of the recent national road race champions didn't even get a WorldTour contract the following year, so a national championship wouldn't make a huge difference on my next contract or change my life like a stage at Tour of California or a WorldTour race could.
Most of Cannondale's Americans are in Europe, either at the Giro or focusing on the Tour de Suisse or the Dauphine, so we only had three riders in Winston-Salem: me, Ben King, and Alex Howes. That meant less staff, no fancy RV, and no chef. Mike Creed was our director, and we've all been friends for years before he was bossing us around.
[related title="More from Phil Gaimon" align="left" tag="Phil-Gaimon-diary"]
My flight landed in North Carolina at 9:30 the night before the race. I carried no suitcase. Just a backpack containing a San Remo skinsuit, an extra t-shirt, a pair of underwear, and a bar of dark chocolate. Soigneur "Disco" Jonny Adams picked me up at the airport wearing a Hawaiian shirt, and riders and staff — usually segregated — shared take-out Thai food out of Styrofoam containers in the lobby at the Fairfield Inn, all laughs and smiles. We were just hanging out, ready to race bikes with our friends.
But during the pre-race meeting, when Creed talked about how we were going to win the race, I looked down at my arm and saw goose bumps.
"Really, skin?" I thought. Paris-Roubaix didn't get you, but goose bumps? Here? "Yes," confirmed my skin.
There's less at stake in Winston-Salem, but tell that to my goose bumps. You can't measure glory, dammit.
At the start, Greg Daniel showed me a mini-bottle of Palmolive that he'd filled with pickle juice to reduce cramps. "I hope you don't win, dude. I don't want to drink pickle juice." I'm not making this up.
The course was pretty much the worst imaginable for me: I like climbs, and I can handle steady flats, but this was 12 laps of constant, steep little hills. We finished with 10,000 feet of climbing, but all in short sprints, and my goose-bumped legs don't like sprinting. It makes them tired, and sore (yeah yeah, we're working on it). Between sprints, heat, humidity, the travel day, and a hard Tour of Cali still lingering in my legs, I was pretty pissed off during the race.
But I hung in there, because it was a good course for team leader Alex Howes. If you watched the Ardennes, you know why he was looking forward to the kickers in this dreary tobacco town, so Alex sat out the Tour of Cali to stay fresh for nationals. All three of us are on the long list for the Olympics, but Alex is higher than I am, and he thought this could be his ticket.
Ben and I wanted it to happen for him, but marked and outnumbered, we had to use our energy wisely. Ben jumped into lots of breakaways. I jumped into some, and when my legs refused to jump anymore, they'd limp into the break instead of jumping. They couldn't do 1,200 watts for 10 seconds over and over, but we compromised: I'd pick a good moment when the breakaway was just up the road, and they'd do 500 for a few minutes instead to get me across.
Halfway through, Brad Huff was on the back of a breakaway, and looked back to see his old friend Phil bridging up, pissed off, doing 500 watts for what seemed like forever to close a 10-second gap. Brad gave me a big, exaggerated wave and a smile, yelling "Hey Phil!" I took my right hand off my shifter, returned the wave, and went quickly back to white knuckles and closed the gap. I wasn't being cute. Returning the wave was involuntary, because my parents taught me good manners. I forgot about it until I ran into Brad that night at a burger joint. Then we couldn't stop laughing.
With a few laps to go, I was in the first group on the road, and Ben was in the second. Alex was in the third group with most of the leaders, but he blasted away and bridged up to Ben.
"Ben, go!" He said. Ben buried himself, and they caught my group. "Phil, go!" Yelled Alex.
I pulled until vomit and cramps told me this was the last hill I could sprint up today (they actually said the last hill ever, but we compromised again). When I swung off, Alex was looking good, Ben looked like hell but he was still there, and some of the favorites were a minute back, digging deep after the damage we'd done from Alex's well-timed leapfrogging.
Ben suffered one last time to get Alex into the front group in the last kilometers, leaving our hero to play chess when Greg Daniel attacked. If Alex chose to try and follow, who's to know if he could have made it after the effort to get across? Or would he just be starting his sprint early, and risk getting beat on the line? Alex crossed his fingers that someone else would do the chasing, or that Greg would fade, but his timing was too good, and his legs were too fast from the pickle juice.
I've seen Alex get second before. I've seen him pound his bars at the finish line in frustration. But he pounded them just a little harder on Saturday. Whatever the result, when a bunch of dudes drive and fly across the country to sweat so Alex can win a bike race, he doesn't take it lightly, so you always get a big hug after. On Saturday, he squeezed a little harder. There's just something about nationals.