Road to Leadville: Even Dave Can feel Sluggo
Intervals and weight training are just another day's work for Dave Wiens as he prepares for the Leadville Trail 100.
Heading out the door? Read this article on the new Outside+ app available now on iOS devices for members! Download the app.
Editor's Note: For six-time LT100 winner Dave Wiens, the road to Leadville is a well-trodden route, one he's written on and off about over the last few years in a training diary on the Ergon blog. Leading up to the August race Dave is once again chronicling his training, which we'll have here on Singletrack.com. So, without further ado, here's Dave:

By Dave Wiens
July 27, 2010 – I was in the car heading out of Gunni by 515am on my way to Canon City. Beautiful morning, as always, and the photo in this bit was taken at 6am from the top of Monarch Pass. It's looking into the heart of the country that Vapor Trail 125 riders will be taking on in the dark September 11th and 12th. The boys and I hope to be staffing the Snowblind Aid Station that the riders hit in the morning after an epic ramble down the Canyon Creek Trail. Might even try to drag Susan out for the sleep out.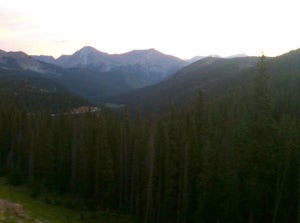 Back to Canon City, I hope to never be making this drive to visit any of our kids! I worked there until 130pm and then hit the road back to Gunni and was throwing my leg over my road bike at 430pm, big, dark  thunderheads and lightning all around. I changed up my direction a couple of times looking for a crease in the weather. I only needed about an hour to do my PHOS workout. Finally settled on Gold Basin Road and did 8 reps all out for ten seconds each with three minutes between. I was feeling sluggo, mainly all that time in the car, but did get to 145 HR for most of them. That'll work for me today.
Then, retool and off to the gym for weights session #3. Even though I lift ridiculously light weights, I'm already feeling the love. It's kind of like slowly gaining a thin layer of armor over your entire body. Just riding alone is great but many parts of the body slip through the cracks. That's all I want to use the weights for, to shore up an armor everything a little bit.
Susan's folks flew in today, as well, so we had a nice dinner with them. Cooper got a haircut at KC's Barber Shop and there just happened to be a rather large Hell's Angel in there for the same. Susan was just going to drop him off but upon seeing this esteemed gentleman, she decided to stay. Sorry, no pics of this. I'll try to get some, perhaps tomorrow.
As for training tomorrow, I'm planning on getting up too early and heading to Mt. Crested Butte for 20-40's. I hope to be riding from the town of Crested Butte by 6am, done by 715am. It's been raining so I could have a plan B of doing them up Monarch Pass on the pavement. Game time decision (I love saying that!) Later in the afternoon, if I'm feeling spry, I'd like to get out for some intervals, either on the road bike or better yet in the dirt. We'll see about that. Also on tap for this week will be AMU for 2.5 hours; a four or five hour ride at high elevation with 5-8K worth of climbing; and who knows what else. Maybe tree o fo ahz hahd on the road bike (or hardtail with slicks!) on the Black Mesa Road, our premier road ride. Weights, too, every other day 'til the Monday or Tuesday before Leadville.
Good night!