Road to Leadville: Feeling Good
Dave Wiens says he's feeling "pretty good" about his fitness for the Leadville Trail 100 on August 14; at least as fit as he has the last few years at this point leading up to the race.
Heading out the door? Read this article on the new Outside+ app available now on iOS devices for members! Download the app.
Editor's Note: For six-time LT100 winner Dave Wiens, the road to Leadville is a well-trodden route, one he's written on and off about over the last few years in a training diary on the Ergon blog. Leading up to the August race Dave is once again chronicling his training, which we'll have here on Singletrack.com. So, without further ado, here's Dave:

By Dave Wiens
Wednesday August 4, 2010 – Sorry but I can't help myself. The current CTR leader board http://www.trackleaders.com/ctr shows that Kerkove has closed the gap on Passant and that they are together. I could jump in the Exploder, pick up some big macs, fries and shakes at McDonald's, head out Highway 114 and surprise them with a big 'ole back of junk food, all before 10pm.  Not just that, but it's pouring rain here and I can't imagine it's sunny and bluebird on the Continental Divide. Good stuff.
This morning I was a bit of a slacker, woke up at about 5am but fell back asleep and got up just before the alarm was to go off at 6am. I had a cuppa and ate some breaky while I watched a little Sportscenter; drove about twenty miles west and was pedaling my road bike further west on Highway 50 by about 715am. Leisurely start, I know. Goal number one was Crawford, Colorado, population not very many. Trivia question, though: Who is Crawford's most famous resident? Once goal number one was achieved, goal number two would become getting back to the Exploder parked on 50.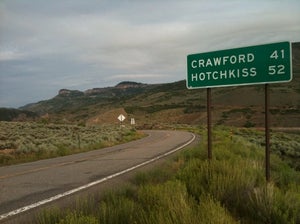 I parked at about 7,500 feet of elevation, rode HWY. 50 for about 4-5 miles and then hung a right onto Colorado 92, crossed the dam that forms Blue Mesa Reservoir, the largest body of water in Colorado, and began climbing along the north rim of the Black Canyon of the Gunnison. Up and down (more up than down, here) and you go back into the drainages that are coming into the canyon from the north. This ride is full of beautiful views, aspen and pine forests, lots of deer and, as I said yesterday, almost no traffic. And the traffic that is there is super mellow and slow.
The really nice portion of the ride lasts for about 30 miles, but the last 15, while not as scenic are fantastic all the same; more rural than straightup in the middle of nowhere isolated like most of the canyon section. Crawford sits at about 6500, I think, so you get more vertical coming back.
My breakfast was sitting kind of tall in my throat to start so I threw in a set of 20-40's on the first major climb to try to get it to settle down. I got a max HR of 161 and I think the French toast got pushed back down a bit. I rode steady to hard; HR's all over between 130 and the mid 150's when I was pushing on the pedals. Some low cadence power work and some spinning, too. Did some monkeying around, as well: took some pictures, took a phone call, checked a phone call, adjusted my seat, ordered a pizza. Okay, no pizza.
I was tired at the end but not blown or anything and overall, I felt pretty good and am happy with my fitness for Leadville. I feel as fit as I have been these last few years leading up to the race. Of course, "feeling" doesn't mean a whole lot, either, come race day. You could be fit and have a bad day but I don't think you could not be fit and have a good day. Regardless, I feel like I'm about at fit as I get right now, which is the goal, right?
Here's the data, data: 90 miles on the road; 6,300 vertical; 4.5 hours (taking out the monkeying around, more or less. Actual exploder to exploder was 4 hours 36 minutes.); average HR 130 with a max of 161. Late this afternoon, after prepping a killer dinner (Susan worked 'til about 6pm) I went to my favorite place, the gym. I lifted weights typically. The bummer was I forgot my Shuffle. I almost went back home for it.
Tomorrow is nothing. I'll be working all day. No riding, no weights, no tennis. Sleep, ride or push your bike well CTR racers! Happy to be sleeping in a warm, dry bed!