Women's pro road: An uphill battle
Women's pro road cycling continues to thrive, but challenges around racing days and course selection remain.
Photo: Bryn Lennon / Getty Images
Heading out the door? Read this article on the new Outside+ app available now on iOS devices for members! Download the app.
In 2018, the Union Cycliste International found itself in the midst of a firestorm when it revealed the road race course for the 2020 Olympic Games in Tokyo. The men's course was longer, harder, and more spectacular, featuring a challenging ascent along the flanks of Mount Fuji. By contrast, the women's course bypassed Japan's iconic volcano altogether and ended with a shorter finishing circuit. It was a blatant example of women's cycling being given short shrift yet again.
"Disappointed (again!) to see the differences in courses between the men's and women's road race," tweeted Annemiek van Vleuten as the social media platform erupted.
The angry response to the Tokyo Olympic courses revealed how passionately the cycling community has fully embraced the ethos of equality in pro racing. It also raised an interesting question: What should women's racing look like anyway?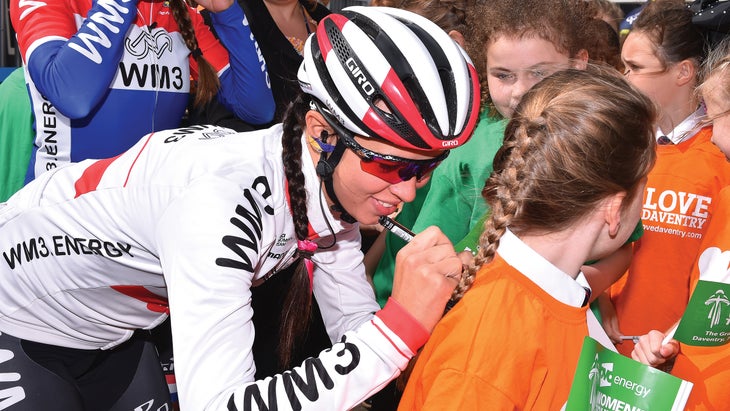 Same but different
What irked many about the Tokyo course was that it appeared designers bought into the wrong-headed assumption that women could not race the most challenging aspects of the Fuji climb. The men and women rode the same course in Rio de Janeiro with spectacular results — with men racing three finishing laps and the women one — so why not in Japan?
The explanation given was mundane: logistical challenges. The point-to-point distance from the designated start and finish towns on the course forced organizers to choose between creating a new start point for the women's race to allow the Fuji loop, or leave the starting point the same for men and women (as required by the IOC), and tweak the finales. UCI rules also put a limit on race distances, up to 160km per race for women.
The bureaucratic choice provoked an even larger question: Should women's road racing look and feel the same as men's racing?
Everyone agrees that women racers deserve the same prize money, course safety, TV coverage, institutional support, and minimum wages as their male counterparts. And they deserve the same stage, especially at something as important as the Olympics. But must that push for equality also extend to distances and courses? Some riders say no.
"There were a lot of people saying the women's course should be the same as the men's. No one inside the women's peloton wants that," said Chloe Hosking, the Australian veteran on Rally Cycling. "Some people keep calling for races to be longer and harder. People need to accept at a certain level you can make a great race. If you put a massive mountain in a race, that reduces the dynamics instantly. Add smaller climbs, and the race is wide open until the end. Who wants to go to a race where only one person can win it?"
Other riders and team directors expressed a similar sentiment to VeloNews throughout the winter and spring. These sources told us that women's cycling should not always compare itself to men's racing, but rather promote the best of what women's racing can offer. After all, there is an opportunity to position women's racing as a thrilling alternative to the often monotonous and predictable racing in the pro men's field.
"We don't want to see women's racing be the same as men's racing," said Anthony McCrossan, founder and director of Voxwomen, a media advocacy group. "There are so many good stories in the women's peloton. We need to tell the stories of our stars."
Many look to Great Britain's The Women's Tour as a role model for the sport. It's a stand-alone race with strong community and sponsor backing, a solid purse, with a good mix of racing terrain and a robust television package.
"What you want is a course that allows 10 to 15 people who can win it, with different abilities," Hosking said. "That's what makes women's racing so much more exciting than men's racing is that it's shorter, it's tactical, and it's more unpredictable. How good is that?"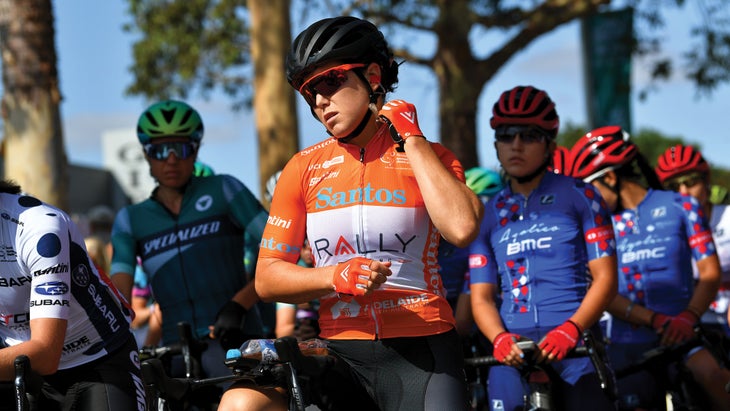 The prospects of a Grand Tour
The cycling world can agree that the women's Olympic course should be harder, yet a debate simmers about just how hard women's road courses should be. For several years women's cycling advocates have called for a women's version of the Tour de France, a three-week grand tour with long and punishing stages.
Without such an event, is women's cycling really on the same level as men's? Thus far, Tour organizer ASO has balked at such an idea, instead running the one day La Course race since 2014. The company confirmed it is hunting for potential sponsors to back a stand-alone women's Tour, perhaps as early as 2021. Would women's racing be better off with a three-week race across France? While most agree having the heft of ASO behind women's road racing would be a boon, not everyone is convinced that longer is better, or if absolute parity is the best measuring stick.
"Could we do it? Yes, of course. Is there a need? I don't think so, unless we're just trying to prove we can race for three weeks straight," said two-time world time trial champion Amber Neben. "I'm not one that would argue for it, nor would I be one to argue for the same distances as the men. I think the energy could be better spent on better racing and a better audience over a shorter period of time."
Neben's career arcs back to the days of Route de France Feminine and Tour de l'Aude, two now-defunct races in France, eight and 11 days respectively, that long held sway as season highlights. She won both races twice, and knows what it's like to race for longer days in the saddle. Today, the Giro Rosa is the longest stage race on the women's calendar, with 10 stages.
Neben is not alone in believing that a three-week grand tour is not what women's cycling needs in order to advance forward.
"A lot of the voices saying we need a [three-week grand tour] are not from women who are racing," said Iris Slappendel, a retired pro and founder of the women's cycling union The Cyclists Alliance. "Yes women could race three weeks, but it might not be interesting."
As it stands, the current competition calendar is already full of one-day events and stage races, so adding a major grand tour-style race would put added pressure on teams and riders alike. Before adding a grand tour, team rosters would need to grow, and in order to do that, team funding would need to increase. The key to growing the calendar would be adding sponsorship cash.
"For sure women can do three weeks like the men. But we must ask ourselves, what does it bring extra for women's cycling if you make a stage race for three weeks?" said Danny Stam, manager at Dutch superteam Boels-Dolmans. "Of course they can do it. Does it bring something extra to women's cycling? It's an important question we must ask ourselves."
That debate comes as many within men's cycling are asking how to liven up races and keep things interesting — there's already a growing trend to shorten the distance of men's stages in grand tours — and Stam wonders if women's racing should stick to charting its own course.
As the women's WorldTour enters its fifth season, there's growing momentum around the platform to continue to grow women's road racing. Featuring eight WorldTour teams in 2020, the league provides the necessary underlying infrastructure, and the rules and regulations that go with it, and allows races and teams to flourish on a higher media profile.
"Now we see excitement for the women because it's not that long and not that boring," Stam said. "And right now, we have enough races. Is the peloton big enough to have more stage races at this kind of level?"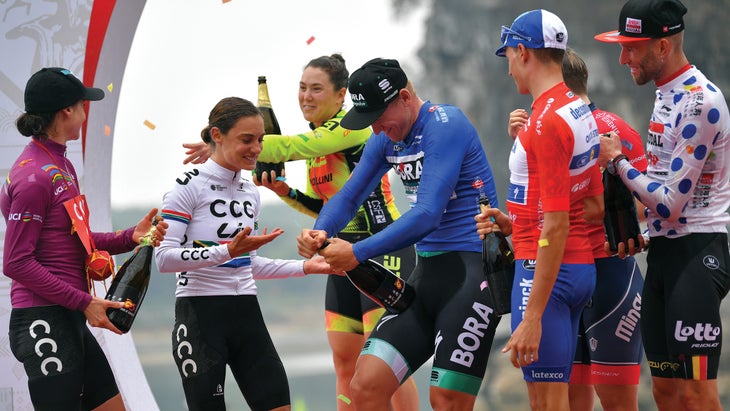 Standing apart
Rather than be equal to men's racing in absolute terms, why not let women's racing grow apart from men's cycling? Perhaps a better way forward is to persuade media and race organizers to better promote the sport and launch new races that feature lively courses and plenty of backing for promotion. That's what the likes of McCrossan and others have been saying for years.
McCrossan argues that women's racing should create its own voice, promote its own stars, and nurture its own brand identity apart from men's cycling.
Short and sweet, fast and furious — that's how women's racing can be in its best iteration, McCrossan said. With shorter distances and balanced courses, McCrossan imagines an explosive, made-for-TV product that delivers a punch for fans and sponsors alike.
"What makes women's racing so exciting is that it is more dynamic and more aggressive," McCrossan said. "If you mirror men's racing, with longer distances and long stage races, you'll get a similar pattern of controlled and predictable racing. What you want to do is differentiate women's racing from men's racing."
Everything is in place for women's racing to forge its own unique identity and stand alone as its own marquee sport.