What is heart rate variability, and can tracking HRV change the game in pro cycling?
Masses of leading riders are monitoring their HRV via brands like Whoop – can this recovery-focused metric make a difference?
Photo: POOL/AFP via Getty Images
Heading out the door? Read this article on the new Outside+ app available now on iOS devices for members! Download the app.
This is the first part of a three-part series diving into heart rate variability and how the recovery-focused metric has busted into the high-stakes world of pro cycling.
Cast a close eye over the modern pro peloton and you'll spy some funky-looking wristbands, rings, watches, and arm straps you didn't see just a few seasons ago.
Chris Froome, Mathieu van der Poel, and Rigoberto Urán are among scores of riders from dozens of teams that sport heart rate variability (HRV) monitors as this new must-know performance metric muscles into the world of pro cycling.
"Is tracking HRV revolutionary? No. Is it a data set that's really important and that can be really useful if you want to effect meaningful change to performance? I think it is," Jeremy Powers, retired cyclocross king and head of endurance at WHOOP, told VeloNews.
Also read:
WHOOP is leading the way in bringing HRV front and center of the data-driven WorldTour with its popular sleep, training, and recovery-tracking wristband as riders look to dial in their habits both on and off the bike.
Specific wearables by brands like Oura and updates to Garmin and Wahoo technologies are further helping pump the long-known HRV metric into the mainstream.
Movie stars, business leaders, soccer players, and NBA stars alike are now tracking the world's hippest wellness-focused metric.
"I use WHOOP a lot for monitoring my sleep and my 'readiness,' and the trend of whether I'm recovering well or if I need to back things down a little," EF Education-EasyPost rider Neilson Powless told VeloNews. "I think the overall trends it can show can be really valuable."
What is heart rate variability, and why is it important for athletes?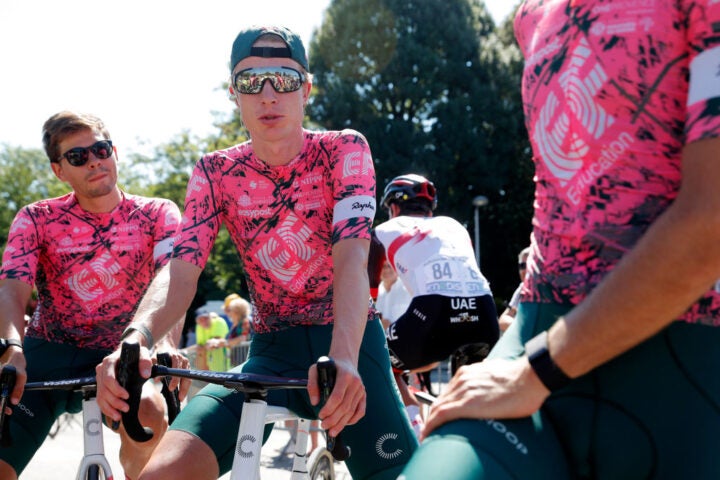 WHOOP, which sponsors EF Education-EasyPost and Alpecin-Deceuninck, claims to have created "the most advanced fitness and health wearable available" with its 4.0 performance strap.
The brand's small black pod sits pretty on some of the fastest wrists in the WorldTour as it ambiently measures sleep, heart rate, blood oxygenation, HRV, and a whole lot more. But at its center is Whoop's heart rate variability charting capacity, and the measurement's ability to indicate when a rider is primed to race or doomed for the grupetto.
VeloNews Review: Whoop Strap 4 is a leap forward in accuracy of recovery monitoring
"A lot of people think of HRV as being a cardiac metric, it's really not. With HRV, we use the heart as a window into the neurologic system," said Dr Kevin Sprouse, the head medic at EF Education-EasyPost.
Track your pulse over any given time and you'll notice the spacing between beats is not even. There will be accelerations and lags as the heart follows its own scattershot rhythm.
HRV measures – you guessed it – the variability in those beats.
"The degree to which the time frame changes between beats is indicative of neurologic health, and specifically the balance between the sympathetic [a state of 'fight or flight'] and parasympathetic [a state of rest] nervous systems," Sprouse told VeloNews.
An overload of stress on a system through sickness, excessive fatigue, or other hormonal imbalances will cause an HRV score to plummet. And with that, an athlete has cause for pause.
"Sometimes a decline is very planned – it could be a result of appropriate training, like a functional overreaching, where you want to create some stress," Sprouse said.
"But without having a context for why a rider's HRV is declining, I'll want to reach out. Having access to riders' HRV data enables me to start a conversation that could point toward them being sick, over-trained, or suffering some other stressor. And that's when we, the team, need to act."
Monitoring HRV: A WorldTour game-changer or another half-percenter?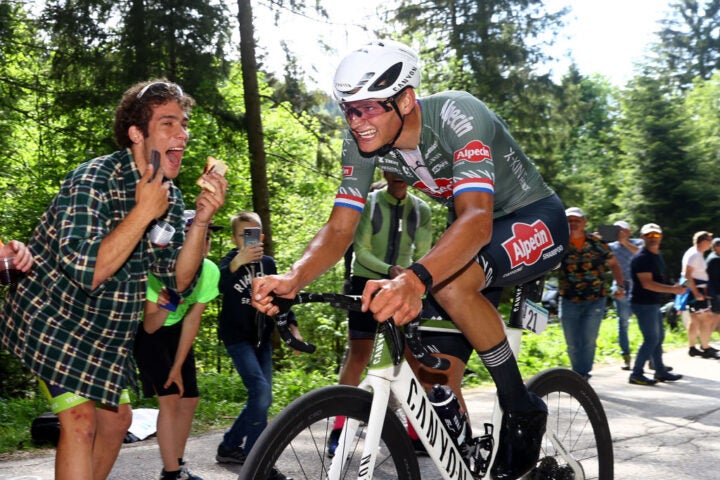 Keeping an intelligent eye on HRV scores can show whether a rider is well-rested and ready to race, whether they're becoming sick, or if they need a break.
Can this insight into the nervous system "change the game" in the elite sporting world of half-percenters? Micro gains like team-issue bedding, optimized sock heights, and micro-adjusted macronutrients are now a norm in the men's and women's WorldTour.
"I guess it's between a 'game-changer' and 'half-percenter.' There's not much in the world of sport that's game-changing anymore, even if things are marketed that way," Sprouse said.
"The game-changer things are the foundational components of proper training, proper diet, proper recovery. Measuring and tracking HRV falls into that last category of ensuring proper recovery, which encompasses proper sleep. And in that aspect, I think it's been quite impactful, mostly because it brings it front and center to the rider in a way that's objective and even gamified a bit."
Post-race booze marathons and late-night celebrity parties are no longer much of a "thing" in pro cycling. But the ability to study and optimize off-bike habits like sleep hygiene or meal timing can still reap rewards.
"There are so many tools already to track kilojoules, heart rates, what the expenditure on the bike is, and whatever. But WHOOP can paint a picture for the team and for the athlete anytime that they're not exerting themselves on the bike," Powers said.
"Pros are finding that really eye-opening in identifying anything that might help get the extra percent or two out of themselves."
Check back soon for parts two and three in this series where we explore exactly how HRV data is being used in the WorldTour, and whether riders put any weight behind sport's new celebrity measure.