Allar and McCabe win U.S. criterium nationals
Erica Allar rides a breakaway move to victory in Louisville. Travis McCabe is fastest out of a small sprint to claim national championship.
Heading out the door? Read this article on the new Outside+ app available now on iOS devices for members! Download the app.
Erica Allar (Rally) and Travis McCabe (UnitedHealthcare) won Stars and Stripes jerseys Sunday night in the USA Cycling Professional Criterium Championships in downtown Louisville, Kentucky.
In the pro women's race, Allar escaped early in the 75-minute race. She rode off the front with Tibco-Silicon Valley Bank's Lauren Stephens. The duo worked together to accrue a 40-second lead on the eight-corner course.
"I'm really just so excited. Stephens is such a strong rider and great competitor that she was certainly one of the marked riders," said Allar. "I just happened to be there when she decided to go. Lucky for us, we had full teams. My Rally team rode really well."
Behind in the peloton, a crash delayed the race. That didn't stop the two leaders, but it opened the door for Irena Ossola (SAS-MACOGEP) to bridge up to the leaders from the bunch.
"Once they did the restart, it changed the dynamic of the race" said Tibco sport director Ed Beamon. "We had to play the cards we had at that point; Lauren [Stephens] had a great ride today as did Erica Allar." Stephens finished second, and Ossola took third.
U.S. pro women's criterium nationals, top 10
1. Erica ALLAR, Rally Cycling, in 1:16:13
2. Lauren STEPHENS, Team Tibco-Silicon Valley, ST
3. Irena OSSOLA, Sas-Macogep, ST
4. Skylar SCHNEIDER , Iscorp Powered By Progress, at :03
5. Kendall RYAN, Team Tibco-Silicon Val, ST
6. Emma WHITE, Rally Cycling, ST
7. Tina PIC, Papa Johns Racing P/b Trek, ST
8. Laura VAN GILDER, Mellow Mushroom P/b Psimet, ST
9. Hannah SHELL, Pastaria – Big Shark Racing Tea, ST
10. Heather FISCHER, Team Tibco-Silicon Valley, ST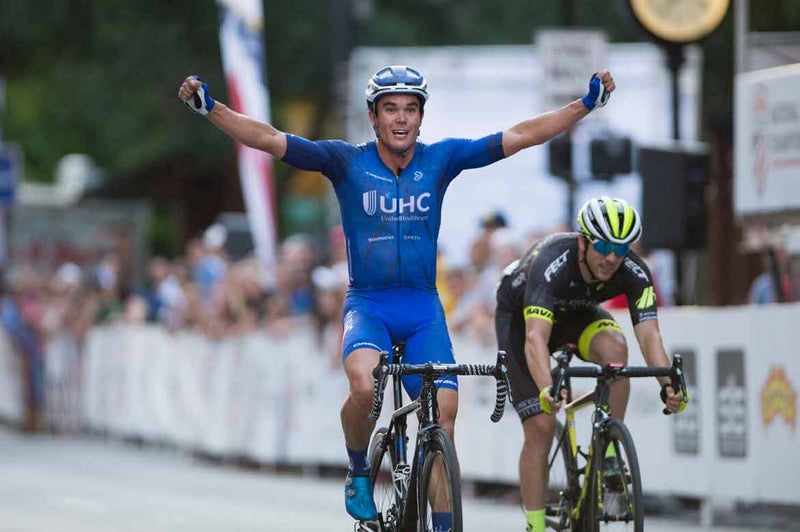 McCabe wins first national title
In the men's race, McCabe was fastest in a sprint finish on the 1.5km course in Louisville.
However, much of the 65-minute race was dominated by a two-man breakaway. Under-23 time trial champion Brandon McNulty (Rally) rode off the front with Jelly Belly's Ben Wolfe.
With four laps remaining, McNulty, 19, attacked alone. It looked like he might have an opportunity to collect another national title. But in the final lap, a group of 14 caught the Rally rider, setting up a sprint finish.
"The last lap was all-out racing," said McCabe. "It was full gas all the way up the back climb, and I opened up the sprint with 200 meters to go, out of the corner, and held it to the line. I put my head down, and didn't know until about 50 meters to go, and then I had a good feeling that I was going to take it. It felt great."
McNulty's Rally teammate Eric Young finished second. Holowesko-Citadel's Tyler Magner was third.
U.S. pro men's criterium nationals, top 10
1. Travis MCCABE, UnitedHealthcare, in 1:05:35
2. Eric YOUNG, Rally Cycling, ST
3. Tyler MAGNER, Holowesko | Citadel Rac, ST
4. Charles (Brad) HUFF, Rally Cycling, ST
5. Miguel BRYON, Holowesko | Citadel Rac, ST
6. Eric MARCOTTE, Cylance, ST
7. Curtis WHITE, Rally Cycling, ST
8. Jacob RATHE, Jelly Belly p/b Maxxis, ST
9. Colin JOYCE, Rally Cycling, ST
10. Luke KEOUGH, UnitedHealthcare, ST