Anthony, Smith wrap up Really Rad weekend with day 2 wins
Crystal Anthony takes her second win in a row at Falmouth, while Scott Smith earns his first UCI win of the year at Really Rad Festival.
Heading out the door? Read this article on the new Outside+ app available now on iOS devices for members! Download the app.
After a day of tough, muddy racing on Saturday, the wind picked up and the course dried out for day two of the Really Rad Festival of Cyclocross, but that didn't stop Crystal Anthony from winning the women's race again, sweeping the weekend. Scott Smith came out on top in the elite men's race, his first UCI win of the season Sunday in Falmouth, Massachusetts.
Anthony takes third ProCX win of 2018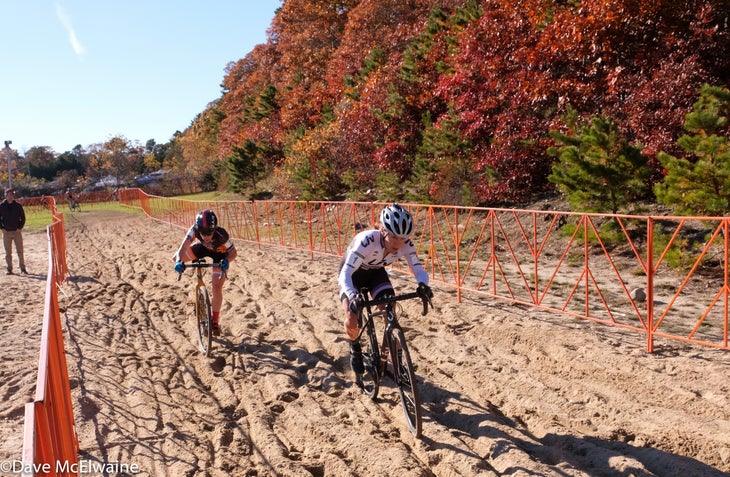 Coming off of her win the day prior, Anthony (Liv Cycling) was assertive from the gun, riding clear of the field early with Arley Kemmerer (Fearless Femme).
"We wanted to work together, because it was a really fast race, so it benefited us to take turns," said Anthony. "And then Arley had to get off on the stairs [back section of course], so I got a gap there. That's when I decided to go for it."
Behind, a chase group of about five riders formed, compelling the lead duo to stay on the gas and avoid cat-and-mouse games.
"We were hanging out with each other because it was too long and too much pedaling to not do it [lead] with somebody else. And we knew there was a group of five people, at one point, behind us," said Kemmerer.
By the final two laps, the duo had a comfortable lead of about 40 seconds. That's when Kemmerer bobbled and Anthony made her winning move.
"I think we were evenly matched power-wise for the whole course," said Kemmerer. "We kept it pretty fast the whole time. I wouldn't say we sat up much. It probably was a little bit of waiting for somebody to make a mistake, and it was me that did it. That was it."
Kemmerer ended up second, 10 seconds behind. Cassie Maximenko (Van Dessel Factory Team) sprinted to third after battling back into the picture following a mechanical early in the race.
"So right off the start, my bike just wasn't shifting great. I noticed it especially after we went through the sand the first time. I was like, shifting, and nothing was happening. So I lost some spots because I couldn't shift up to a harder gear," Maximenko said.
"With two laps to go, I could see the group that was fighting for third in front of me. I was like, 'Oh man, they are really far ahead.' I finally caught on to the group, maybe halfway through the last lap. Then we started battling with each other. If I hit the pavement first, I knew I could outsprint them. So I just got in the drops, head down, shifted through the gears and managed to get it."
Smith pulls win 'out of thin air'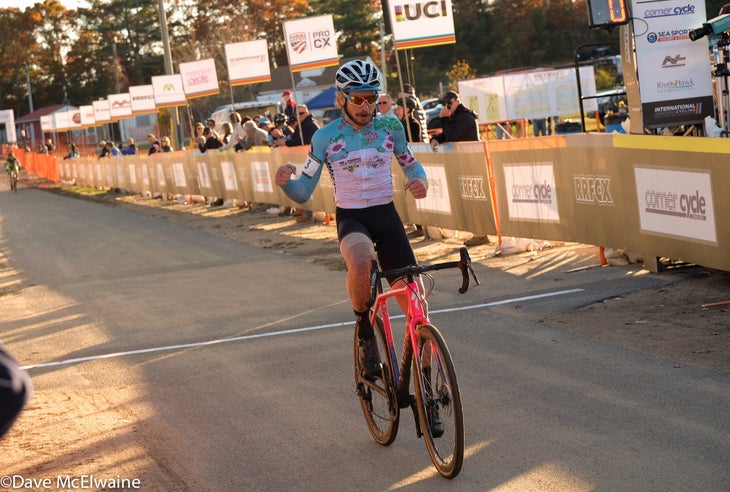 With the course running fast and the winds whipping across the Cape Cod Fairgrounds, the men's field was tightly knotted up throughout the race.
"I knew it was going to be a group race today with the course being so fast," said Smith (Dirt League), who was second on Saturday.
"It was really punchy, so you wanted to be in the front of the group, like second wheel. And that's what I tried to do all day, I just tried to stay second wheel. Justin [Lindine] kept attacking us a lot and he was putting us under pressure. And finally, I got Nick Lando to pull through for a couple of laps. And he put us under a lot of pressure."
Saturday's winner Lindine was riding aggressive but found himself out of the lead group after a front flat with three to go.
Kevin Bradford-Parish (Setcoaching-FSA) led into the final lap and served up a strong attack.
However, Smith kept his cool and rode the technical sections a bit more smoothly to regain the lead into the back half of the lap.
"I rode back on his wheel around the log-hop and the uphill," Smith said. "I passed him there and put the pressure on through the technical sections. Then I rode as hard as I could in the straightaways. I had about five seconds. I rode the stairs on the last lap pretty clean. And when I came onto the start/finish, I was by myself so I was really happy with that. I was happy to pull the win out of thin air. I mean, I've been having a rough season, with fitness and sickness."
Bradford-Parish ended up second although he regretted losing track of which lap he was on midrace.
"Guys were attacking and I was just trying to follow wheels and stay in contention and not get too far off the lead group. I was still trying to be patient," said Bradford-Parish. "I was not on the right laps in my head, and so I put in a pretty hard dig on the second to last lap, which was trying to be a win. So, I went too early and paid for it. Scott just feathered by me and I was too far in the red to really respond and do anything."
Nicholas Lando (UVM Cycling) ended up third, saying smart racing tactics carried the day for him.
"I could tell from pre-riding that it was going to come down to group racing," said Lando. "I kind of just stalked the back and made sure not to let any gaps open up. If they did, close them down. The group just whittled down until three to go, and it was just the three of us. It just exploded with one to go. Scott and Kevin kept drilling the attacks. I just couldn't hang. I managed to come around for third."