Ask Nick: Bar tape underlay, sticky numbers, and trainer stress
Bar tape underlay, sticky numbers, and trainer stress
Heading out the door? Read this article on the new Outside+ app available now on iOS devices for members! Download the app.
Editor's Note: VeloNews tech editor Nick Legan is a former ProTour mechanic who most recently wrenched for Team RadioShack at the 2010 Tour de France and elsewhere. His column appears here every Thursday. You can submit questions to Nick at asknick@competitorgroup.com, and be sure to check out Nick's previous columns.Q. Hey Nick,
What's the best kind of tape to use underneath bar tape? I'm talking about the tape you use to secure the brake and shift cables to the handlebars before you wrap them with handlebar tape.
I've been using traditional black electrical tape, but after a few months when I replace my bar tape, the black electrical tape seems to be melted into a sticky gooey mess. I'm able to get most of it off with Simple Green, but there must be a better way to avoid this hassle altogether.
— Jay Dillon
A.Jay,
Try a different brand of tape. I too use electrical tape, as do most other mechanics. But when I've tried to save a bit of money on cheaper tape it hasn't really worked out. I use the same tape for finishing and securing the bar tape after it is wrapped. Nicer electrical tape has a bit of stretch without color fade. That's when you know you have the good stuff. I stick with 3M.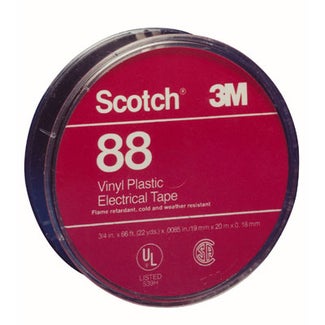 I would also advise you to keep your bike out of direct sunlight whenever possible. Obviously not when riding, but heat could be melting the adhesive on your electrical tape. UV also damages other bike components, the most obvious being the tires.
Q.Nick,
I have noticed on many occasions that pro race numbers are attached to their jerseys with something other than safety pins. What do they use? I find a season's worth of safety pins takes a toll on jerseys and skinsuits and would appreciate another option.
—Taylor Jung

A. Taylor,
Many of the numbers issued to the pros have adhesive on the back of them. They are also a cloth number and not paper. This helps them lay flat and makes them a bit more robust. So unless your races start spending big bucks on numbers, you will probably have to stick with safety pins.
You could experiment with spray adhesive though if you want a pro look. When I worked with the U.S. national track team we used 3M Spray Adhesive #74. We'd coat the number and let it dry for a bit. After another light spray we'd stick them on the athlete's skinsuit (while they wore it). It worked pretty well. But it probably wouldn't last a road race without a couple of safety pins along the top edge.
Please experiment before going this route though. I would hate for you to ruin a jersey or skinsuit with adhesive,instead of steadily putting holes in it over the course of a season.
Best option would be to lobby your local racing community to assign numbers for the entire season. Then everyone can invest in cloth numbers and you can leave them on your race jersey all season. Local track races do this and it makes a lot of sense to me. Of course if you travel extensively this doesn't entirely solve the problem, but it would still reduce the number of pin holes in your cycling kit.
Q.Hi Nick,
Down at my LBS the other day my mechanic discouraged me from putting my carbon frame on my trainer (a CycleOps magnetic model). According to him, the trainer will place stresses on the frame it wasn't designed for, and can actually crack it. He mentioned he had a couple of cracked carbon frames in the shop recently and he thought the cracks were due to trainers.
I researched this a bit and got mixed results. Some folks are in my mechanic's camp, some aren't. One suggestion I took advantage of was to be sure to use the skewer that came with the trainer — which typically is a beefier skewer.
— Charlie Henser

A. Charlie,
I have to say that while a trainer may not be the best thing in the world for a bike, if properly installed, it certainly isn't going to break a carbon frame any more quickly than any other frame material. Frames have broken after use in trainers, but establishing causality can be difficult. Frames break all the time for lots of reasons.

Be sure to properly install your bike in the trainer. Make sure that the trainer isn't contacting your frame. Absolutely use the skewer included with your trainer. It was designed to interface with the trainer.
Conjecture can be a horrible thing and that's exactly what your mechanic is doing. While I don't know your mechanic's resume, I would only trust a manufacturer's call on the cause of the breakage of the frames he had in the shop. If you are truly concerned about the issue, please contact the manufacturer of your bike.
Q.Hey Nick,
I feel a little embarrassed asking this question because I've been a rider and a racing fan for so long, but exactly how does sitting on a person's wheel slow them down. I've read about team riders 'marking' other riders, and in Christophe Kern's victory today (at the Dauphine), one writer described Voeckler sitting on Sorensen's wheel 'like an dead weight.'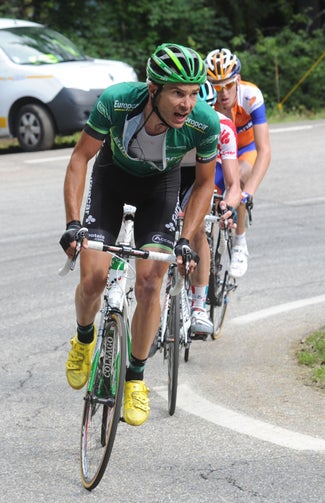 So, how does just sitting there make the lead rider do more work?
— Andrew Osborn

A. Andrew,
Sitting on a rider's wheel doesn't especially slow them down when it comes to a rider's velocity. But it does change the situation tactically. With Kern off the front and Sorensen chasing, it was important for a teammate of Kern's (Voeckler in this case) to mark the move.
Why? Well because if Sorensen managed to catch Kern, his team, Europcar, still has a shot at victory with Voeckler. And Voeckler, having drafted Sorensen to the front, would have been fresher than Sorensen for the finale.