Ask Nick: Bikes at worlds, Olympian mechanics, the Little 500 and carbon-railed saddle care
Bikes at worlds, Olympian mechanics, the Little 500 and carbon-railed saddle care
Heading out the door? Read this article on the new Outside+ app available now on iOS devices for members! Download the app.
Editor's Note: VeloNews tech editor Nick Legan is a former ProTour mechanic who most recently wrenched for Team RadioShack at the 2010 Tour de France and elsewhere. His column appears here every Thursday. You can submit questions to Nick at asknick@competitorgroup.com, and be sure to check out Nick's previous columns.
Q.Nick,
Who provides bikes for the national teams at the world championships? Does each team provide a bike but give the rider an option use his trade team bike?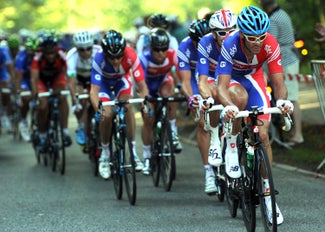 Furthermore, it seems a bit of crossed purposes for trade team to provide a bike for a rider to work as a domestique for a rival of that trade team's leader. For instance, David Millar riding a Garmin bike, working for Cav, when Garmin's best shot at retaining the rainbow stripes was American sprinter Tyler Farrar.
Essentially Garmin provided equipment so a rival trade team will have the world champ.
— Brian Handy

A. Brian,
Pros use the same bike they've used all year, as provided to them by their trade teams.
While I see what you're saying about a conflict of interests, it's in everyone's best interest to avoid injury. By staying on the race bike that a rider is accustomed to, he knows the bike will fit properly and is familiar with the bike's handling characteristics.
It's also in most rider contracts that they must use team equipment for the entire calendar year, no matter what the event. At the Olympics, there are very strict rules about the number of logos on a bike and for that reason you'll see a lot of special bikes. But even these are usually from the trade team sponsors. It's most definitely in the interest of the sponsor to make sure that a star rider associated with its brand rides worlds on its bikes.
Q. Nick,
When special occasions pop-up like the world championships or Olympics, who performs mechanic duties for a country's team? Do they get paid? Where do the trade team mechanics go? Are there any mechanics wrenching for countries other than their own?
— Scott A. Wells

A.Scott,
Great question!
The national governing bodies are responsible for finding mechanics to work worlds. Many times, trade team mechanics work for their home country as I did in 2006 and 2007.
European-based mechanics are usually paid for their time by the national governing body. Though sometimes budgets are tight and the governing body can only cover travel and expenses, especially if they have to fly someone overseas.
In some cases the mechanics are resident program mechanics. For instance, the U.S. often used the same Belgian mechanics that it had on staff for the U-23 program. Same goes for soigneurs.
Usually at least one of a trade team's mechanics will go to worlds. Because getting all the bikes and wheels needed for worlds is a big chore, a team will usually send a truck or two full of all the material needed. The truck is a huge asset for the country that gets its use as it's full of spares as well as a kitchen and laundry for the soigneurs.
It's very common for mechanics and soigneurs to work for a country other than their own. If you think about how many nationalities the average team has on the roster, you'll see that professional cycling is quite the mixer. Many riders have a preferred mechanic and soigneur and they'll often request them to their governing bodies. Again, it's a matter of sticking with the usual routine. Same bike, same staff if possible.
The craziest time of the worlds weekend is just after the men's elite race on Sunday. That's when all the team bikes have to find their way back to the appropriate team truck where they are accounted for. Spare bikes and spare wheels have to go as well.
The Olympics are a bit different, mostly because the event is a month long and it involves road, time trial, mountain bike, track and BMX bikes (triathlon has its own governing body and staff). It becomes important to select mechanics with diverse backgrounds.
In Beijing, where I was head mechanic, there were only three of us for five different types of bikes and over 20 athletes. TJ Grove has a lot of mountain bike experience and Vince Gee and I had recently completed a track World Cup season. BMX was something fairly new to all of us, but thankfully the bikes are fairly simple.
Q. Hi Nick,
Enjoying your Q & A feature. Just curious- did you ride Little 5 at IU?
— Steve Young

A. Steve,
I get asked that a lot. But no, I never raced the Little 500.
I did train with the Cutters team my freshman year at Indiana University and later trained with the Cinzano team. But I always preferred to work on bikes and was a race mechanic several times for various teams, both men's and women's.
The Little 500 is a fantastic event though and the number of life-long cyclists that get a start in the race is astounding.
I'm actually headed back to my home state in a couple of days to race the Brown County Breakdown (the 60-mile option is plenty for me) this weekend. I'll stick around for the Hilly Hundred the following weekend too. I have quite the posse of friends assembled for the ride and it's going to be a blast to be back in Bloomington.
Q.Nick,
I've asked several mechanics and have gotten an answer at odds with the seatpost manufacturer. So I thought I'd ask you:
I have an FSA K-Force seatpost (it's over a year old now, likely two), and a Specialized Romin Evo saddle on order. The saddle has the larger carbon fiber rails.
The seatpost clamping mechanism has a solid base and two clamps located fore and aft. The clamps have little cross bars across the top that the screw from underside bolts to.
FSA says to order a newer clamping mechanism as it's not compatible. The mechanics I've spoken to said not to worry about it and the saddle will fit fine.
What do you think? Will I be OK or do I need to get the new clamping mechanism?
— Joel Shapiro

A. Joel,
I would follow the manufacturer's recommendation. Why bother trying to save a few bucks when you could potentially damage your new saddle and potentially injure yourself in a pretty ugly way.
You may be fine, as the other mechanics say. But why spend any amount of time worrying about it? If you have the coin for a carbon-railed saddle, I think it's best to do it properly and get the clamp to match.
— Nick