Ask Nick: Calling Car 1, come in Car 1. And more.
The varying roles for race follow cars, pros changing their own tubies, and Nick's favorite workstand, revealed.
Heading out the door? Read this article on the new Outside+ app available now on iOS devices for members! Download the app.
Editor's Note: VeloNews tech editor Nick Legan is a former ProTour mechanic who most recently wrenched for Team RadioShack at the 2010 Tour de France and elsewhere. His column appears here every Thursday. You can submit questions to Nick at asknick@competitorgroup.com, and be sure to check out Nick's previous columns.
Q. Nick,
Since there are two chase cars, what's the difference between Car 1 and Car 2?
— Kevin Reichlin
A.Kevin,
Only in stage races are two follow cars allowed. In one-day races, teams are only allowed one car in the caravan. For cobbled, one-day races most teams have several cars that leapfrog to important sectors of cobbles to increase the likelihood of a quick wheel change.
In stage races the first car does most of the servicing: wheel changes, clothing handoffs and feeding. It carries the most important seven spare bikes. The remaining spare bikes and often second spare bikes for team leaders are then carried on the second car.
Second car duty is often quite boring, though that usually leads to high jinks between second team cars. The exceptions are when a breakaway occurs and on mountainous stages where a grupetto forms.
Standard practice is for the second car to go forward to the breakaway. If a breakaway rider's bike is on the first car, both cars will stop and swap bikes, making sure to have the appropriate spare bikes for both the breakaway and the peloton.
Grupetto duty is usually pretty quiet, but often the riders will come back to the car for a chat and an update on the head of the race.
Another time the second car may service riders is if the members of the first car crew stop for a call of nature. When the first car stops, they will radio back to car 2 and let them know that they're on duty.
In terms of hierarchy, some head mechanics insist on riding in car 1. Typically at a grand tour there are a minimum of three mechanics: One in each car and the third will drive transfer in the team truck going straight from one hotel to the next. Many teams swap those duties over the course of a long race. It keeps everyone happy and breaks up the monotony of three weeks of the same thing, day in day out.
Q.Nick,
How grueling is it when you have multiple days of inclement weather, and what can you guys do to prepare for a safer ride in the weather? When you get a bike back after a nasty rainy stage do you have to do more of a bike breakdown to get all the road grit out and re-lube all the cables and chain?
— Matt Braun

A.Matt,
Rain wears out everything: cables, chains, tires, brake pads and especially bodies. It is certainly more work for mechanics, but then it's tougher for the guys out racing. It's important to remind ourselves of that when we mechanics start to complain. (We sit in a warm dry car all day while the boys or girls suffer in the cold).
The toughest days for cleaning and tuning the bikes are when it rained on and off throughout a long stage. Grit and grime have time to harden and then more layers are caked on. If a races ends in the wet, the bikes are easier to clean.
Preparation is really important to preserve both the bikes and the riders. Lower tires pressures, (no I won't go into details here…way too many variables involved) wet-weather specific tires and greasing chains make a big difference. So do fully sealed cables. And of course, we constantly check brake pad wear. If cork pads are recommended by a wheel sponsor, mechanics may have to change them after two or three days of racing in really bad conditions.
One item that can take huge amounts of time is draining aero wheels. Water gets inside the aerodynamic structure and the weight of the wheel skyrockets! Some wheels come with drain holes already drilled. In some cases I drilled them myself or added additional drain holes (NOT RECOMMENDED BY MANUFACTURERS! DON'T DO THIS!). I've used compressors to blow the water out and resorted to shaking them violently to get out the last drops. Suction works well too.
Ultimately it's up to the riders to keep the rubber side down, but we do everything we can to help.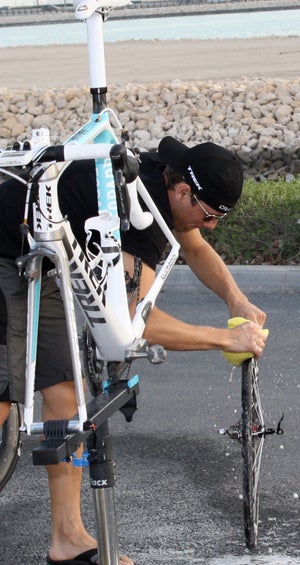 Q.Nick,
I am wondering about the work-stands I see used by team mechanics these days. All my bikes have round tubes and stout aluminum seatposts so I use a traditional Park work stand with a hefty clamp that grabs the seatpost; it allows me to work on everything — drivetrain, general cleaning, rear and front brakes, etc.
With the swoopy tube shapes and aero seatposts on most modern road bikes, the traditional seatpost clamp-style work stand doesn't seem to work. The stands I see from race photos look to hold the bike from underneath.
My question is how do these stands hold the bottom bracket area? Is the bike more or less stable than in traditional stands? How do you work on the front brake when the wheel is removed? How would you remove the front fork or install headsets when the fork is required to hold the bike in the stand? Okay, I guess that's more than one question.
— Chad Major
A.Chad,
I personally use a Tacx Spider Team stand. With the Spider, and others like it, the bicycle is clamped at the front fork and the bottom bracket simply sits on two rubber pads that cradle the bottom bracket. I'm not sure of the history on work stands, but in Europe you rarely see a team mechanic using the seatpost-clamp style of stand. I think that it's a happy coincidence that the fork-mount style works well with modern carbon frames. But it does make sense to me to clamp a bike where clamping is intended, the front and rear dropouts. But the most compelling reasons to use a Euro-style are practical ones.
I see two good reasons to use a fork mount stand. They are more stable and they spin easily. When installing a bottom bracket it's important to be able to push down through the bike. On a seatpost clamp stand, their cantilevered nature is less stable. When tightening a bb or similar, you have to brace the stand in order to keep the whole affair from toppling. This is not a problem on fork mount stands.
Spinning is great for working on the bike, but even better for bike washes. You can stand in one place, close to your bucket and hose and move the bike as you clean each nook and cranny.
There are two items that you can't easily check on a Euro-style stand; the front brake and headset adjustment. In my experience front brake adjustment is easily accomplished without a stand of any kind. And adjusting a headset should be performed without a stand, both wheels installed, bike on the ground.
Bear in mind though that most Euro-style stands can also clamp the rear dropouts. So if you prefer to adjust the front brake on the stand, it is possible. This also makes installing forks and headsets possible. My Tacx stand can actually hold both the frame and fork separately for headset cleaning and prep work.
So, if you aren't able to tell from above, I love my Tacx stand. I've tried other brands that make Euro-style stands, but it's my clear favorite. If you only own one stand (and you don't ride a Cannondale Lefty) and work primarily on road bikes, the Euro style is the way to go.
Q.Nick,
I was browsing through some photos from the Tour of Mumbai, when I saw an image where Robbie Hunter was changing a tubular. Is it common that pros train on tubulars? And can you rely (and finish your training) on a tubular that is not glued to the rim?
— Martijn Kip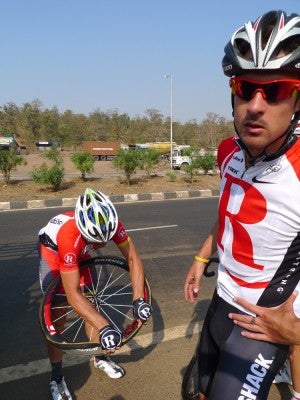 A.Martijn,
Pros do a fair bit of training on tubulars, but really only at races or training camps. Hunter was getting in extra training when he punctured on a race wheel. For some reason, his team car wasn't behind him in training. That's why he had to change the tubular himself.
Normally, at training camps a director and mechanic will follow the team on their training rides. Some teams will have riders fly in with their clincher training wheels for camps. At home, most pros train on clinchers.
You can absolutely finish a training ride on a spare tubular. Pre-gluing your spare tubular helps. Once the tire is inflated you can ride safely home without too many worries. Just do your best to take it easy in the corners, and no need for violent sprinting efforts.
But bear in mind that in bygone eras tubulars (on wooden rims) were the only decent tires available. Check out photos from the early grand tours. Riders carried spare tires across their back, looped through their arms. And these legends of the sport continued to race even after punctures (they had no choice).
— Nick