Ask Nick: Carbon handlebar lifespan, long-lasting tires, and mechanical sabotage
Carbon handlebar lifespan, long-lasting tires, mechanical sabotage & more
Heading out the door? Read this article on the new Outside+ app available now on iOS devices for members! Download the app.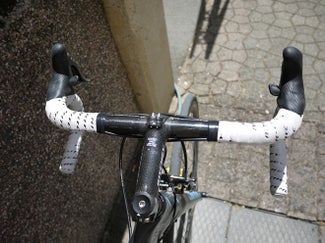 Q. Nick,
What is a reasonable fatigue life for a carbon mountain bike bar and stem? I have a Ritchey WCS carbon bar and aluminum stem that are three years old and have seen a fair amount of use over three seasons. I am a skinny cross-country rider and racer, no hucking, haven't hit anything, etc.
— Jeff Carter
A. Jeff,
I asked the fine people at Ritchey and Easton your question. Best to go straight to the source on these sorts of questions. Here are their replies.
Sean Coffey of Ritchey:
"Any well-made carbon component should be removed and inspected periodically for damage (especially after crashes, shipping or any trauma) but barring any damage, carbon does not have a fatigue life like alloy components and does not fatigue over time. So in theory an undamaged carbon component should hold up indefinitely under normal riding and racing circumstance. However crashes and damage from over-clamping can dramatically reduce durability."
Chuck Teixeira, Director of Bike Advanced Concepts Group at Easton:
"Carbon bars are so good in fatigue that we almost think it's a waste of time to test them because they always pass. Carbon's fatigue life is nearly unlimited because carbon has a very different type of structure than metals. What fails carbon bars is compression from clamping levers, stems, constant re-adjusting and clamping or big hits/crashes. Our lab testing has documented that carbon bars fatigue is easily five times better than aluminum. Impact strength is also better on carbon and will withstand much higher energies before breaking. Aluminum bars start to bend at comparably low energy and do give you an idea that something is changing and that maybe its time to replace them. Any metal bar can fail unexpectedly under the correct conditions so they cannot be expected to last forever. If you're a big hucker who never crashes or never moves anything you could easily get five years out of a carbon DH bar. If you're a skinny, cross-country rider who travels, tweaks his position, changes parts or takes frequent little diggers you might only two years out of your bars. Sorry, nothing is black and white."
There you have it. Assuming your bars don't have damage from the clamping of your stem, shifters and brake levers, your bar should last you for a couple more years. Your best course of action is to pull them off every year and check them for obvious signs of over clamping.
Q. Nick,
I have been reading VeloNews for eons. At 52 I'm still riding 100 plus miles a week. My question is what is the most favored clincher tire in the Pro/1/2 ranks for ride, wear and puncture resistance. I have been riding Pro3 Races but at 200 lbs. they don't last very long for me! I love the way they ride but not the way they wear. Any suggestions?
— Mike Hoag

A. Mike,
I'm going to take sponsored riders out of the equation when answering you. Most of them are supplied with tires and paid to ride them. Not the best source for objective tire feedback.
Top amateurs that often buy their own tires for training and racing are a better source to mine. As you found, Michelin's Pro3 Race is a great tire, but for your purposes it is wearing a bit too quickly. Bear in mind that, as the name states, it is a race tire. It isn't built to last. It's engineered for performance more than durability.
If you're a Michelin fan I would recommend the Pro Optimums. I've been on them for some time with no problems and they are built for longer wear, with a harder compound on the rear tire than on the front.
A Michelin to split the difference between the Optimums and the Pro3 Race would be the new Pro4 Endurance that Michelin just unveiled this show season.
I also like, and see many top riders using, Continental's Grand Prix 4-Season, Maxxis' Cormet and Columbiere, Vittoria Rubino Pros, as well as various Schwalbe models. I'm sure commenters will give you some great recommendations too.
Q. Hey Nick,
A guy I know who was a domestique in the Giro told me that in the later stages of the race, when it was clear he could not help his team anymore but could not be persuaded to abandon, the team mechanics would do things like over-tighten his hubs and brakes in the hopes of slowing him down so that he'd miss the time cut. Three questions then: does this actually happen, how often, and if a team didn't want a rider to ride, why wouldn't he simply be told not to suit up?
— Andrew Osborn

A. Andrew,
Man, sounds like your acquaintance had a tough go of it! I can honestly say that I've never heard of mechanics neglecting or sabotaging a rider's bike to get the rider out of a race. But assuming you trust your acquaintance and he didn't tell you this story while intoxicated and in the presence of a beautiful, available, young lady, I would believe his tale.
I heard in my first year working in Europe stories of sabotage of one mechanic's work by another mechanic on the same team. This was due to inter-team rivalries between the Italian and Spanish staff. It was a dirty power struggle of the pettiest sorts. But the sabotage was to make a rival mechanic look bad. It wasn't directed at a specific rider, though it was the rider as well as the set-up mechanic that paid the price of the unprofessional behavior.
It's possible that your acquaintance was the victim of such sabotage. Or it's quite possible that the staff didn't like him. If the dislike went all the way to the directors, he would have had little recourse.
None of this excuses the extremely unprofessional behavior of the mechanics. It is simply despicable. In WorldTour circles a mechanic wouldn't last long if he tried to pull such a thing.
Q.Nick,
At the beginning of this season I saw a pair of Fränk Schleck's shoes with Speedplay Zero Cleats mounted to them with a piece of what looked like aluminum sandwiched between the shoe plate and the cleat itself. Today in your Clothesline review of the custom D2 shoes you have the same on your cleats. I was wondering what it was and the benefits of them?
— Victor Robles

A. Victor,
The metal piece you're seeing is called a "Carbon Sole Protector" by Speedplay and you can buy them on the company's website for $10. It was originally designed to protect the soles of shoes that have 4-bolt cleat mounting. But Speedplay found that when used with normal cleat/adapter setups, that engagement felt a bit better. Speedplay supplies them with all the cleats they send to sponsored teams.
For my purposes, I find that using Carbon Sole Protectors makes cleaning the cleats much easier. As most Speedplay users know, keeping your cleats clean is extremely important. Wiping them out with a rag and lubing them is easier when the Protectors are in place.
— Nick