Ask Nick: Classics wheels, roof-rack hierarchy and team car inventory
Classics wheels, roof-rack hierarchy and team car inventory
Heading out the door? Read this article on the new Outside+ app available now on iOS devices for members! Download the app.
Editor's Note: VeloNews tech editor Nick Legan is a former ProTour mechanic who most recently wrenched for Team RadioShack at the 2010 Tour de France and elsewhere. His column appears here every Thursday. You can submit questions to Nick at asknick@competitorgroup.com, and be sure to check out Nick's previous columns.
Q.Nick,
With the classics season right around the corner, can you let us in on the insider's view of wheels used by teams for the cobbles? Which rim/spoke/hub combo and of course, tires? Seems it does not have anything to do with the current sponsors in a lot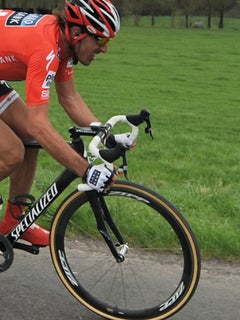 of cases, how do teams get around that? Is it just understood that they'll be using their " classics" wheels regardless of sponsors?
— Eric Greene
A.Eric,
Most pro teams will only use a "classics" wheel in Roubaix. Increasingly riders prefer a normal carbon race wheel with larger, all-condition tires in races like the Tour of Flanders. Roubaix of course has been won on carbon rims, Zipp 303s.
A more traditional classics wheel uses an aluminum, shallow-section tubular rim laced three-cross with 32 spokes to a, hopefully, sponsor-correct hub. For Roubaix, spoke tension isn't quite so high as on a normal wheel. A certain amount of "give" is built into them.
Ambrosio's Nemesis rim is the king of the classics. They are often rebranded. Mavic and Bontrager also produce rims suited to the cobbles.
Some teams use custom tires for the classics. Boonen and company seem to like FMB, a small French tubular maker. Dugast is also popular. Hutchinson, Vittoria and Continental all make larger tires for their sponsored teams.
In a bit of innovation, Francaise des Jeux used Shimano tubeless wheels with custom 28-millimeter Hutchinson Intensives on their spare bikes in past years. The only Roubaix victory on clinchers that I'm aware of was also an FdJ rider, Frederic Guesdon in 1997.
It's true that many teams use equipment that isn't sponsor-correct during the classics. For many tech journalists, it's the most interesting time of the year. Because of the special circumstances of the races, most sponsors don't mind. In fact many sponsors help source material that is up to the task of the classics.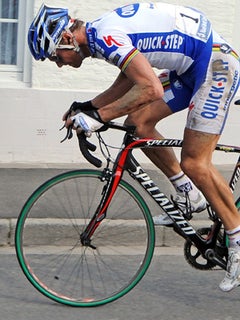 Q.Nick,
If riders have different gearing combinations from each other, how do you keep track of that while on the road and make sure you switch out the correct rear wheel if they suffer from a flat?
— Ronan Eales
A.
Ronan,
The short answer is, we try our best. Team mechanics typically carry at least two rear wheels and one front wheel inside the car during a race (rear punctures occur more frequently). When riders have different cassette preferences, it's usually only a matter of two different sizes. Mechanics will then carry one of each in the car. Sometimes I would pack in three rear wheels.
Inside the car, the mechanic will have a list of who's riding what. After that it's a matter of paying attention. This is where radios come in handy as well. I'm a fan of them for safety's sake and for ease in helping a rider with a mechanical. Afterall, riders aren't penalized for drafting a car after a mechanical. Why should we penalize them for having a mechanical in the first place by not allowing them to communicate with his team car?
In the end though, having a tire with air in it is infinitely better than having the right gearing on a wheel with a puncture.
Q.
Nick, I was especially interested in your recent description of team strategies when there are two chase cars. With seven bikes stacked on the roof of Car 1, are the bikes arranged in a particular order so that, for example, the team's GC hopes (or the team's best hopes for a win on that day's stage) have their bikes on the outside? Also, when the team leader needs a bike change midrace and is given a teammate's ride, does the team car attempt to catch up and perform another switch for the leader, so that he or she eventually ends up with a bike that fits better than the teammate's bike?
— Harold Stanislaw
A.Harold,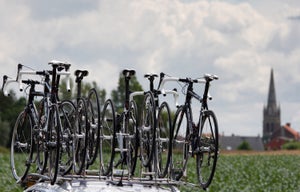 There is most definitely strategy involved in the placement of spare bicycles on a team car. The most important rider on the day will have his spare bike racked above the mechanic, in the most accessible position. On most European race-ready racks, four bikes are carried complete, with both wheels. Three more are carried in the middle without front wheels. To be honest, the middle fork-mounted bike is basically inaccessible.
The second team car usually keeps a second spare for a team's general classification hope in the best spot. After that, other riders whose bikes aren't on the first car get top billing.
If a rider takes a teammate's bike after a crash, it's usually in a circumstance where the team car cannot reach the scene quickly. Bottlenecks occur frequently, especially on the narrow roads of Europe.
After this sort of bike swap, unless there are only a couple kilometers left in the race, the team leader will likely do another bike change. Seat heights between riders vary and small changes can wreak havoc on a pro's legs and back.
After the team leader is set, yet another bike change is needed to get the generous teammate back on one of his bikes. It can take time, but I've seen clever directors and mechanics perform double bike swaps. That way both riders get a new bike and they can work together to reintegrate the peloton.
Q.Nick,
I would like to know if you could give me a load-out of a team car for a typical road race/time trial. Do you guys carry large ice chests with water bottles? I imagine there isn't room for that many people with all the supplies.
— John K
A.John,
For a road race the car is pretty packed. There is really only room for the director, a guest up front and the mechanic in the back. For time trials we use multiple cars to follow multiple riders. Each car only needs a set of wheels and a spare bike.
The list below is what the mechanic is responsible for (the cooler is packed by soigneurs though). There are other things in the car, radios (when allowed) and personal items (I always bring a book).
Here we go:
7 spare bikes
4 pair of wheels on the roof, 1 or more pair in the car
Cooler-full of bottles, cokes and on hot days, ice socks
Spare parts bag-a complete group excluding cranks, cables, cleats, etc.
Spare Di2 battery, if applicable
Rider rain bags-full of extra clothing layers, spare shoes, and rain gear for each rider
Spare helmets
Floor pump-for last minute pressure changes
Tool box
Trash bags
Notebook and pen for taking numbers broadcast over race radio
Race bible-director will have one too, but mechanics help with upcoming turns or climbs
Towel for drying water bottles before we hand them to the riders
Cell phone charger
Lunch for the director, mechanic and any guest