Ask Nick: Cork remnants, long-low pros, and what do retired pros ride?
Cork remnants, long-low pros, and what do retired pros ride?
Heading out the door? Read this article on the new Outside+ app available now on iOS devices for members! Download the app.
Editor's Note: VeloNews tech editor Nick Legan is a former ProTour mechanic who most recently wrenched for Team RadioShack at the 2010 Tour de France and elsewhere. His column appears here every Thursday. You can submit questions to Nick at asknick@competitorgroup.com, and be sure to check out Nick's previous columns.
Q. Nick,
Nothing makes a bike faster than a new wrap of bar tape … he issue is, how do you keep the sticky tape on the back from gumming up the bars? Cinelli cork tape is the worst for this … pull the old roll off and leave chunks of it all over your bars. Any special technique to deal with this or clean it off prior to wrapping the new tape?
— Matt Emeott

A. Matt,
I think the best tactic is to avoid using tapes that do that in the first place. While I love the feel of Cinelli's cork tape it is infamous for delaminating upon removal. Salsa Gel Cork is my favorite. It wraps easily, has a good stretch if you want to run it thin and doesn't have an adhesive. Rather is has a kind of sticky gel back that helps keep it in place.
Really if you do a good job of wrapping you don't need an adhesive-backed tape. But many brands still make their wraps that way.
Another tactic that RadioShack mechanics have used is wrapping the entire bar beforehand with a layer of electrical tape. Its surface doesn't adhere to bar tape as well as a bare bar. This let them replace tape quickly without the mess. And it added a tiny bit of weight, helping them keep bikes at the UCI minimum.
Q. Nick,
I've always wondered about pro riders' frame size. Do pros ride frames that are typically smaller than the average Joe's ride? They seems to always have stem lengths that are 13 cm or longer, indicating that the toptube is on the short side.
—Naru Takashima

A. Naru,
I think what we're seeing with all the long stems isn't that they ride smaller frames, rather that they ride more aggressive positions. Increasingly, frames are designed with consumers in mind instead of pros. This means we're seeing taller head tubes and shorter top tubes. But pro positions aren't really changing much. That's why all the long stems, many of them with a negative angle of rise.
Q. Nick,
I know pro riders ride the bikes they are paid to ride. But if they had to purchase their own bikes and all bikes had the same cost, what brand/model do you think they would purchase?
— Mark Alvis

A. Mark,
Not sure about the "all bikes had the same cost" part of your question, because price certainly dictates purchase decisions for most people. But to answer the rest of your question I think it's interesting to look at the bikes that pros ride after they retire.
Some of them simply stick with their last race bike. When I worked with Scott Sunderland at CSC in 2006 (he was a director and former pro), he rode a Cervelo modified for Paris-Roubaix. He liked the longer wheelbase.
Pete Lopinto, formerly of Kodak-Sierra Nevada and now a partner in the Pro's Closet e-bay store, rides a sweet custom titanium Mosaic bike. Former Garmin rider Will Frischkorn has a thing, like me, for Toby Stanton's Hot Tubes (he rode for the Hot Tubes Development team).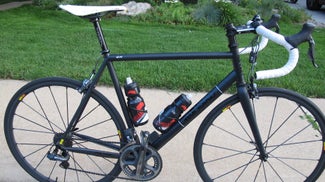 Dede Barry rides a beautiful steel Mariposa that her father-in-law, Mike Barry, built (she even won the Montreal World Cup on it during her comeback). She also has a Giant T-Mobile Roubaix bike with cantilever brakes that she pedals around the roads of Girona when she has time.
So that's an answer of sorts. The truth is that the tastes of the pros vary just as much as yours and mine. Many pros return to their roots and others seek out the latest greatest.
Q. Nick,
I noticed that during the warm up for the team time trial in this year's TDF that several riders were sporting what appears to be medical nasal dressing which is used to stop nose bleeds. Can you please shed light on this practice? Is it to keep the nasal passages from drying out during the warm up phase?
— Scott Pierce

A. Scott,
What you're seeing is indeed some cotton stuffed up their noses. Before they are stuck in, soigneurs put on a splash of peppermint oil or something similar. Riders like the feeling of opening up their nasal passages with it. Whether or not it has an actual physiological benefit or not, I don't know. But it is a pretty common practice.
Many Garmin-Cervélo riders had them in until a few minutes before the start of their winning performance in the team time trial at this year's Tour. So it certainly didn't hurt them!
Q. Nick,
I noticed from the Dirty Kanza website that all riders are asked to have their own support crew at the ready. It also looks like the Rapha Continental team has support folks in tow (or at least somebody to photo/video). My question is: when you're riding these events, do you still do your own wrenching? Or, is it nice to take a break and let someone take care of you for a change?
— Josh

A. Josh,
I still do my own bike work. For the Dirty Kanza the support crew is really there more for hydration and nutrition (and a change of clothes, etc.) than it is for mechanical help. There are only three checkpoints so for the most part you're on your own (something I love, the adventure of it).
For the Rapha Continental (which we'll be covering in-depth very soon! Please check back for more) we had a van that drove us from hotels to the starts and from the finishes to the next hotel. We didn't have spare wheels at all actually. So if we flatted (only one the whole week actually, on the last day!) we had to stop and fix it. Like in Kansas, the van acted more as a hydration and food depot. We also stopped along the way for snacks like corn dogs and Blizzards.
The van also carried a photographer to get different vantage points for photos. Another van carried the film crew. The results of its work is coming soon to both the Rapha and VeloNews sites!