Ask Nick: Dirt road ridin', team chef job opportunities and more
Dirt road ridin', team chef job opportunities and more
Heading out the door? Read this article on the new Outside+ app available now on iOS devices for members! Download the app.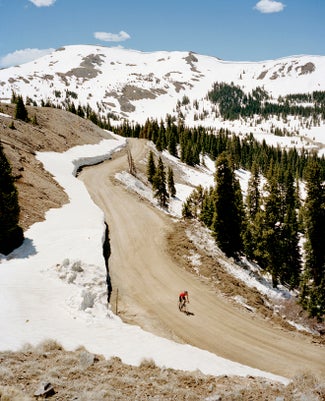 Q.Nick,
It appears that you and many others ride road bikes on gravel/dirt roads with few issues with regards to performance and bike maintenance.
Do you or others recommend frames other than carbon, such as ti or steel along with 25mm tires for this divergent, but beautiful form of adventure riding?
— Dave Lawlin

A. Dave,
For goodness sake, don't spend money, just get out on those roads! Dirt roads vary a lot by location. Go for a ride and figure out what works best for you. Ask locals in your area for advice.
I have several bikes for dirt riding, with various tires and set ups. My steel Harvey had big 25mm Michelin Pro Optimum tires on it for the Rapha Continental. I've since put on Challenge Paris-Roubaix rubber. I also have a cyclocross bike with full fenders, TRP linear-pull brakes and WTB 'cross tires. I put a compact crank and an 11×32 cassette on it and ride it when the snow starts to fall and on steeper dirt climbs near Boulder. But any "road" bike will do.
The beauty of dirt road riding is in the doing of it. Not in the researching of it. The adventure is sometimes in not necessarily having the perfect tool for the job. Enjoy.
Q. Nick,
I raced back in the late 80's mainly on the East Coast as a junior, then in northern France and Belgium for three seasons. I didn't quite make the cut and transitioned to restaurants where I have been ever since. I have cooked professionally for 18 years now and was wondering how I would go about getting in with one of the U.S.-based teams in a part-time capacity. I just don't know enough about these teams' budgets. I would assume that there are people working for these teams that do multiple jobs, including cooking.
— Paul Martin

A. Paul,
Sounds like you've lived quite the life. Hope you're still out there riding!
Larger teams in Europe will bring on a chef during important periods of the year; sometimes during the classics and certainly for the Tour de France. Other than that, there aren't many teams with a budget for a cook.
U.S.-based WorldTour teams are usually pretty set for their cooks. Many of them have done it for years. If you have any massage experience though, you might be able to help a team out during the season. Sorry for the less-than-great news, but budgets are tight and a team cook is a luxury.
That said, most teams have websites with contact info. I would simply reach out to the teams directly. That's your best bet. Not sure where you live, but there's bound to be a pro team based nearby. Look them up and see if they're interested.
Q. Nick,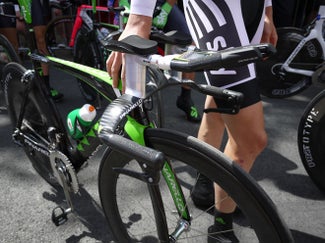 We see all the cool new TT bikes with the integrated bars and super-low front ends but then the guys have 10cm of risers under the arm rests. What's the purpose of a low front end if you are going to jack the bars up anyway? It seems that the bikes and technology have gone beyond practicality and do not take real life rider body limitation into account.
— Michael Nyberg

A. Michael,
I hear what you're saying. And while I'm hesitant to defend every pro rider's time trial position, I do think that there is more than meets the eye in this case. Two things come to mind whenever I see a large difference between a rider's aero extensions and armrests and the base bar.
1. Perhaps the bike is set up that way simply because the rider likes a super-low base bar. Increasingly, time trials are won and lost in the technical sections. More and more of the top time trialists have been in the wind tunnel and their positions in the aero bars are highly optimized. But if a rider can corner more confidently with low bullhorns, then that's a big advantage.
2. There are plenty of bike designers who feel that a clear separation between the base bar and aero bars is faster than a jumbled, compact mess. The custom Team Sky aero bars are based on the success of GB Cycling's pursuit bars. The idea is that the large distance between the two parts allows them each to flow through the air more efficiently. (This is what several people involved in the program have told me).
So, while some rider might be on a bike that requires drastic aero bar set ups, others may be actually going faster thanks to the strange amount of risers under their bars.
Q. Nick,
This has bothered my friends and me for a few years now. At the summit of big climbs, we have noticed some riders reach down behind their seat tube and do … something. At first I thought maybe their brake cams were open for the climb and they were closing them, but I can't imagine why you would need your rear brakes open for a climb. Another theory is they are rubbing their rear tire with their glove to clean them off for the descent, but we have never noticed anyone rubbing their front tire like that. I sure hope you have the answer, because not even the smart phones can get this one.
— Brian Waldes

A.Brian,
Whoever guessed that they're closing their brake quick release wins a six-pack of beer! That's what the pros are doing at the summits. It doesn't make too much sense to me either, but I guess that it helps certain riders to know that there's no chance of a brake rubbing while climbing. Light, shallow-rim climbing wheels can definitely deflect a bit more than a deep aero wheel, but if it's doing that enough to create brake rub, there's a problem.
But as I've said before, faith in their equipment and mental well-being are super important for pro cyclists (or any athlete for that matter). Better safe than sorry could be the tactic that they're adopting.
Q. Nick,
What kind of rest do the pros take after a grand tour? Do they ride at all in the week that immediately follows the Giro, Tour de France or Vuelta? Or is some period of complete rest required to shed the fatigue of three weeks of racing? I imagine that it's different for every rider, but what is the general consensus?
— Bart Hrvatin

A. Bart,
As you mentioned, the amount of rest needed after a tour is different for each rider. But many come out of the Tour stronger than when they finished. If you look at the start list of races right after the Tour, like Clasica San Sebastian, many riders go straight from France to Spain (OK, after a few days at home).
Few riders will go for a ride the day after a grand tour, but once home many will go out for easy rides as that can speed up the recovery process. Most riders hope to capitalize on their post-Tour form by racing criteriums (and collect healthy appearance fees). If a rider just managed to finish a Tour, the story would probably go a bit differently though.
In the end, these guys are pros and they know their programs. If they are on for San Sebastien they'll be a bit more serious about their recovery. If they have time off, they may stay off the bike for a week or two.