Ask Nick: Fat tire fun and Mavic race support
Fat tire love, Mavic's neutral support questions and power meter queries.
Heading out the door? Read this article on the new Outside+ app available now on iOS devices for members! Download the app.
Editor's Note: VeloNews tech editor Nick Legan is a former ProTour mechanic who most recently wrenched for Team RadioShack at the 2010 Tour de France and elsewhere. His column appears here every Thursday. You can submit questions to Nick at asknick@competitorgroup.com, and be sure to check out Nick's previous columns.
Q. Nick,
I started racing eight years ago on a decent steel bike with light wheels and quickly learned that most of the races nearby (I live in NYC) demanded 25mm tires. When I read descriptions of bikes for the European classics, I'm always hearing about how pros insist on tires at least that big (some even bigger) and how they often ride special custom frames that take the bigger tires.
Why don't manufacturers make their bikes with greater clearances? When I go into a bike shop and ask about race bikes with lots of tire clearance, I get these vacant stares, like I'm asking if they sell paddles for defibrillators.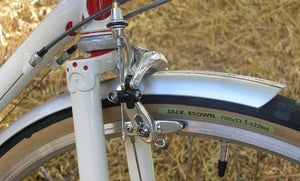 On nearly every bike out there, the brake shoes are nowhere near the bottom of the slots of the brake caliper. So just by raising the brake bridge, many designs would have considerably more clearance. While shopping for a frameset, the only model I could find with generous clearance is the Pinarello KOBH, a $5,500 argument with the spouse I already know I'll lose (you have to pick your battles, you know?).
Can you help?
— David Regen
A. Dave,
I'm with you on this one. Big tires are a lot of fun, and that's why I ride: for fun. There are several manufacturers that are starting to see the benefit of increased clearance, either for fenders or for larger tires.
I did a bit of research and you'll be happy with the results. While the Pinarello is a nice bike, you can spend much less, satisfying both your desire for fatty tires and your wife's fiscal sensibility. Here's what I found quickly. There are bound to be more options. Not all of these are "race" bikes, but then any bike ridden in competition is a "race bike."
You could also talk to a local custom builder. I have a Hot Tubes built by Toby Stanton that has clearance for 32mm tires with long reach (or standard, depending on your semantic preferences) brakes and another custom bike on the way with room for 27mm tires using normal (or short reach) brakes.
Cyclocross bikes are another option, but I would suggest you upgrade to TRP CX9 linear pull brakes if you're taking on big descents. They'll provide stopping power similar to the road calipers to which you're accustomed.
Q. Nick,
Have you ever seen a rider use one of the Mavic spare bikes? It seems that, with teammates offering bikes, spare bikes on team cars and because the Mavic bikes have toe clips, that no one would ever use these.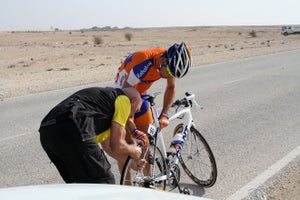 I have the same question for the Mavic spare wheels. Does anybody use those or is it just a big ad campaign for Mavic?
— John Ferrelli

A. John,
I have seen riders on Mavic spare bikes. But usually it was a Mavic mechanic the day before the event, out for a ride. Sometimes it is an unfortunate racer though.
Many small teams or independent pros don't have the budget or sponsor allotment to have spare bikes for every rider. In one-day races there can only be one team car. If that team car is with a breakaway and a rider behind has a problem, neutral support will handle it.
So yes, many riders have received a wheel from Mavic (or Shimano or SRAM or FSA as the case may be on the day). Less frequently a rider will need a bike from neutral support.
While the spare bikes have toe clips when mounted on the roof, Mavic carries a supply of different pedals. If there is time they will install pedals for a rider in dire need of a new bike. Quick release seat post clamps make adjusting seat height quick. Really that's all you need in most cases. It's not ideal, but the racer is still rolling.
And yes, it is a big ad campaign. An ad campaign that has helped many riders win races, an ad campaign staffed by some of the most passionate people in the sport, an ad campaign that has more than earned the right to fly its colors.
Q. Nick,
After watching the great video of the Mavic neutral support changing so many wheels at Paris-Roubaix, I have a question. Do the team mechanics meet later with Mavic and sort out wheels? Are the wheels "branded" with a teams logo or ID? Does Mavic just keep a pool of used wheels for the next event?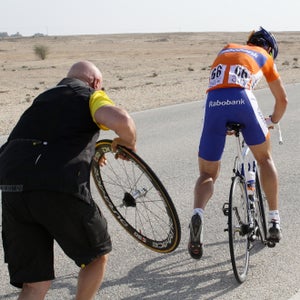 — Steve
A. Steve,
Yep, after the race mechanics have to make the rounds to collect wheels. Both parties are interested in getting their wheels back. When Mavic performs a wheel change they typically write the rider's number on the wheel's brake track with a permanent marker (a silver one in the case of carbon rims) or on a piece of paper that is then put between spokes.
Most teams also label their wheels. Small stickers on the hubs or in the case of HTC-Highroad, huge rim stickers get the job done. Often it's clear which wheels belong to which teams due to sponsorships. Wheel, tire and cassette manufacturers all point to certain team. If you see a Bontrager wheel with a Schwalbe tire, it's a Leopard wheel. If a Bontrager has a Challenge tire, that's RadioShack's.
It's an honor system of sorts, but it does work. I never lost a wheel in seven years thanks to the professionalism of neutral services, whether provided by Mavic, Shimano, SRAM or FSA.
Q. Nick,
What is the pro mechanic's role in terms of power meters? Sure, you install the unit on the bicycle, but what about other upkeep issues? Is the mechanic responsible for keeping the batteries charged? What about data management?
— Owen Nielsen
A. Owen,
That varies by team. For the most part we install them and don't have much else to do.
The riders take their display units with them after the race is done. They'll download the information and send it to their coach if asked.
Sometimes a team will have a coach at the race and he will collect all the units and download them. Allen Lim did this at Garmin on many occasions.
Many times the data is used to create a catalog or library of race profiles to be used in designing training plans. Dietary needs can also be altered depending on work accomplished during a race.
Of course, if the power meter stops working, that falls back to the mechanic.