Ask Nick: Flying with bikes and shoe questions
Nick talks about flying with bikes and takes a few questions about shoes and cleats.
Heading out the door? Read this article on the new Outside+ app available now on iOS devices for members! Download the app.
Editor's Note: VeloNews tech editor Nick Legan is a former ProTour mechanic who most recently wrenched for Team RadioShack at the 2010 Tour de France and elsewhere. His column appears here every Thursday. You can submit questions to Nick at asknick@competitorgroup.com, and be sure to check out Nick's previous columns.
Q.Nick,
How do pros get their bikes on airplanes, especially the bikes that have integrated seatposts?
— Daus Mahnke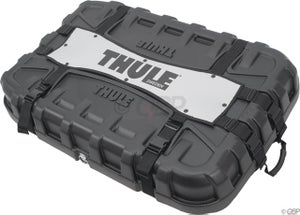 A. Daus,
Quite simply, in bike bags or boxes. Careful packing is something that every pro should learn. It's a huge pain when a bike arrives at a training camp or race with broken frame. Taking a few extra minutes to properly pack a bike can save a lot of time and headache.
In Europe, the preferred bike bags are soft-sided. Sci-Con makes one with a frame in the bottom where the front and rear dropouts clamp in. The only thing to do is remove the wheels. It's made so that you can leave the saddle, bar, stem and even pedals in place. These are not the most protective of bags though.
Others by Scott and Giant are simply large padded bags with side pockets for wheels and pedals. Most mechanics will put the bikes in upside down to protect the chainrings. I like to reinforce them with cardboard and wrap the frame with foam insulation. (check out VeloNews' Ultimate Ride Guide for more bike packing tips)
In my opinion, integrated seatposts are a pain. They lack the adjustment of a seatpost and offer fewer setback options. More than anything though, they make travelling with a bike very difficult. Most cases are made for removable seatposts. Until the bike bag manufacturers catch up, it's going to be tough.
Q. Nick,
I was wondering if, during your time in the pro ranks, you came across riders who used spacers between the crank arms and pedals to obtain a wider stance? As someone who is slightly knock-kneed, getting older and finding my hips less tolerant of "mashing," I was thinking a wider stance might be more natural in my case. Any thoughts or experience with this?
— Steve Hansen

A. Steve,
Absolutely! Ryder Hesjedal played with spacers for at least one season. Lance did too. If you're looking for a couple millimeters of increased Q-factor, spacers are a great way to experiment without adjusting your cleats.
If you need more width than that, consider Speedplay pedals. They offer five different lengths of spindles. Ideally you want to keep the cleat in the middle of your shoe and therefore the pedal centered under your foot. That way everything is well supported.
Slightly off topic, but the same goes for saddles. Ideally your saddle rails are clamped near the middle of the rails. If you have your saddle slammed all the way forward, get a seatpost with less setback, and vice versa for mega setback riders. This, by the way, is something that is becoming increasingly difficult with the latest generation of integrated seat posts and bikes that require special aero seatposts.
Steve, I also personally ride with spacers depending on the cranks I'm riding. That way I have the same stance on all my bikes without having to adjust cleats. So I absolutely encourage you to experiment with stance. Just make small changes and give your body time to adapt to these changes before making decisions.
Q.Nick,
Do riders use different shoes or cleat position for road races vs. TT's?
— Scott Kingsley

A. Scott,
That's an interesting question. Bradley Wiggins, with his track background, favored Shimano SPD-R pedals and cleats for time trials. In 2009 the Garmin head mechanic scrounged up a couple pairs for him, but in the end Wiggins used SPD-SL pedals on both his road and time trial bikes.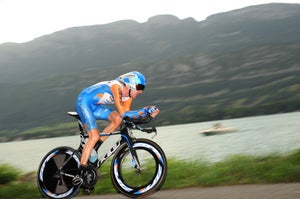 Bradley McGee, also a rider with an illustrious track background, rode several prologues without socks to maximize efficiency.
Several shoe manufacturers are making aero shoes specifically for time trials. It makes sense to wear an aero shoe when racing against the clock and to use a superlight pair of shoes when it's time to climb.
Many riders use a longer set of cranks on time trial bikes. It would make sense to optimize cleat position for time trials as well. I think for the most part, it's just a matter of time until more riders start to examine using different setups.
Q. Nick,
What is your view on the matter of cleat placement? Joe Friel's blog of 2007 makes an argument for a much more rearward placement than the "ball of foot over pedal axle" that I, and doubtless millions of other cyclists, have been using for decades. Friel claims a substantial power output improvement because less is demanded of calf muscles using a foot arch cleat location.
— David Paterson

A. David,
I've spoken with several people about the mid-foot cleat position and there is no clear consensus on the idea. Some are big proponents, others naysay. I'm personally quite curious and I've had some D2 shoes made with mid-foot cleats as an option. Just a matter of time before I can draw my own conclusions.
My understanding of the concept is that it's based on what was found with para-athletes. Many para-cyclists who use a knee-down prosthetic are exceptionally fast. Because ankling is taken out of the pedaling motion, only large muscles are engaged. Some believe that by eliminating or minimizing the use of the calf, economy is maximized.
As Friel points out, mid-foot cleats could also be beneficial for multisport athletes, saving their calves for the run.
The most obvious downside must be toe-overlap with the front wheel.
All said, I think that Friel knows what he's talking about. I really don't think that mid-foot cleats will slow you down. But many cyclists probably won't like taking the ankle out of the pedaling equation. A lot of riders like to drop their heels and drive through the top part of the pedal stroke. If you're a toe-down pedaler, you're more likely to like the mid-foot cleat.