Ask Nick: Ice socks, time trial follow cars and mechanic qualifications
Time trial follow cars, just how qualified IS my local bike mechanic, and what the heck is an 'ice sock?'
Heading out the door? Read this article on the new Outside+ app available now on iOS devices for members! Download the app.
Q. Nick,
In your latest column you briefly touched on "multiple cars to follow multiple riders." Which leads me to a question I've had for a while: In a long point-to-point time trial, how many follow cars are there for each team? If you've got nine riders in the race, the DS obviously can't be in everyone's follow car. I would think the team riders down on GC would have a mechanic or soigneur in his follow car. What about a situation where you have a TT stud AND a GC guy going for the overall? How are the follow cars staffed?
— Scott A. Wells
A.Scott,
Good question and fairly easily answered. As you astutely point out, in a grand tour a team brings nine riders. The staff will include at least two, sometimes three, directors, three or four mechanics, four or five soigneurs, a physio or chiro, a doctor and often a press agent.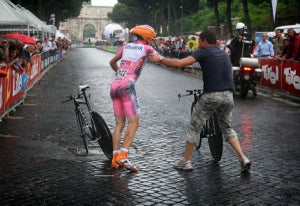 As you can see the limiting factor is not staff, it's vehicles. Usually a team will only have four or five vehicles suitable for following a rider in a time trial (note that normal UCI caravan rules for vehicle height don't apply to individual time trials, so a small van can be used).
Typically the director draws up a plan for a time trial in the days ahead of the stage. When it comes to following riders, a list with rider name, start time, vehicle and following staff is posted. The director in charge of making the plan will also contact the race organization to tell them which riders will require a neutral follow car.
If a time trial is late in a stage race, guys like Cancellara or similar chrono specialists will have already lost time. In this case it may be possible for the director and mechanic to haul back to the start in time for GC contenders.
Otherwise it just comes down to tough decisions for the directors. For other key riders, soigneurs usually drive a follow car. For the rest, neutral support cars are provided and teams will often provide them with a set of team wheels.
It's usually not a big deal. Riders who are supported by neutral cars are usually only riding to make the time cut anyway. If they receive a slow wheel change, it certainly doesn't help, but it usually won't spell the end of their race.
Many riders followed by a neutral car take advantage of the situation. They often sneak an iPod under their skinsuit for motivation. Start officials usually think it's a radio earpiece they have in and it isn't until after the rider's start that they see that there is no team car (and no director on a radio shouting encouragement).
Q.Nick,
What's is an ice sock (mentioned in the last column)? Sounds like a good thing to have on a hot day.
— Sharon O'Leary
A. Sharon,
The ice sock is, at least in its most recent form, the brainchild of Allen Lim. Keeping cool on a hot day is the key to economy and can result in huge performance gains. That's why many athletes now warm up for time trials wearing an ice vest. Keeping the core cool despite effort gets the muscles primed without overly taxing the cardiovascular system.
Ice socks are very easy to make. Get a cooler full of ice and a package of women's hosiery (stockings are best, not pantyhose). Lim makes a funnel out of old 1.5-liter water bottles to pour ice into the toe of the stocking. Pack it in there; those things stretch nicely. When you have the size you want (it needs to fit under your jersey, usually on your back behind your neck; six inches long is usually good) tie a knot in the stocking. Cut off the rest of the stocking, and you have an ice sock. To make another, simply knot the cut end and continue.
Soigneurs (and sometimes friendly mechanics) will make a cooler full of ice socks for hot races. The stocking is a perfect material because it weighs nothing, costs next to nothing, is easily found and lets the ice melt down your back. After a long hot stage, empty stocking shrapnel will litter the floor of team buses as the riders remove their jerseys for a shower. (Related: How Garmin keeps its riders fresh for the Tour)
Q. Nick,
What's the consensus in the Euro' peloton, fixed or floating cleats?
— James Bailey

A.James,
Much like your local peloton, the pro peloton is made populated with all sorts of shapes and sizes and physiological tendencies and requirements. Plenty of pros like a fixed cleat, but just as many ride with float.
I've said this over and over, but don't let what the pros ride influence what you ride when it comes to what your body needs. Contact points and bicycle fit are highly personalized. If you have success with fixed cleats, stick with them.
Lately, VeloNews tech writer Caley Fretz has played with running a fixed cleat on one foot and a float cleat on his leg that has historically had some knee issues. He typically likes the feel of a fixed cleat (a sensation of better power transfer, etc.), but a fixed cleat hasn't worked too well on his bum leg lately. In a great display of outside-the-box thinking, he tried just one float cleat with, so far, success.
The risk with a fixed cleat is that its position needs to be really dialed or it can create problems. Best advice is to ignore the pros and chat up your local bike fit guru.
Q. Nick,
I've always enjoyed doing maintenance on my own bikes, and with the help of books like "Zinn & The Art of Road Bike Maintenance" and the Internet I have successfully built a number of complete bikes and wheelsets.
Often when I'm reading the manual for new parts there will be warnings like "part should be fitted by a qualified bicycle mechanic" and that got me wondering about what exactly is a 'qualified bicycle mechanic'? Are you able to shed some light on the accreditation system? Are mechanics on pro teams required to have a specific qualification? Can I expect all the mechanics at my LBS are qualified mechanics?
— Jaemes McArthur

A. Jaemes,
What a great question! Wouldn't it be great if you could walk into any shop, glance at a plaque on the wall and know that your bike was in good hands! Well, you can … kinda.
They are plenty of bicycle mechanic schools and clinics that issue diplomas after their completion. But the truth is that many bike shop mechanics aren't that amazing (and that's my background, so before all you shop grease monkeys write it complaining, take a deep breath). They learn on the fly (often without instruction), starting off with new bike assembly and moving on to more complex repair and custom work. The real problem is that most shops can't afford to adequately pay good mechanics, so they move on to other ways of earning a paycheck.
This is why a mechanic's reputation is much more important than the paper hanging on the wall. The wonderful thing about cycling is that it's a social community-style sport. Ask around; most cyclists have an opinion on who's cutting the mustard and who's hacking their way around a workbench.
Pro mechanics are technically required to have a license from their national governing body and to work internationally you need to pay the Swiss accountants at the UCI (I dutifully paid up every year without ever having my license checked …hundreds of dollars down the bureaucratic drain).
In the U.S. you must attend the Bill Woodul Race Mechanics Clinic in Colorado Springs and pass the exam to obtain a license. While I'm not so happy about wasted dollars sent to the UCI, the clinic at the Olympic Training Center is worth every penny!
For you personally Jaemes, it sounds like you're on your way to being that "qualified bicycle mechanic." The best qualification I can think of is simply figuring it out and when you can't having the sense and humility to ask for help. Best of luck and be safe.
— Nick