Ask Nick: Mechanically inclined racers, mystery clicking, ProTour bike washing techniques and more
In a new regular feature, Nick Legan, a former ProTour mechanic and new VeloNews.com tech editor, takes your questions about gear and life in the trenches at the ProTour
Heading out the door? Read this article on the new Outside+ app available now on iOS devices for members! Download the app.
Editor's Note: This is the first of a new regular weekly feature on VeloNews.com: "Ask Nick." Nick Legan is a former ProTour mechanic who most recently wrenched for Team RadioShack at the 2010 Tour de France and elsewhere. Nick also is our new Tech Editor for VeloNews magazine and VeloNews.com. You can submit questions to Nick at asknick@competitorgroup.com.
Question:
Nick,
Who was the least mechanically inclined pro rider you ever worked with? (Plus why/how?) And who was the best?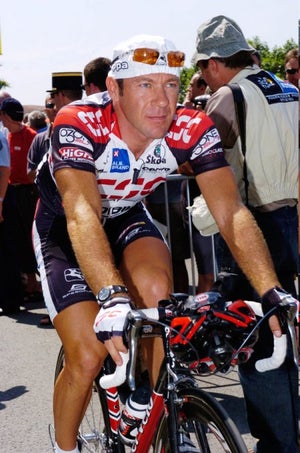 As a pro team mechanic, your bikes are all similar. The riders, however, run the gamut. Some obsess over minute details while others can barely take off a wheel. Giovanni Lombardi, one of Cipo's famous leadout men, was notorious for abusing his bike, either through ignorance or nonchalance. I worked with him in 2006 on Team CSC. We spoke French together and he really looked after me that year, my first in Europe as a wrench. Most teams have a policy that requires the riders to bring clean bikes when they are required to bring a bike at all. It's disrespectful to hand a mechanic a dirty bike. Giovanni's bike would always arrive in a horrible state. The drivetrain would be filthy, road grime encrusted on the frame, cables barely functional, wheels barely passing through the brake pads. It was a wonder he could even ride his bike sometimes. Somehow though, it never seemed to matter that Lomba's bikes were a wreck. His charm and generosity (lots of good espressos delivered to chilled mechanics work wonders) made up for it.
Kristin Armstrong is the anti-Lombardi. She was always meticulous in her preparation. Before the Beijing Olympics we both visited the race site to survey its particular challenges. Out of this was born the K-Edge, her anti-chain drop device. Her bike at the start line weighed exactly 6.8 kilograms. She had carefully prepared two front wheels, one shallower for a windy day, a deeper one if it was calm. Each wheel choice had a corresponding skewer to keep the weight the same. Calculated perfection.
Question:
My front wheel makes a clicking sound, especially when I'm turning. (I'm sure it's the wheel, because when I swap in another front wheel the sound is gone.) I powerwashed and scrubbed the wheel thoroughly, and there are no cracks or anything anywhere. What's causing the noise and how do I make it stop?
There are a couple things to check. First and easiest is a computer magnet hitting a sensor or fork. Check the tire for foreign objects embedded in the rubber. Check for loose spokes. And after all those are eliminated as the cause, stop powerwashing your hubs! You've likely blown the grease out of your bearings and the clicking is their protest. When you wash your bike, make sure that you don't use degreaser on your front hub, or your rear hub, headset or bottom bracket for that matter. Degreaser is for your drivetrain and a powerwasher is for sidewalk cleaning, washing the outside of your car and generally for destroying things (which can be a blast!).
Question:
I went to the Tour this year and saw pro team soigneurs running all the race clothing through the dryers on the bus – something I always understood to be a no-no as it quickly wears out the Lycra. Do pro mechanics have similar short cuts to save time that you'd never do with your own bike?
Powerwashing. I know I just said that you should NEVER use one to clean your bike, but many teams still use them. Why? What you have to remember about team bikes is that they are maintained each and every day. They have to look spotless each day for photos to keep sponsors happy. And teams are provided with copious amounts of spare parts to replace all the sensitive parts whose wear they are accelerating by washing with the brute force of a power washer.
Question: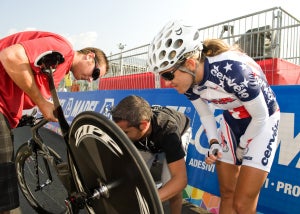 I remember one year seeing a rider in a time trial have to come to a complete stop after he realized his stem bolts were completely loose. What's the worst mechanical snafu you ever saw on the pro circuit?
Maybe I have a mental block regarding these sorts of mishaps. The first priority of every mechanic is handing off a safe bike. Whether it shifts perfectly is actually less important. But we are all human … Sometimes differences in a manufacturer's quality control can lead to problems. It's complex and mechanics are constantly dealing with new issues as they arise.
The worst incident that comes to mind is Tyler Hamilton's crash in the Giro some years ago. As he stood to accelerate after a corner, his rear freehub failed to engage and he went over the bars at speed. His mechanic had removed a pawl or two in an effort to decrease freehub drag, but the results were disastrous.
Question:
I have a question about torque and handlebars. Specifically, how much is too much? I race cyclocross and the levers sometimes get pushed down from all the rattling. A friend told me it's good to have the levers be able to move a little bit if and when you crash. Is this true?
It's true that over-tightening your levers can not only damage your bars upon install, but also increase the risk of damage in the event of a crash. Finish Line's Fiber Grip is a friction paste that can help with sliding parts. Of all the friction pastes, it seems the most resistant to bike washing. Apply a bit to the inside (bar contacting) surface of your shifter body and tighten your shifters as you have before. Then straddle the front wheel facing the bicycle and try to move the levers on your bars with both hands. If they move too easily, tighten a bit. With the paste applied you might not have to tighten then as much as you did before. Good luck and try to avoid crashing in the first place. Bikes can be repaired, bodies are more difficult.