Ask Nick: Pre-race weigh-ins, TT follow cars and a Dirty Kanza update
Pre-race weigh-ins, TT follow cars and a Dirty Kanza update
Heading out the door? Read this article on the new Outside+ app available now on iOS devices for members! Download the app.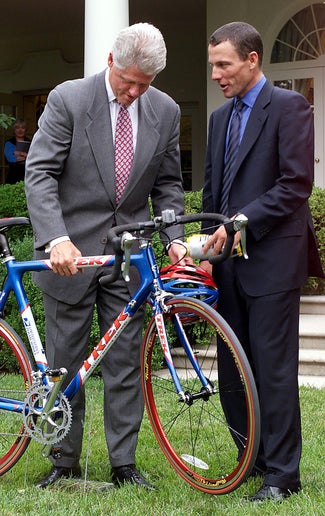 Editor's Note: VeloNews tech editor Nick Legan is a former ProTour mechanic who most recently wrenched for Team RadioShack at the 2010 Tour de France and elsewhere. His column appears here every Thursday. You can submit questions to Nick at asknick@competitorgroup.com, and be sure to check out Nick's previous columns.
Q. Nick,
I'm curious about how and when bikes are weighed at pro races, prior to the start of the race or at the end of a race/each stage?
Are only the riders' starting or finishing bikes weighed, or is every bike that the team could potentially use that day (i.e., every bike placed on the team cars). And finally, if a rider switches wheels mid-race to a wheelset that brings the bike below UCI-minimum weight, is that considered?
— Richard Kaye

A. Richard,
Most UCI weight checks occur before a start. But officials can check them whenever they like, before or after. In my seven years as a mechanic though, strangely it's been time trial bikes that are most often weighed.
This has to be due to the ease of doing so. Before time trials, riders have to pass through the position control tent and it's simple for officials to also weigh the bike at the same time. This makes sense. And of course for uphill time trials it really is relevant. But most normal time trial bikes don't push the weight limit.
UCI officials could ask to weigh spare bikes, but that's a ton of work. If they are suspicious of a mid-race bike change, the easier approach is to simply weigh the bike on which the rider finished.
Wheel changes during a race, if they make a bike fall under the 6.8-kilogram weight limit, are technically illegal.
Last year before the Tour, RadioShack's head mechanic Craig Geater spent a lot of time with a scale and a pile of wheels. He knew which wheel, cassette, crank, and bottle cage combos kept each race bike above the limit.
And while it's definitely possible to get a lighter wheel after a puncture, mechanics always try to carry spare wheels that are the same model the rider started on. So for the most part, it isn't a big deal.
Q.Nick,
I was very fortunate to see the ATOC time trial this year in Solvang. One thing that my friends and I debated was why the team cars were following the riders so closely?
I was on a long gradual uphill where there was a strong tail wind. My buddies and I thought that by following so closely the team car was eliminating the benefit of the strong tail wind, which seemed like a big mistake. However another friend suggested that the following car was pushing the air mass in front of the car and in effect pushing the rider.
It still seems that the strong tail wind would be of greater benefit. Could you please shed some light on this subject?
— Phil Trenholme

A. Phil,
I'm definitely not a fluid dynamics expert, but I have heard murmurs similar to your friend's supposition that the car is actually pushing the rider. In motorsports the principle of pushing, where several cars are faster than one, is well founded. In cycling we think of drafting as a measure of economy of our efforts. But in motorsports it's also known to increase even the leading car's speed when a car follows closely.
The rough equation that a sports scientist once gave me is that the car's follow distance needs to be roughly the height of the car for a push to occur. So that's pretty close. Most race officials won't allow a team car to follow that closely. The UCI forbids following closer than 10 meters. So a lot of teams will use vans to follow in time trials because they are taller. (And because the UCI vehicle height restriction (see my Ask Nick column from last week) doesn't apply during time trials.
You have to remember that unless a tailwind is extremely strong, the riders are usually going faster than the tailwind. High-pressure air pushed by a vehicle travelling at same speed of the rider would have a bigger benefit.
In a related story, I heard that when Richard Virenque was at the height of his career he asked that the television helicopters fly as close as possible to him during a time trial for similar reasons.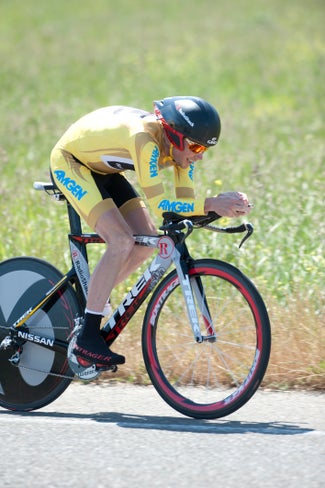 This seems pretty far-fetched to me, but maybe some of my more learned readers can chime in on this and your question in general. I'd love to learn more.
Q. Nick,
At the recent Tour of California, Chris Horner made mention of the time trial gold skinsuit provided by the organizer as being something of a parachute. I had always assumed that the individual teams had these made up in advance for their riders. Who does provide these, are they made up in multiple sizes, do they make all the special jerseys in all the team styles?
— Mark

A. Mark,
While I watched the time trial from the Solvang pressroom I tweeted that Horner's leader's skinsuit was a liability compared to his normal RadioShack skinsuit. We have a bit more on that in our upcoming print issue of VeloNews.
But to answer your question, the teams do NOT provide leader's jerseys, the race organization does. Teams travel with iron-on podium decals with their team sponsors and logos. At smaller races these are used during the races as well as for the podium ceremony jerseys.
At larger races, the jerseys or skinsuits are actually printed with the corresponding logos as the race lead changes hands. There is a whole crew of busy people working behind the podium cranking them out as the results are tallied.
Hincapie Sportswear provided the leaders jerseys at ATOC, just as Santini makes the famous maglia rosa for the Giro and Nike makes the maillot jaune for the Tour.
The team will bring along special custom-painted bikes, helmets, handlebar tape and more to the Tour. While some think it's bad luck to do so, mechanics try to dodge that karmic bullet by only building the bikes once the team has taken the jersey.
Dirty Kanza 200 update
For all you loyal readers, just wanted to check in on how the Dirty Kanza 200 bike is shaping up (see my May 11 article). It's been tough making choices on equipment. Entering the unknown is never easy. I've taken a few risks in some areas in the name of performance and stayed safe in other aspects.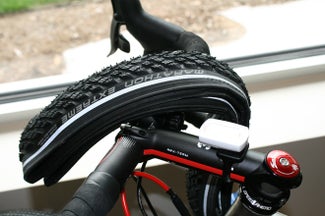 Thanks to some last-minute, overnight shipping from Schwalbe and 3T, I now have the rear tire and stem that I was hoping for. A Marathon Extreme Double Defense 700x 40mm tire will put all my paltry power down to the gravel road.
A 14 cm, negative 17-degree stem ARX Team stem has finally helped me achieve a position much closer to my preferred cyclocross set up. The tall head tube of the Salsa Vaya is great for touring, but a little tough when you're trying to race the steed.
I will be posting a post-race report and a review of the bike and my equipment choices. But while the race is Saturday, I won't be able to get you my race report until after I finish another adventure I'm joining.
I'll fly back to Colorado on Sunday after DK200 and meet the Rapha Continental crew at the airport. Then, starting Monday, we're riding the entire route of the USA Pro Cycling Challenge here in Colorado. I'll be checking in from that ride as well. And I have a very special bike for the ride. More later. Thanks for reading.