Ask Nick: Prescription lenses in the rain, Roubaix tire options, and more
Prescription lenses in the rain, Roubaix tire options, and more
Heading out the door? Read this article on the new Outside+ app available now on iOS devices for members! Download the app.

Editor's Note: VeloNews tech editor Nick Legan is a former ProTour mechanic who most recently wrenched for Team RadioShack at the 2010 Tour de France and elsewhere. His column appears here every Thursday. You can submit questions to Nick at asknick@competitorgroup.com, and be sure to check out Nick's previous columns.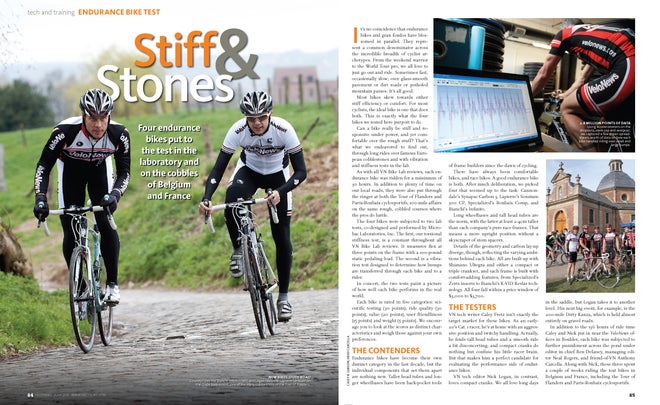 Q. Nick,
I plan on participating in the 2012 Paris-Roubaix sportive (the amateur race open to those who want to ride the same route as the pros) and am wondering about tire selection. Currently I ride the Hutchinson Fusion 3 road tubeless tires mounted on DT Swiss 1450 wheels.
I would really like to ride road tubeless setup but the widest tires are 25mm by Hutchinson and those aren't real 25mm when compared to other manufacturers tire widths. (My Fusion's are 23mm and look barely like 19's). Keeping in mind that I don't want to drop lots of cash on new tubular setup use for this event, wondering if you would suggest I go back to clinchers for this event so I can mount real 25's or 27's? — Ed Shapiro
A. Ed,
What a conundrum! I rode the Paris-Roubaix Challenge this year and did so on Michelin Pro Optimum 25mm clinchers with no problems. In fact, so too did then editor-in-chief Ben Delaney. He is considerably bigger than I am and he didn't have any flats either. Road tubeless is incredible and I'm a big fan. But I'm a bigger fan of big tires.
As you've found, there aren't too many options out there. I would therefore recommend either the Michelin Pro Optimum or a set of Continental GP4000 4-Seasons in the 28-mm size.
I've had really good luck with those as well. While tire choice is obviously important, if you get a chance to pre-ride at all and test pressures that could have a bigger impact on your event. I ran 60/65 psi front/rear and felt I could have gone lower (I weigh 150 pounds). I inflated Delaney's tires to 70/75 psi. I would also invite readers to add suggestions in the comments section below.
Have fun out there! And don't forget a good pair of gloves!
Q. Nick,
How do pros who don't have perfect eyesight (assuming there are a few), and who wear prescription eyewear, manage on days when it's raining and cold?
I have a pair of Rudy Projects with high quality polarized prescription lenses, clear and/or amber for rainy and overcast days. But in poor weather, the water accumulation and fogging on the lenses makes my ride or race verge on the dangerous. In the rain, I might as well be riding blind.
When I think about pros who race in all weather conditions, I wonder how those who wear prescription eyewear manage to keep themselves from being a hazard in the peloton? Do they all wear contact lenses? Or do they use something special on their lenses to help them shed water and keep from fogging up? — Matt Braun
A.Matt,
Many pros wear contacts and some have laser eye surgery to eliminate the problem entirely. This makes taking your glasses off in these situations an option.
For those who use prescription glasses like yourself, there are some anti-fog cloths and treatments, some are quite simple. Products include Defog It as well as options from swim goggle manufacturer TYR.
You can also try some DIY remedies. Many recommend spitting on the inside of lenses and drying them with a cloth to help. I've also heard of using toothpaste and all sorts of other strange ideas. I've had good luck with spit.
Alex Howes, recent signee to the Garmin-Cervélo ProTeam, wears prescription Oakleys and he said that his glasses fog up often. He recommends wiping them with a dry finger before the start of the ride or race. The oil from your finger helps. (He also said that he usually forgets to do this and resorts to giving his glasses a quick lick to clean them a bit! "Makes for some nasty mouth grit but it gets the job done!")
Bear in mind that in wiping lenses you should try to avoid going in circles. Instead wipe left to right. This will help avoid swirls on the surface of your lenses. Many pros also use RainX on the outside of their lenses to help see more clearly. Oakley also makes a hydrophobic lense treatment that works really well.
Q. Nick,
I have 2007 Specialized Tarmac SL s-Works equipped with the Shimano 7800 group. The Shimano 7800 group works fine for me but I am getting "jealous" when I see that most gear groups (Shimano, SRAM, Campy) have their shift cables hidden now under the handlebar tape. Would Shimano 7800 shift indexing be compatible with either Shimano 7900 or latest Ultegra shifters? Is it worth changing just to eliminate cable loops inside handlebar? — Vadim Livitz
A.Vadim, Unless your 7800 components are worn out, I wouldn't recommend changing your parts. I personally love Shimano's 7800 and rank it as one of the best component groups ever produced.
Compatibility is unfortunately always debated. On some bikes (and in the hands of some mechanics) a mix of parts will work just fine (personal impressions of just what "working fine" is will vary). Fortunately your derailleurs ARE compatible with both 7900 and 6700.
The brakes, on the other hand, are a different matter. Shimano changed the amount of cable that its newer levers pull; that is, they pull more cable. The newer calipers are, mechanically-speaking, more powerful and the levers are less powerful.
Mixing your old brakes with the new levers will result in a spongier feel, but they will get you stopped. In truth, you would probably adapt quickly to the change though. So the choice is yours! Change if you really prefer the aesthetic of the newer shifters. The world is your oyster.
Q.Nick,
After reading about several devastating and possibly career ending injuries, I've come to wonder about the insurance that riders have. Do teams provide health insurance for riders? What about short or long term disability insurance?
Finally, what if a rider is injured at the end of the season as a team is disbanding? — Emil Gercke
A. Emil,
I asked my friend, Alex Howes of Garmin-Cervélo to give me the lowdown on the insurance situation. Here's his response:
"As far as I know, it's basically every man for himself. At least that's how it is on the Continental level. At the Pro Continental level and above, teams are required to submit proof of adequate insurance for the riders but the responsibility of acquiring, and paying for that insurance usually falls on the riders themselves.
"Stateside this is a much bigger issue with privatized health care compared to the European system where providing proof of health insurance is as simple as showing a birth certificate.
"Fortunately most teams have access to, and often times employ, very knowledgeable doctors. This simplifies the whole health-care process. Post-race bronchitis is taken care of quickly without lengthy doctors visits, broken collarbones see the proper specialist ASAP, and blood tests come frequently to spot any fatigue issues before they become serious.
"On top of all that there's various little insurances out there to cover riders in emergency situations. Many promoters are required to have insurance to cover things like helicopter evacuations and ambulance services (although good luck getting them to sort through the paper work to take advantage of the coverage) and some federations provide insurance for emergency situations with the purchase of a license (If I'm not mistaken, Australia charges roughly $2,000 for a license for this reason)."